Recap: Friday At May Day 2014
Posted
3 years 8 months ago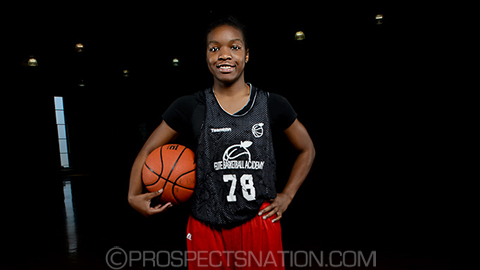 Mallory Myers is a big part of the Georgia Sting's success. *Photo by Ty Freeman.
MARIETTA, Ga. – Peach State Basketball tournaments have quickly become the premier platform for travel teams to get elite competition on non-certified weekends. The May Day Challenge drew out of region teams from as far away as Illinois and Louisiana to play against top level competition and to be evaluated by the ProspectsNation.com staff. Here is the action from Friday night at a glance.
TEAM OF THE DAY
Georgia Sting 2015
'15 off guard Jennifer McMahan.
*Photo by Ty Freeman.
Coach Gary McMahan has diligently built a competitive team from the Augusta, Ga., area. The team is built around the backcourt combo of 5-foot-2 point guard Mallory Myers of Evans, Ga. and 5-10 guard Jennifer McMahan of Evans, Ga. The class of 2015 guard tandem complements each other's strengths. Myers is a slasher who loves to get into the lane and set up her teammates for open shots. McMahan feeds off of that play-making by spotting up to hit jumpers from well beyond the arc.
The Georgia Sting sport a frontline of 6-5 center Raven Valentine of Ridge Spring, S.C., and 6-1 forward Kwajelin Farrar of Grovetown, Ga. Their length helps control the boards on both ends of the floor. Adding a scoring threat on the interior is class of 2015 forward Renee Armenta of Hephzibah, Ga. Standing at 5-11, she uses her body well to position herself and score with her back to the basket.
AROUND THE RIM
♦ 22 FT Academy made the trip from South Carolina to compete in the May Day Challenge. The program's class of 2016 wing tandem featured Shanterria Cobb of Easley, S.C., and Makayla Greene of Simpsonville, S.C., provide size and athleticism for their team.
♦ Class of 2016 wing Nieja Crawford of Forest Park, Ga., demonstrated great driving skills for her Lady Pistols NBA team. She is a player who has the potential to develop into a nice combo-guard at the next level.
♦ Team Elite 2018 has a number of prospects that are worth tracking this spring and summer. Kalia Hubbard of Jonesboro, Ga., caught our ProspectsNation.com staff eye as a match-up problem. She earned a Super 64 Camp invite as a result of her performance on Friday night.
♦ Class of 2016 point guard Arielle Holloway of Clarkston, Ga., is a nice addition to the Pistols Diamond Elite ball club. Her speed in the open court coupled with her ability to defend makes her an impact player for coach Jimarcus Blanding's team.
♦ Coach Scott Waldrop has a nice inside-outside threat of class of 2015 point guard Jada Triplett of Alpharetta, Ga., and post Harlan Wyatt of Atlanta, Ga. Triplett showed her scoring ability on Friday night off of the bounce. While Wyatt's 6-2 frame makes her a prospect that many college coaches will be interested in watching in July.
♦ Tennessee Team Pride brought multiple teams to the May Day Challenge. Class of 2016 Hannah Eaglen of Murfreesboro, Tenn., is a shooting specialist for coach Holloway's team. She will show those abilities again at the Super 64 Camp on June 7-8 at Suwannee Sports Academy. Follow @JLHemingwayPSB

Hemingway is the Assistant Director of Scouting for the JumpOffPlus.com National Scouting Report. He can be reached at jonathanhemingway@peachstatebasketball.com.