Posted
4 years 6 months ago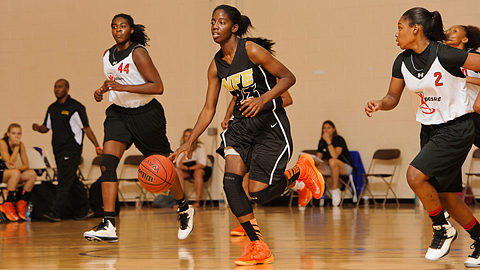 '16 Watch List guard Jazmine Jones of Tallahassee, Fla. *Photo by Ty Freeman.
Tweet
MARIETTA, Ga. – The July viewing period kicked off today and several players took full advantage of the stage set by Peach State Basketball. With numerous coaches along the back wall of All Tournament Players Park, a number of players delivered on expectations. However, July always brings a surprise or two and the Summer Kickoff provided the platform for the unknown player to stand out.

Jazmine Jones (Tallahassee, Fla.), North Florida Elite Gold – 2016
Jones opened many eyes and dropped several jaws today with her play. The 6-foot scoring guard came out in her exhibition game and began lighting up the scoreboard. Her pull-up jumper was nearly impossible to stop as she dropped several from the midrange. Jones elevated herself into the discussion of the ELITE of the Class of 2016 because of her constant production. With an athletic frame and length to match, Jones looks the part of an ELITE 100 scoring guard. In addition, her enthusiasm for the game was evident as she vocally encouraged her teammates throughout the game. The Summer Kickoff put Jones squarely on the radar of our ProspectsNation.com staff.
ProspectsNation.com Recruiting Analyst Brandon Clay breaks down the Day One activity at the PeachStateBasketball.com Summer Kickoff.
AROUND THE RIM
♦ Morgan William of Shades Valley, Ala., solidified her stock as a three-star prospect today. The class of 2014 point guard impresses our staff over and again with her consistent effort.
♦ A young post player that is gaining the attention of many college coaches is Faustine Aifuwa of Dacula, Ga. At 6-4, and with good feet and hands, it is easy to understand why several colleges made the trip to watch her and the Georgia Red Storm play at 9:30 a.m. on day one.
♦ Another player who took full advantage of the Summer Kickoff stage was Khaila Hall of Cleveland, N.C. The 5-10 shooting guard caught the attention of several coaches with her athleticism and her ability to create.
♦ Malaya Johnson of Mount Airy, N.C., turned in another solid showing today after playing well at EBA Super 64 Camp back in June. The 6-2 forward showed more versatility today with her face up game. Follow @JLHemingwayPSB

Hemingway is the Assistant Director of Scouting for the JumpOffPlus.com National Scouting Report. He can be reached at jonathanhemingway@peachstatebasketball.com.