Summer Kickoff 2014 -- Day Two
Posted
3 years 6 months ago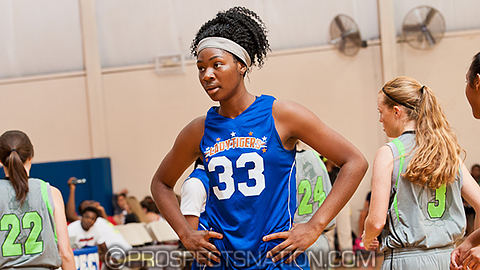 Ijeoma Odimgbe burst on the scene in April and showed her stuff in front of a hoard of coaches at the Summer Kickoff. *Photo by Ty Freeman.
Tweet
MARIETTA, Ga. – Day two of the Summer Kickoff provided an in-depth look at many prospects that played in front of college coaches. As several teams made runs to the championship game in their respective brackets, we got to see which individuals had the talent to be named a champion. Here is a look at some of the players who could be gaining college interest as a result of this weekend.

Ijeoma Odimgbe (Port Wentworth, Ga.), Savannah Lady Tigers – 2015
Coaches from several of the power conferences, including several head coaches, came to watch the 6-foot-5 post player from the Savannah Lady Tigers during the first two days of the viewing period. It is easy to understand why so many programs have made Odimgbe a priority to recruit early this month. She has a prototypical frame and athleticism that should make her an impact defender and rebounder within the first two years of when she steps onto a college campus. She was a virtual unknown before playing at the PSB Tip-Off Classic in April of this year. After showing that she can be an elite shot blocker and paint defender, schools such as Oklahoma, Vanderbilt, LSU and others immediately began to recruit her. While her offensive skills lack polish at this moment, the tools are there to be able to develop a back to the basket game in years to come.
Feature Team
Georgia Hoopstars Black
Despite playing four games in two days and dealing with summer heat in Atlanta, coach JD Davis squad finished strong to win a 9:20pm championship game in the JLHemingwayPSB bracket. He got a huge game from Alex Frazier of Lawrenceville, Ga., who consistently knocked down pull-up jumpers in the lane. The 5-8 combo guard provided the scoring punch needed to lift Davis' team over Essence on Monday night. The Hoopstars also received a nice lift off of the bench from Kelsee Arnold of Fayetteville, Ga., who drained 3-point buckets at critical moments. Chipping in with quality performances were Kaitlyn Duncan of Commerce, Ga., Makenna Pouengue of Lilburn, Ga., and Rhein Beamon of Ellenwood, Ga., who contributed at both ends of the floor. You can see the replay of the championship game here:
AROUND THE RIM
♦ Pistols Mario Jr. finished its run with a championship victory over AOT on Monday night. Class of 2015 point guard Kerry Watson of Lithonia, Ga., continues to display quickness and the ability to handle ball pressure. Those skills were critical in overcoming the on-ball pressure from Te'a Cooper who is the No. 3 player in the ELITE 100.
♦ Another point guard who put herself on the map with several college coaches at the Summer Kickoff was Kionna Jeter of Spartanburg, S.C. Her ability to shake defenders and finish in the lane is exceptional. Expect the class of 2016 guard to garner interest from a wide variety of programs following this July.
♦ Coach JB Bethea of All Ohio is bringing a youth movement with his program this year as he has a number of underclassmen on his Black Team roster. However, class of 2015 guard Cierra Rice of Grosse Pointe Farms, Mich., provides veteran leadership for her team. While she brings continues to bring hustle and energy, she is showing more aggression on the offensive end this year.
♦ The Virginia Sting brought multiple young prospects with potential. Keep an eye on class of 2017 wings Camille Downs of Stafford, Va., and Olivia Gaither of Fredericksburg, Va. Both have length and athleticism that will keep coaches interested in the future.
♦ Tennessee Flight Select might have had one of the most skilled teams in the tournament. Class of 2015 forward Kassie Knight of Maryville, Tenn., showed that she can stretch the defense from the forward position with her ability to shoot the long ball.
♦ Georgia Elite has a young roster with stars of tomorrow. Class of 2018 post player Jessica Nelson of Buford, Ga., shows the ability to run the floor and defend. Also class of 2018 prospect Torri Ozment, a 6-0 wing, has very good size and skill for her age. Follow @JLHemingwayPSB

Hemingway is the Assistant Director of Scouting for the JumpOffPlus.com National Scouting Report. He can be reached at jonathanhemingway@peachstatebasketball.com.