2017 Elite 25 Summer Update
Posted
8 years 6 months ago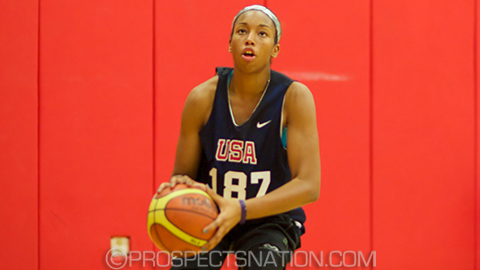 Megan Walker's summer secured her grip on the No. 1 spot. *Photo by Chris Hansen.
Tweet
The rising sophomore class took great steps this summer. With all the terrific matchups in the books the ProspectsNation.com rankings panel has updated the ELITE 25 for the class of 2017.
Megan Walker of Chesterfield, Va., had a terrific summer with her Boo Williams club team. But Walker has new company in the top five with Ayana Clark of Long Beach, Calif., moving up to No. 2 overall. The 6-foot-2 Southern Cal commit has emerging wing skills yet possesses the strength and power to be an impact player in the paint, which she was for the Cal Sparks this summer.
A pair of Texas guards check in at third and fourth overall with the long range exploits of Chasity Patterson and the explosive off bounce game of Alexis Morris impressing this summer. These two headline a talented crop of point guards for which time will tell if they can stack up to the much celebrated 2014 group of lead guards.
The top rated post in the class, Kasiyahna Kushkituah of Austell, Ga., rounds out the top five after an impressive summer with FBC-Georgia. She moved up from her pre-summer ranking of No. 12.
There are eight new faces in the ELITE 25 and there were many more that were in the discussion and on the cusp of being among the post-summer top 25. Rellah Boothe of Jacksonville, Fla., a 6-2 forward, is the highest rated of the new additions at No. 10. She is joined by No. 18 Evina Westbrook of South Salem, Ore., No. 19
Mikayla Coombs of Buford, Ga., No. 20 Quanniecia Morrison of Riverdale, Ga., No. 22 Dana Evans of Gary, Ind., No. 23 Kiana Williams of San Antonio, Texas, No. 24 Channise Lewis of Miami, Fla., and No. 25 Destiny Littleton of San Diego, Calif.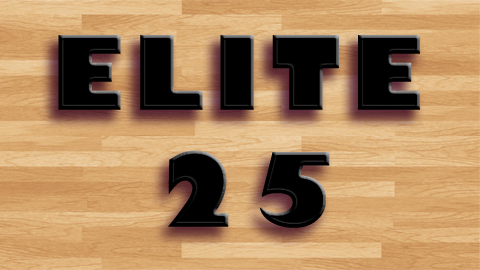 See the full rankings here: 2017 ELITE 25
ProspectsNation.com Rankings Panel: Brandon Clay, Chris Hansen, Jonathan Hemingway, Keil Moore, Stephen Peck, Mercedes Wetmore. Follow @ChrisHansenPSB

Hansen is managing editor of ProspectsNation.com and a McDonald's All-American selection committee member. He was the national director of scouting for ESPN HoopGurlz from 2005 until 2012. He can be reached at chris@prospectsnation.com.