Banham, Fields, Martin, Williams Stock Rising
Posted
7 years 9 months ago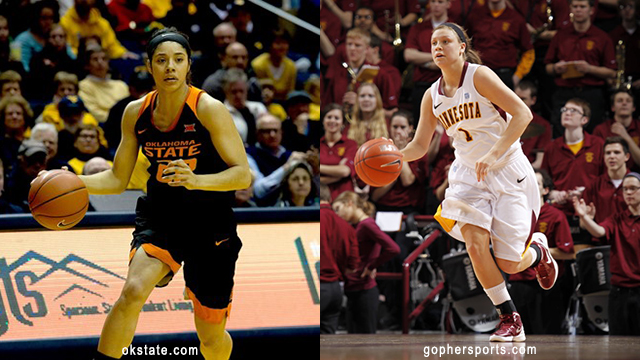 The 2016 WNBA Draft will be held on April 14th. Here is a breakdown of four seniors who we predict will hear their named called by WNBA President Lisa Borders that night inside the Mohegan Sun in Uncasville, Conn.
RACHEL BANHAM
HT: 5-9 POS: G
MINNESOTA
After missing the 2014-15 season to an ACL injury, Banham is back and better than ever. She is a guard capable of making shots at all three levels while impacting the game on both ends of the floor. Her averages of 27.7 points, 5.9 rebounds and 3.9 assists per game are staggering. Banham's play has even drawn praise on multiple occasions from NBA legend Kobe Bryant, and rightfully so. Look for Banham to be a major riser in the upcoming Draft Board release next week. Before April comes, Banham has made herself a probably lottery pick in the process.
NIRRA FIELDS
HT: 5-9 POS: G
UCLA
Fields lacks traditional size at the shooting guard position but is capable of scoring the ball at a high level. She's leading the nationally ranked Bruins in scoring at 16.5 points a contest with 5.7 rebounds to go along with it. That scoring skill goes a long way especially for a player in Fields who might wind up in the 2016 Olympic Games as a member of the Canadian National Team. If she can continue to showcase herself as a potential combo guard down the stretch, Fields will only help to slide her name further and further up the board.
BRITTNEY MARTIN
HT: 6-0 POS: SF
OKLAHOMA STATE
Like Banham, Martin's numbers have been almost overwhelming to digest. She's averaging a double-double with 20.8 points, 11.3 rebounds and has positioned herself as a Big 12 Player of the Year candidate. Martin does a lot of her damage in the mid range which is outside of the norm. She has the strength to be effective around the rim as well. Martin is shooting an even 50-percent from the field on the season but has done so without taking a single 3-pointer.
KAYLON WILLIAMS
HT: 6-3 POS: F
OKLAHOMA
Williams got off to a relatively slow start this season but has heated up as of late, finishing with 32 points on senior night. She's averaging 13.3 points, 7.2 rebounds per game. In a league that values size, Williams is a commodity who we expect will have a chance to earn a spot on a roster this summer. "KayKay" can finish around the rim with either hand and when dialed in conditioning wise is a tough matchup on the interior.

Brandon Clay serves as the WNBA Director of Scouting for ProspectsNation.com and owns The JumpOffPlus.com International Report, which is picked up by more than 150 colleges and universities nationwide. He serves as the Executive Camp Director for the Elite Basketball Academy Camps. He serves on the Naismith Trophy Men's / Women's College Player of the Year Academy and is chairman of the HS Boys / Girls Board of Selectors and is on the McDonald's All-American Selection Committee. He also is the publisher of PSBPopCulture.com.