Posted
4 years 11 months ago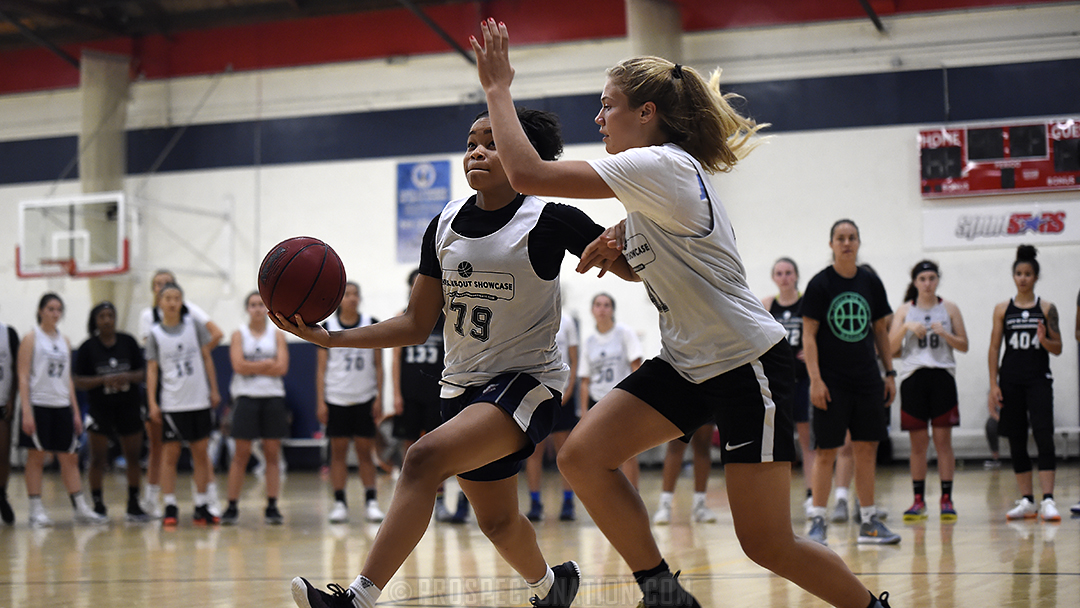 Jada Holland drives to the rack at the 2018 Check Me Out Showcase in Martinez, California. *Photo by Chris Hansen.
MARTINEZ, California – The Check Me Out Showcase made its return to the San Francisco Bay Area a success with players from four states competing. Here's a look at some of the standouts from the late fall camp.
Angel Jackson (Richmond, Calif.), Salesian – 2019

Not even a triple team was enough to slow down
Angel Jackson at Check Me Out. *Photo by Chris Hansen.The 6-foot-5 Jackson came to Check Me Out fresh off her commitment to USC. Her play solidified her status as one of the top post players in the 2019 class. What was great to see is how patient she was in traffic. Because she was strong and kept the ball high she forced teams to double her and then showed she's more than capable of handling it and making plays.
Jada Holland (Pleasanton, Calif.), Bishop O'Dowd – 2019
Holland showed how explosive she is athletically. She's one of the most disruptive on-ball defenders in the class and showed it in game action on the second day of camp. Offensively she was strong on the drive, finished at the basket and made defenders pay for sagging by knocking down the long ball.
Leilani Augmon (San Jose, Calif.), Silver Creek – 2019
Augmon was electric both days of camp. Her length and speed create havoc and it was rare that someone could stay in front of her. She showed all the tools to be a playmaker at the next level. She committed to CSU-Bakersfield shortly after camp and should be an impact player in the WAC.
Serin Dunne (Colorado Springs, Colo.), Mesa Ridge – 2020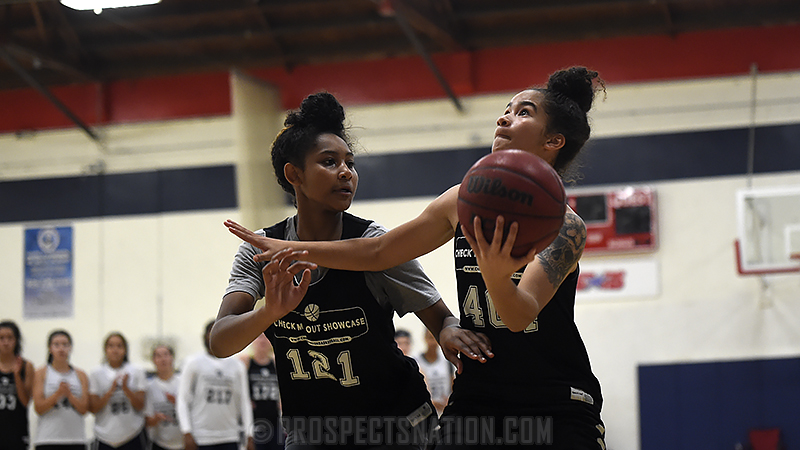 Serin Dunne of Colorado Springs, Colo., extends away
from her defender. *Photo by Chris Hansen.
Dunne is no stranger to the CMO camp circuit and her play in the Bay Area was her best performance yet. She has breakdown ability but this weekend she didn't over dribble and was very efficient getting to scoring spots and knocking down shots. For her lean build she is very physical on the drive. She's defending more intentionally now and is setting the table for a terrific junior season.
Rachel Harvey (San Francisco, Calif.), St. Ignatius – 2020
Harvey hits the floor and impresses with her athleticism, especially her bounce and ability to elevate in traffic and finish off the dribble. She showed some mid-range ability as well but her bread and butter was getting to the rim or setting up a counter, like a Rondo. Her ball skill was evident in drill work and she'll be a player to watch as she gets more run on her second year on the Cal Stars EYBL 17U team next spring and summer.
Jada Moore (Denver, Colo.), Regis Jesuit – 2020
Moore is a long and shifty perimeter player that can be effective both on and off the ball. She was unafraid to attack off the dribble regardless of who was guarding her. She has several counters to go to for breaking down defenders. She used her speed and length defensively as well to tip passes and be disruptive.
Marley Langi (Redwood City, Calif.), Archbishop Mitty – 2021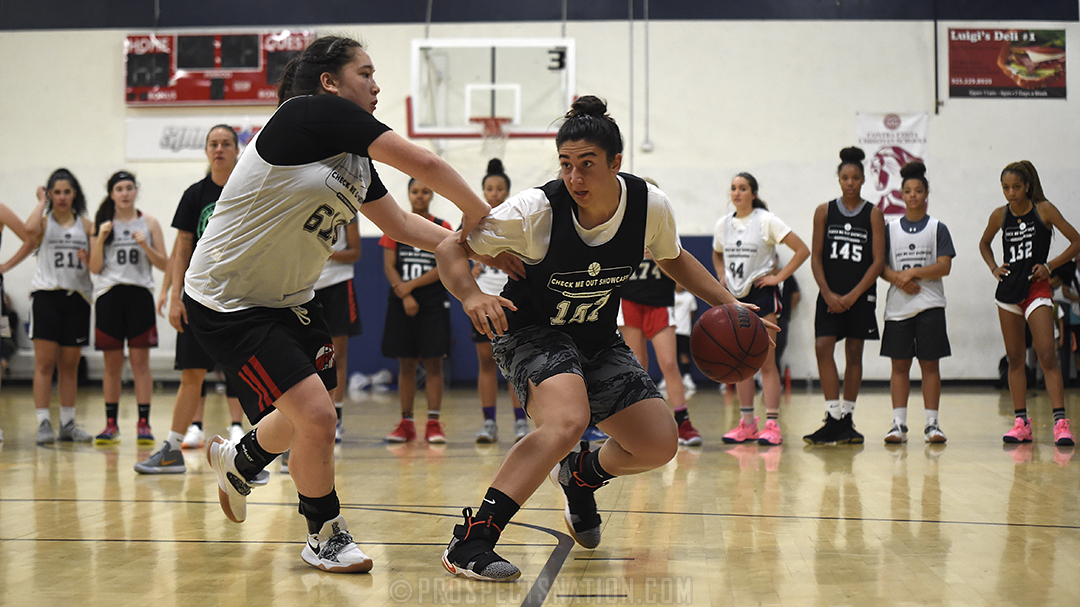 Marley Langi of Redwood City, California, sets up a step
back jumper. *Photo by Chris Hansen.Langi is a power wing that puts the opposing team in a tough position. If you guard her with a smaller, quicker guard, she will simply overpower them. If you use a frontcourt player her agility stands out. She showed that versatility from the jump and showed she is a smart player as well that is patient and ready to make the right play.
Hunter Hernandez (San Jose, Calif.), Archbishop Mitty – 2021
Basketball is a game of runs and Hernandez went on a 12-0 run herself on the second day of the showcase. She scored 10 of the 12 points and assisted on the other basket. She has good size at the guard position and her ability to make plays with the pass and shooting the ball was impressive.
AROUND THE RIM
Nyah Willis of San Jose, Calif., showed a strong athletic game on the wing. In transition she's hard to stop on the move.
Kylie Horstmeyer of Greenbrae, Calif., fits the coach's kid stereotype. In addition to smarts she was a beast on the glass, showing a natural knack for getting boards.

Teya Sidberry came from Utah to compete in the
Bay Area. *Photo by Chris Hansen.
Teya Sidberry of West Valley City, Utah, is a strong wing prospect with solid handles. She has a unique change of speed game that is highly effective at keeping defenders off balance.
Anisa Rillo of Fairfield, Calif., is a player that had a nose for the ball all weekend. It didn't matter if it was a loose ball, a rebound, or getting hands on passes in gaps, this junior was always around the ball.
Aniyah Augmon of San Jose, Calif., is a 2021 to keep an eye on. Her skill set at an early age allowed her to utilize her athleticism. She really came to life during the 5 on 5 competitions.
Amira Brown of Berkeley, Calif., is a sophomore that is finding her confidence, especially with the jumper. Adding this piece to her game will allow her to score at all three levels.
Megan Norris of Atherton, Calif., has the length and agility that coaches at the next level love. The 6-3 forward showed a face-up game that will complement interior scoring well.
Mikayla Amoroso of San Francisco, Calif., is a powerfully built wing who can actually play the 4 position. Her strength, poise and skill make for a terrific player who will be a good late pick up for someone.

Chris Hansen is managing editor of ProspectsNation.com and serves on the McDonald's All-American and Naismith Trophy selection committees. He was a co-founder of and the national director of scouting for ESPN HoopGurlz from 2005 until 2012 and is the director of the Check Me Out Showcase and ELITE is EARNED events. He can be reached at chris@prospectsnation.com.