Posted
3 months 3 weeks ago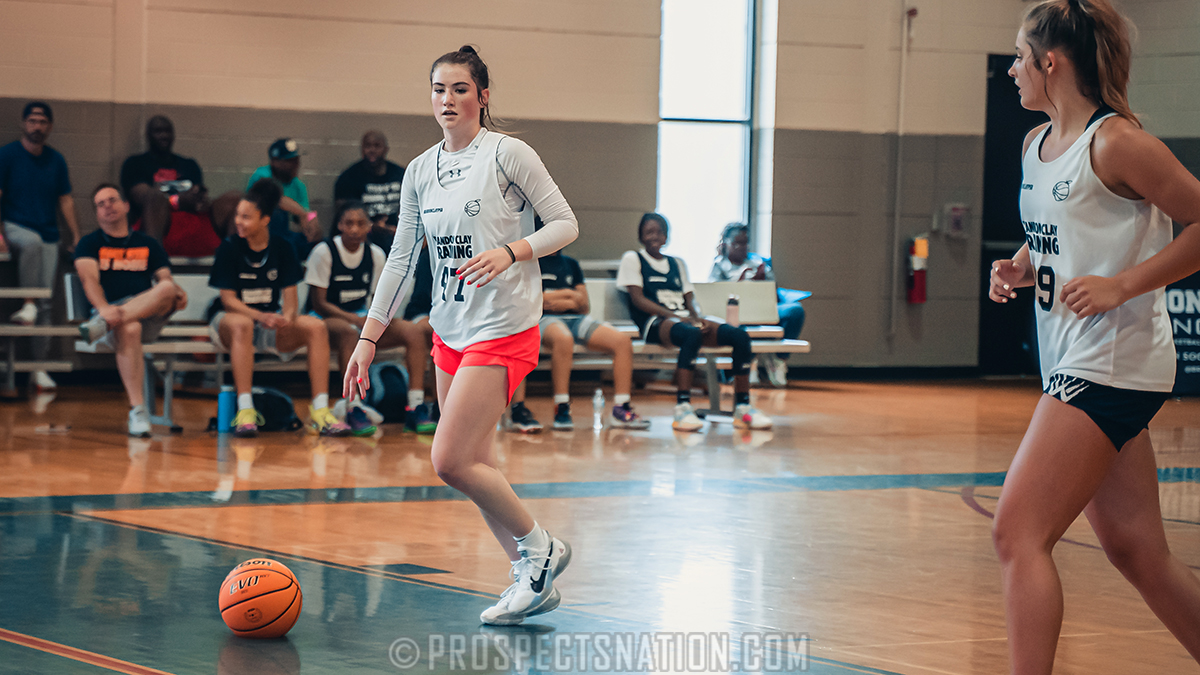 Brooke White of Georgetown, Texas, competes at the Brandon Clay Training tour stop in Buford, Georgia. *Photo by Anthony Lugardo.

A lot has happened over the course of the last month for the members of the Brandon Clay Recruiting Program. Here's an update on multiple prospects with new information:
Class of 2023 wing Jayda Johnson of New Haven, Connecticut, picked Boston College yesterday. An Elite 150 Watch List prospect nationally, Johnson has been on the Chestnut Hill campus multiple times. She brings the Eagles another perimeter threat capable of stretching the floor our past the 3-point line.
Class of 2023 lead guard Julianna Ouimette of Minocqua, Wisconsin, chose to continue her college career at Lehigh. Ouimette's production at the high school level has been staggering to date regularly producing 25 plus point outings. Like she does for Flight Elite EYBL, expect Ouimette to bring the Mountain Hawks a perimeter threat capable of getting a basket off the catch or bounce.
Class of 2023 guard Brooke White of Georgetown, Texas, will train with Managing Editor, Chris Hansen next month. White is one of the state's most improved backcourt threats in the past two years. Her willingness to put the time in during settings like this or in Atlanta with the Brandon Clay Training staff has elevated her game immensely.
Class of 2022 prospect Saylor Lewis of Prosper, Texas, is headed to the University of Oklahoma on an academic track. Lewis is one of the brighter, most thoughtful kids we've had in the program in recent memory. Her diligence in making this decision is a prime example turning down multiple opportunities to pursue playing at the next level to head to Norman.
Class of 2024 guard Riley Abney of Brandon, Michigan, is a rising star. Her work ethic is elite. As a result, her recruitment is starting to pick up as a result. Multiple schools inside the state are tracking. Look for Abney to blow up this spring and in Atlanta on June 4-5 at the Brandon Clay Summer Showcase.
Class of 2024 guard Sydney Mains of Knoxville, Tennessee, was named as a finalist for Miss Tennessee Basketball. Mains has been on a tear for two straight seasons now with the accolades and scholarship offers rolling in as a result. Mains is no stranger to putting in extra work and will be on display at the Brandon Clay Power 48 South in May as well as the Brandon Clay Summer Showcase on June 4-5.

Brandon Clay serves as the Director of Scouting for ProspectsNation.com and owns The BrandonClayScouting.com Evaluation Report, which is read by more than 200 colleges and universities nationwide. He also serves as the Executive Skills Director for the Brandon Clay Scouting Academy Series.