BCS ATL Training Session II
Posted
1 year 10 months ago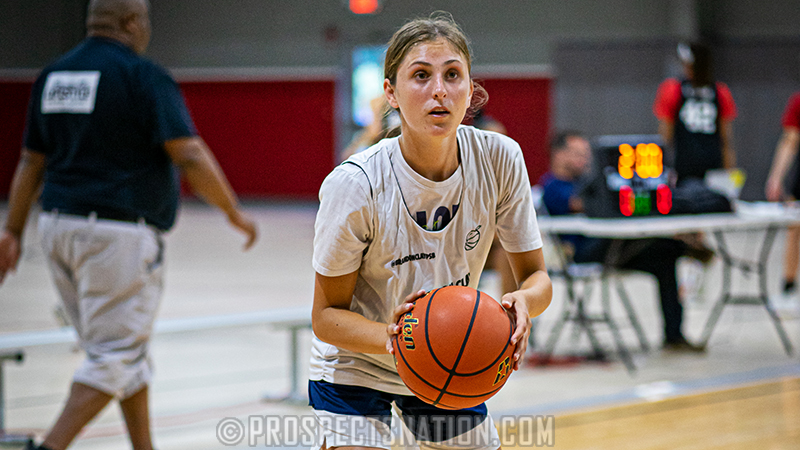 Kyra Stewart travelled from California to train at the BCS National Training Academy in Georgia. *Photo by Tony Lugardo.
ATLANTA, Georgia – The BrandonClayScouting.com National Training Academy has become the nation's premier proving ground to train with and compete against elite competition. Our favorite part of the showcase is working with campers during our Spotlight Session Workout. Here are the takeaways from the session:
Heaven Bailey (Montgomery, Alabama), Prolific – 2027
This was Bailey's second trip to Atlanta in as many weeks. She appeared much more comfortable and in sync here than she was a weekend ago. Bailey continued with the type of dynamic play that put me in the mind of former Mississippi State standout Morgan William just seven days ago. Keep an eye on Bailey's overall development as she's on the right track so far.
Barrett's jumper was amongst the pleasant surprises our staff took notice of this weekend. That was a definite area of focus during our skill development session in February. It was obvious right away that Barrett took the instruction to heart and made that emphasis a priority. She's handling the ball more consistently in the open floor as well. Barrett is still filling out physically and that will help her take contact to finish inside.
Ashlynn Bleisath (Canton, Georiga), Creekland MS – 2025
This was our first chance to guide Bleisath through skill workouts and gameplay. She has not played a day of high school basketball but was able to compete against multiple college level high school aged prospects. She is a consistent rebounder, defender at an early age who has the skill to keep adding range to her outside shot. That range will also provide additional consistency for Bleisath from the free throw line.
Trinity Boone (Edmond, Oklahoma), UNITY – 2027
One of the youngest campers in the group, Boone left her mark traveling from Oklahoma then displaued a relatively advanced skill set for her age. She can shoot it, handle and pass with both hands already. Thanks to Keith Peoples, Boone's name has been on our radar for over two years already and she didn't disappoint. As she matures physically, expect even more positive play to come from Boone on both sides of the ball.
Branch continues to level her game up looking more and more comfortable facing the basket than she did training with us in February. Her combo of skill and fluidity makes for a unique prospect longterm in the frontcourt. Branch has also added a couple of inches since we saw her in the late-winter as well. She always works hard and is dialed in to her improvement.
Danauje Brooks (Hope Mills, N.C.), Carolina Flames – 2025
Brooks is a dynamic guard capable of making plays by getting into the lane or knocking down the outside jumper. In that way, she's a lightning quick option in the backcourt and can serve as a tempo changer for a team looking for a change of pace guard. Brooks has a willingness to watch games outside of her time in the gym will take her a long way in knowing what she's seeing when she laces up her sneakers to hoop.
Ashanti Fox (Vass, N.C.), Carolina Flames – 2025
Like Brooks, Fox is a dynamic option at the guard spot. Her ability to get downhill and make a play off the bounce caught my attention. A left-hand dominant option, Fox showed the creativity that most guards lack in creating space. Fox has a chance to be a tough matchup on either end for opposing guards with her strength and toughness. She is confident in her reads offensively leading to quality shots more times than not at an early age.
IoAnna Giannopoulou (Charlotte, N.C.), Myers Park HS – 2022
This was our staff's first chance to work with Giannopoulou. It was evident right away that she has the skill to be a consistent shot maker on the perimeter. Add that to her length and Giannopoulou has the makings of a next level wing. Over time, she'll have a chance to add strength to her frame giving her the ability to finish tough plays in traffic through contact. She plays for a legendary school coach in Barbara Nelson and should finish her high school career in an even better place than she is today.
We worked with Hallman at our Alabama Training Academy in June. She has a smooth game at the guard spot as a left-hand dominant backcourt threat. Hallman can shoot it and handle the ball against some contact as well. Like most young guards, working on her weak hand will be a place for development over the next 12 months. Hallman has the tools to keep seeing growth in her overall game as that area levels up.
Tatum Ott (Austin, Texas), CyFair Premier – 2025
We just worked with Ott in June during Chris Hansen's showcase In Austin, Texas. This time, Ott made the trek halfway across the country to keep growing her game with our staff. She's a talented prospect who has the makings of a guard capable of making shots. Even as a middle schooler, Ott is willing to take the open look if she has space. Continuing to watch high level games will help her see the game and grow as a result.
Sims was back for the second time in as many weekends. She showed considerably better shooting the jumper than last weekend. As her dedication to the process moves forward, expect Sims to keep having positive moments like this weekend's training anytime she doesn't perform up to expectation like last weekend. She is a talented option who will keep improving as an outside shooter with added reps.
Smith has been to nine Training Academies in the past 12 months. The progress is starting to show. Fresh off of a visit to Thomas More on Thursday, Smith appeared even more focused and ready to produce than normal. Though already a high level shooter, Smith's next step appears to be growing her game as a lead guard capable of making the right read and the simple pass more times than not. In that way, she is becoming a floor general you can trust in tough situations.
This is Stewart's third time traveling across the country from California to work with our staff this summer. She was in both Austin and Indianapolis prior to this trek to Atlanta. Stewart is rounding out her skill set with each session. Stewart is shooting the ball well from the outside when open and is in attack mode off of the wing catch when guarded closely. As her left hand continues to grow and develop, so will her ability to consistently apply pressure to opposing defenses.
Wilson's ascent into the nation's elite sharpshooter category has been well documented by our staff. In a game on Friday night, Wilson hit 8 3-pointers one as deep as 27 feet out. She's an really bright ball player and student who understands the work it takes to keep improving. If she can show growth with her physical strength over the next 12 months, expect Wilson to have a chance to be an early contributor wherever she lands for college.
Scout Winter (Burlington, N.C.) Lady Heat, – 2024
Winter came into the session poised and ready to work. She's got a competitor's mindset coupled with a willingness to work that was evident from the opening drill station. Winter has a nice touch on her shot and showed the ability to create her own shot off the bounce as well. In time, we expect Winter to keep developing as an off the ball option moving without the ball in her hands to find the open spot on the floor to receive a pass then make a play.

Brandon Clay serves as the Director of Scouting for ProspectsNation.com and owns The BrandonClayScouting.com Evaluation Report, which is read by more than 200 colleges and universities nationwide. He also serves as the Executive Skills Director for the Brandon Clay Scouting Academy Series.