BCS Indy Underclass Standouts
Posted
4 years 3 weeks ago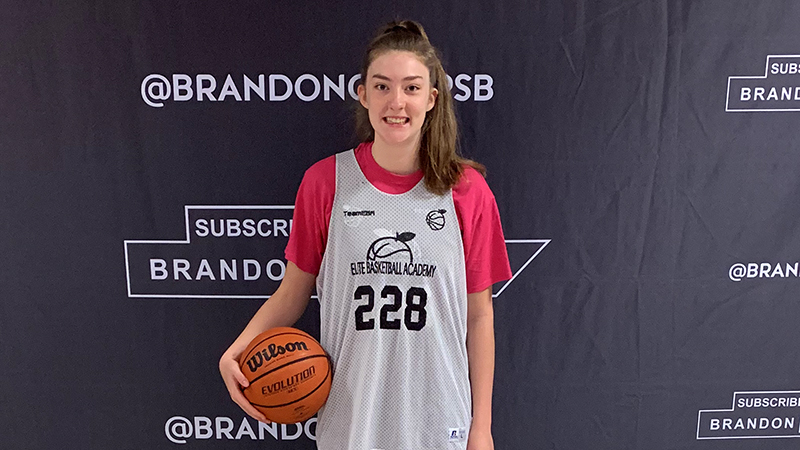 Alyssa Crockett was a standout at the BCS National Training Academy event in Indianapolis this fall. *Photo by Brandon Clay.
INDIANAPOLIS, Indiana – The BrandonClayScouting.com National Training Academy Series has become the place for prospects looking to get elite competition and media coverage going into the school season. With an alumni list that includes current WNBA standouts Lexie Brown, Kaela Davis, Diamond DeShields, Asia Durr and Jackie Young, the series has served as a gateway for the nation's premier prospects to shine. Our latest look back is on the underclass attendees:
Olivia Brown – 2023 – Hamilton Southeastern HS (IN)
Brown has a combination of physical tools and a smooth athleticism. She's skilled and playing with arguably the region's top prospect in Sydney Parrish during HS ball this year. In that way, Brown's ceiling over the next 12 months appears to be really high. She's one to watch. Her willingness to take coaching was fantastic here.
Diana Burgher – 2022 – North Harrison HS (IN)
Burgher's size and skill was on display here early. She looks like the elite older wings in Syd Parrish, Grace Hall with her length and physical attributes. Burgher is still learning how to put it all together and has battled some minor injuries that have kept her from getting consecutive months of unimpeded development in a row. When that takes place, it will only aid her growth.
Alyssa Crockett – 2022 – Westfield HS (IN)
Crockett has the length and skill to be a face up option at the forward spot. She can shoot the ball especially from the midrange. Crockett can continue to improve her overall ball skill and defensive prowess for switches on the defensive end.
Laila Hull – 2023 – Zionsville HS (IN)
Hull missed this session with a concussion but earned words during the BCS Elite 32 this summer with the Indy Gym Rats Silver EYBL. Hull has all the tools to be another high end frontcourt prospect in a lineage of kids who have come through the pipeline. Hull has a combo of power and athleticism that are rare in a prospect entering high school.
Camille Jackson – 2022 – (IL)
Jackson is a powerful option on the wing. She can score it especially attacking downhill. To date, she's one of the more capable options on both ends in the region. She could potentially guard 2-4 given her toughness and power. She's a more athletic version of Destinee Gibbs (Pitt graduate) some years back.
Rayah Kincer – 2022 – Franklin Central HS (IN)
Kincer has good size on the perimeter. She's developing offensively in the space with other elite players but her natural pace, energy and instinct give her a chance to excel. It's always a challenge knowing when / where to distribute or keep offensively in these settings. That said, Kincer's willingness to attack the glass for extra opportunities caught my eye here.
Ashlynn Shade – 2023 – Noblesville HS (IN)
Shade has an incredible amount of natural ability / athleticism. She's still developing her outside shot mechanics but the foundation is there for long term elite level success. Shade has the physical tools and positive demeanor that usually translate over the course of time. She's a must track for NCAA Tournament programs far and wide.
Chloe Spreen – 2024 – Bedford-North Lawrence (IN)
Spreen's upside is tremendous. She has the length, skill and athleticism that NCAA Tournament schools look for and she's only in the eighth grade. In that regard, Spreen would appear to be headed for a spot in the forefront of her class regionally. Add to that her ability to shoot the ball in game with kids 3-4 grades older from beyond the arc and Spreen looks like an Elite 100 prospect in the making.
Tanyuel Welch – 2022 – North Central HS (IN)
Welch is a dynamic option at the point guard position. She's both shifty and quick with the skill to turn on the jets and get downhill. It's evident that Welch is putting in work on her outside shot. Adding that to her bag of tools would elevate her game to another level.
Xamiya Walton – 2024 – Home School (IL)
Walton plays on the ball but could potentially be an off the ball option as well. She has the skill and shooting range to force opposing defenders to guard her out past the 3-point line already. More importantly, Walton already appears to have an understanding of the game that surpasses her years.

Brandon Clay serves as the WNBA Director of Scouting for ProspectsNation.com and owns The JumpOffPlus.com International Report, which is picked up by more than 150 colleges and universities nationwide. He serves as the Executive Camp Director for the Elite Basketball Academy Camps. He serves on the Naismith Trophy Men's / Women's College Player of the Year Academy and is chairman of the HS Boys / Girls Board of Selectors and is on the McDonald's All-American Selection Committee. He also is the publisher of BrandonClayStyle.com.