BCS Summer Championships - Midwest
Posted
1 year 11 months ago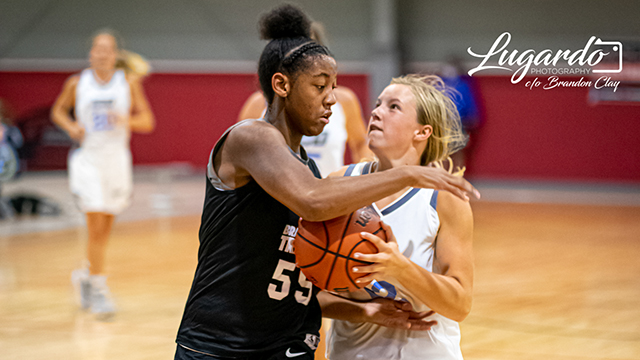 KK Arnold makes a play on defense for Brandon Clay Select at the Midwest BCS Midwest Summer Championships.
ANDERSON, Indiana - The BrandonClayScouting.com Midwest Summer Championships was an opportunity for some of the region's premier prospects to get on the national radar. Our next stop in the Midwest will be September 11-12 for the Terrific 24 Team Showcase before our National Training Academy on the night of the 12th and 13th.
Class of 2021 post Alana Micheaux of 1 Nation came in with a laser like focus and intensity on the block taking on all comers. She is a player who will vault into the national rankings when they expand in the near future.
The hometown team, She Got Game, was well represented by Class of 2021 guard Tyra Ford. She was an off the radar prospect who put herself on with her play here.
Another Class of 2021 guard who caught our attention was Courtney Blakely from 1 Nation. She's a dynamic option at the point spot capable of pushing the tempo or shooting the 3-pointer.
Class of 2022 post Kyra Oldacre of All Ohio XPress has the size and skill that major NCAA Tournament contenders covet. Keep an eye on her as well as we expand our rankings in the rising junior class.
Class of 2022 guard Dakotah Krohn of Always 100 Gators showed a well-rounded skill set that will allow her to be a shot maker at the next level.
KK Arnold made an impression on our staff during the Wisconsin Training Academy in June. The Class of 2023 did the same as a member of Brandon Clay Select this weekend playing alongside Class of 2021 Elite 100 prospects Jayla Smith and Ari Wiggins.
Faith Carson of UTS Elite should be one of the leaders of the pack in the region in the Class of 2023. Michigan State is amongst those who have offered.
Class of 2023 wing Emily Monson has played with Brandon Clay Select two of the last three weekends. In a key matchup against 1 Nation, Monson played so well that Georgia Tech is now recruiting her.
This was our second evaluation on Class of 2023 guard Gracie Barnes of All Ohio Xpress in the past two weeks. She was fantastic shooting the ball on both occasions.
Keep an eye on Class of 2024 guard Sophia Morrison of Always 100 Gamble. The dynamic guard has a game that reminds me of Hoosier State legend Darby Maggard.
All Ohio XPress has a really talented Class of 2025 team. Kelly Peek has a roster full of players who should be in the mix to play early in their high school careers.

Brandon Clay serves as the Director of Scouting for ProspectsNation.com and owns The BrandonClayScouting.com Evaluation Report, which is read by more than 200 colleges and universities nationwide. He also serves as the Executive Skills Director for the Brandon Clay Scouting Academy Series.