BCT All-American Spotlights
Posted
7 months 1 week ago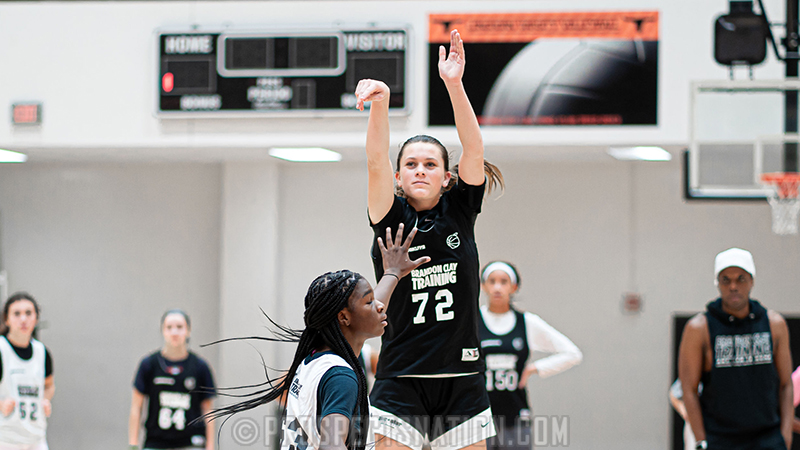 Katie Harpring elevates for a jumper over Asia Johnson at the 2022 BCT All-American Camp. *Photo by Anthony Lugardo.
ATLANTA, Georgia – The Brandon Clay All-American Showcase for Middle School players allowed prospects to take center stage. We offered a spotlight training session ahead of the start of the sessions. Here are the first takeaways from that workout:
Katie Harpring (Atlanta, Georgia), 2026

This was our first time on the floor with the talented eighth grader. Harpring showed right out of the gate that she has the size, skill and strength to shoot with repetitive form out past the 3-point line. In that regard, Harpring's jumpshot looks like a shot usually reserved for high school aged shooters. Holding her followthrough is the next step in the progression.
Peyton Gluesing (Brookhaven, Georgia), 2026

Gluesing's shot keeps improving. She was on the floor with us twice in August. Since then, Gluesing has really cleaned up her jumpshot. There was a small hitch that has gone away. The mechanics and base of her shot are coming along at an elite pace. So is Gluesing's willingness to be assertive both on and off the floor. As her confidence level keeps rising, watch out.
Kennedy Guy (Sarasota, Florida), 2026

Guy can flat out let the ball fly. If she continues on this trajectory, look for her to be an elite outside shooter from the Sunshine State earlier in her high school career than later. Guy's willingness to shoot the same way on every repetition is hard to come by. As she gets more and more comfortable shooting the midrange to go with her 3-pointer, Guy's game will keep going up.
Reese Sebok (Clark, New Jersey), 2026

Sebok has all the tools to be a consistent and productive option at the guard spot. At this moment her game and mechanics lend themselves to Reese being a consistent knockdown shooter in due time. As she works on keeping her right elbow under the ball through her follow through, we expect to see her percentages keep increasing as a result.
Sadie Metzger (Lexington, Massachusetts), 2027
Metzger is solid in her game and skill set shooting it from the wing. As she keeps getting more and more confidence in letting it go from long range, expect Metzger to be a tough matchup for opposing defenses with her crisp looking jumper. She has the length and toolbox to catch and shoot or move off of downscreen action to get her shot off too.
Heaven Bailey (Montgomery, Alabama), 2027
Bailey is becoming one of the country's most willing Academy participants. She wants to get better. She's striving to be a go-to shot maker off of the catch and shoot to compliment her skill to attack the lane driving. Bailey's shot has come a long way since our first session together. Her followthrough is tall now. She's putting in the time at home.
Maliyah Gilbert (LaGrange, Georgia), 2027
Gilbert will have to get her shooting elbow in a little to establish the type of consistency with her release point that she showed she's capable of here. Gilbert is a left-handed shooter who is a good athlete. That burst should allow her a chance to be a productive jump shooter off the bounce using the pull up too.

Brandon Clay serves as the Director of Scouting for ProspectsNation.com and owns The BrandonClayScouting.com Evaluation Report, which is read by more than 200 colleges and universities nationwide. He also serves as the Executive Skills Director for the Brandon Clay Scouting Academy Series