BCT Fall Tour 2021: Georgia
Posted
1 year 9 months ago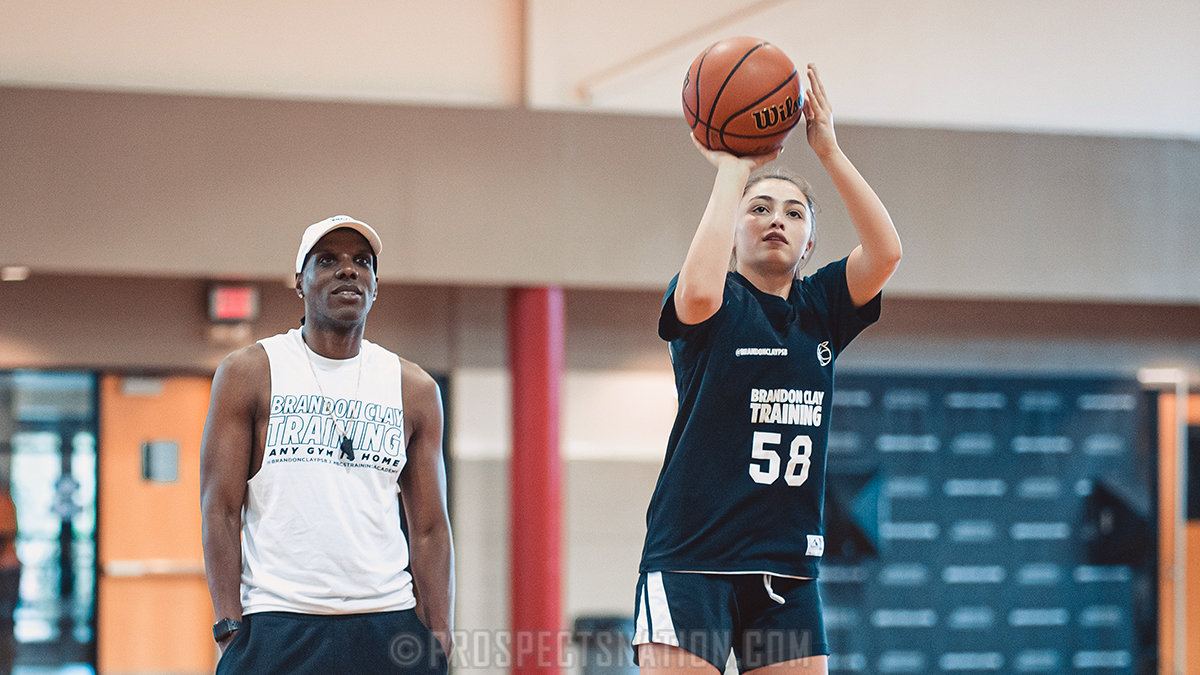 Allison Hoffmann works on her jumper with Brandon Clay at the BCT Academy in Buford, Ga. *Photo by Anthony Lugardo.
BUFORD, Georgia – The second stop on the Brandon Clay Training Academy Fall Tour was on point from start to finish combining details with execution. Led by multiple Brandon Clay Recruiting Program members, the Academy was action packed. Here's a look at some of the notable players from the Spotlight Shooting Sessions:
Peyton Gluesing – 2026 – Holy Innocents School (GA)
Gluesing's dedication to getting better has been on display two Saturdays in a row inside Bogan Park. She is on pace to be a shot maker with range out beyond the 3-point line. For Gluesing, becoming more vocal during the game is the next step for her game.
Hoffmann too was with us for the second straight weekend. She is quickly staking a claim as the best outside shooter in the Peach State. Hoffmann was consistent both in drills and in game play as she works her way back from a minor foot injury that sidelined her in July.
Olivia Hutcherson – 2023 – Holy Innocents School (GA)
A high academic prospect, Hutcherson has a unique blend of power and size. She is a player capable of serving in a plethora of roles for a team at multiple positions on the floor. Hutcherson's skill set development will be a potential separator.
Lydia Ledford – 2026 – Buford MS (GA)
Like Gluesing, Ledford was a middle school prospect who caught our attention in this eval. She is competitive and played with a toughness usually reserved for high school aged players. Ledford's release point and follow through are areas to keep an eye on as points of growth.
Nylah Nuri – 2023 – Johns Creek HS (GA)
Nuri hit several big jumpshots during gameplay. She has the skill and release point accuracy to be a real sniper in-game at the next level. If anything, picking her spots consistently is the next spot for her progression.
Phillips has made strides since we last trained. She has the size and strength to be a consistent threat offensively. Much of her next level progression will come from the ability to score with confidence in the halfcourt. Phillips has a solid tool box to work with.
Toni Warren – 2024 – Cherokee HS (GA)
Warren is a fantastic young prospect in that new age hybrid forward mold. She is a potential shot creator off of the bounce with the athleticism to be an elite level defender. Her jumper will be a point of emphasis over the next 12 months.

Brandon Clay serves as the Director of Scouting for ProspectsNation.com and owns The BrandonClayScouting.com Evaluation Report, which is read by more than 200 colleges and universities nationwide. He also serves as the Executive Skills Director for the Brandon Clay Scouting Academy Series.