Posted
2 years 6 months ago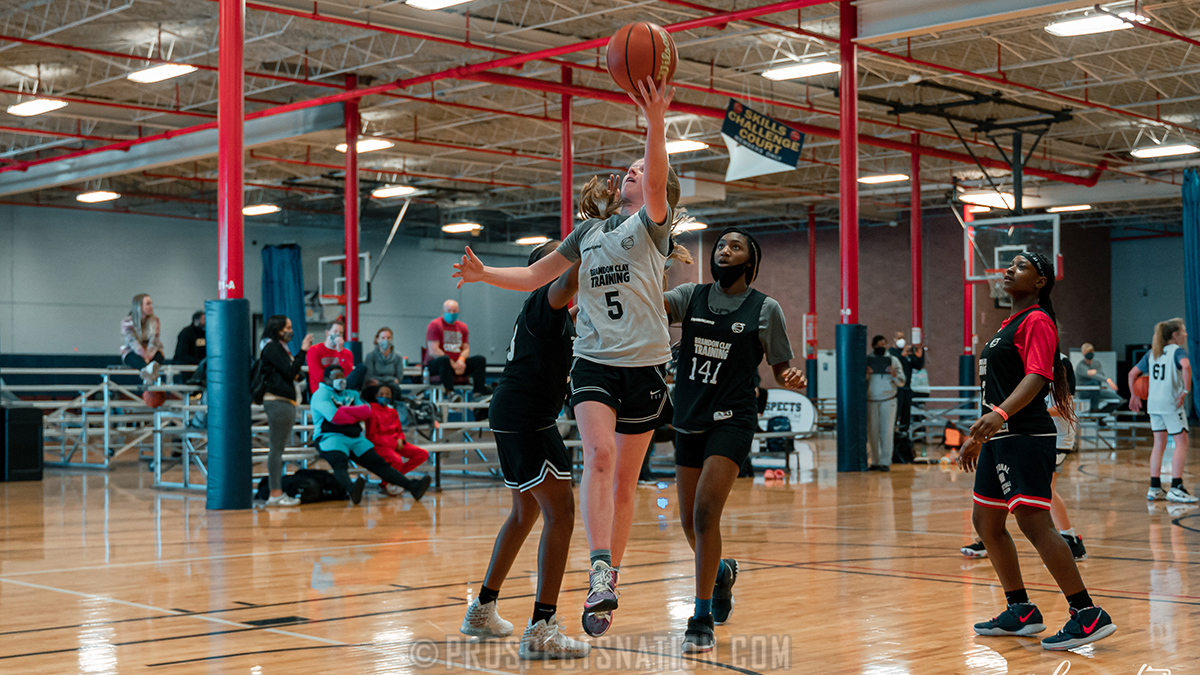 ATLANTA, Georgia – The BrandonClayTraining All American Middle School Academy has become arguably the nation's premier proving ground for the next generation. With campers representing multiple regions of the country, the 2021 edition was no different. My favorite part of the showcase is working with campers during our Spotlight Session Workout. Here's my takeaway from the session:
Courtney Bray (Warrenton, GA), Warrenton County – 2025
Bray is a guard who showed exponential growth in just the small time we were on the floor together. She made a spin pivot coming out of a down screen read action that showed her creativity and potential footwork even drawing the attention of Director of Operations, Taylor Johnson. As she keeps filling out physically, expect more of this from Bray.
Trista Charles (Winston-Salem, NC), Oak Grove – 2025
Keep an eye on Charles over the next couple of years. Her willingness and ability to take our teaching then make the correct adjustments on her shooting, footwork was noteworthy. Charles has the size, skill and disposition to be a quality option at the forward spot in this modern era of the game.
Davis is on pace to be a guard we talk about for years to come. She caught our eye during the Alabama Training Academy last summer and this evaluation showed even more promise. Davis has the skill and fundamental base to be a consistent factor on both ends of the hardwood. She's a more than capable shot maker already as well.

The first thing our staff noticed about Howard in this setting is how she's growing physically. She's long been a prospect who has the evident skill needed to be a factor on the hardwood. Now the size is coming along to compliment that. As Howard keeps filling out, we'll be able to take her game to the next level.

Like Howard, Jernigan seems to be growing up in a hurry. The last time we trained back in the early winter, Jernigan was building the consistency in both her catch and shoot footwork and her follow through. 60 days later, the growth was evident as she starts to ramp up her preparation for the high school level next season.
Kocis is becoming a familiar face at our training academies. This marked her second trip to Atlanta to train with our stops as well as workouts in New York and Rhode Island over the past year. Kocis is already showing all the tools needing to be a consistent backcourt floor spacer and lane attacker off the dribble too.
Addi Petitt (Loganville, GA), Loganville Christian – 2025
This was our staff's first opportunity to work with Petitt. Her demeanor and overall skill level gives us plenty of reason to believe that it won't be our last. She's a joy to train with an upside that leaves a lot of run room for growth over the next few years. For Petitt, that means the sky is the limit.
Spink was a part of our training in Indianapolis back in the summer. It was easy to see her talent and desire to improve in that session. We saw more of the same here. She has the lineage. Her cousin, Baylee Rexing, played at Eastern Washington. Like Rexing, Spink showcased an elite level work ethic here in addition to her skill set.
We just worked with Thompson in Knoxville before the end of the 2020 calendar year. She had a hard cast on and still insisted on being a part of the academy. This time around, Thompson was cast free and ready to work on her game with no limitations. She has the skill to be a vocal leader on the floor as well as a wing who can play both ends of the floor with energy.

Brandon Clay serves as the Director of Scouting for ProspectsNation.com and owns The BrandonClayScouting.com Evaluation Report, which is read by more than 200 colleges and universities nationwide. He also serves as the Executive Skills Director for the Brandon Clay Scouting Academy Series.