BCT Spotlights In Knoxville
Posted
1 year 6 months ago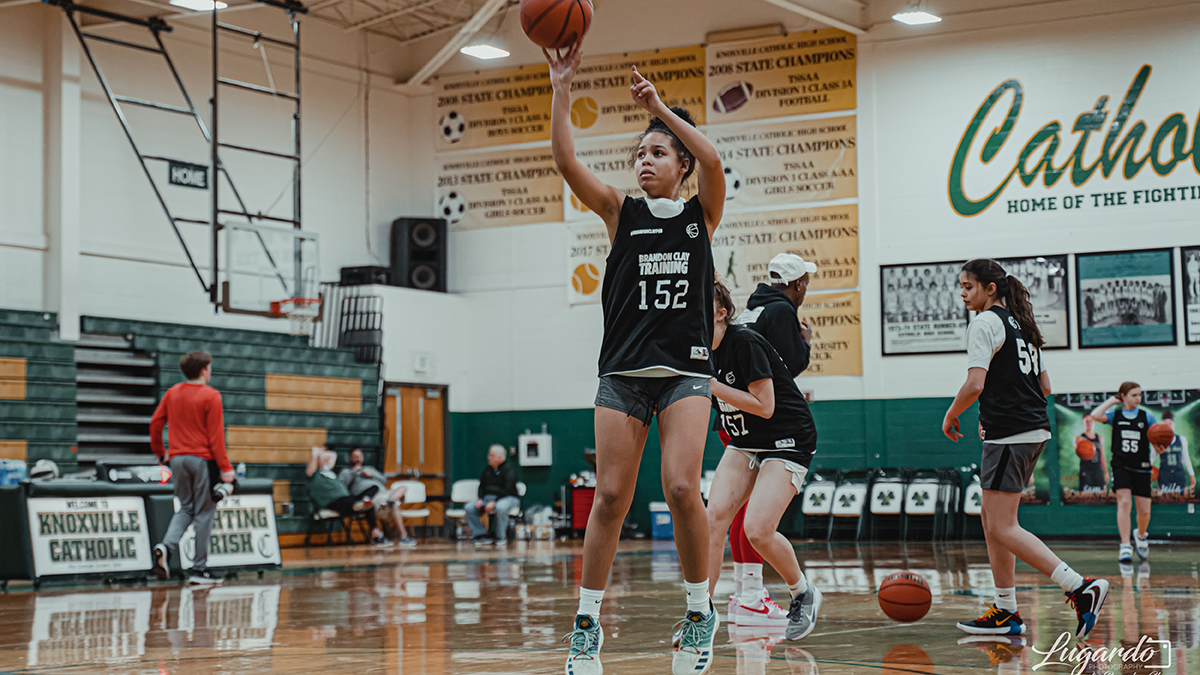 Niah Rhodes of Lexington, Kentucky, works in the Knoxville stop of the Brandon Clay Training Academy series. *Photo by Anthony Lugardo.
KNOXVILLE – Some of the top prospects from the Southeast region were on hand for the Brandon Clay Training Academy inside of Knox Catholic High School. Here's a look at the standouts from the Spotlight Session:

Bailey has a whole different gear left inside of her that she can tap into. With her size and skill, that's a scary thought for opposing coaches and defenders. Bailey already has over 1,000 career high school points with plenty of room for offensive growth given our work in this session. For her, it's a matter of continuing to find elite level scorers who she can learn from by watching their game and demeanors. The foundation is there. Expect Bailey to take advantage.
Bailey Burgess (Seymour, Tenn.), The King's Academy -- 2022
This was our first time on the floor with Burgess. She's a shot maker with a fantastic work ethic. Despite her size, she is a major player on both ends capable of making good things happen when she's in the game. With her shot making ability, Burgess immediately becomes a plus matchup for teams who like to use screen action and/or dribble drive to create shots for jump shooters.
Avary Brewer (Cleveland, Tenn.), Lake Forest HS -- 2025
Like Burgess, this was our first time with Brewer on the floor. She's a steady hand in the backcourt and able to impact the game on both ends of the hardwood. Brewer is a prime candidate to serve as a drive and kick 3-point shot maker. That skill offensively will make it hard to keep Brewer on the bench in a modern day era that rewards consistent shooters who play alongside play makers off of the bounce.
Campbell is a worker's worker. She came from a workout across town to work on her game even more with us. At the college level, Campbell can expand her game in large part by knocking down the open jumper at a high percentage. That skill will force hard closeouts by opposing defenders opening up driving lanes in the process. Campbell is the type of guard that rosters nationwide covet.

Flores is growing up in front of our eyes. It's easy to track progress and provide feedback when we get the chance to train multiple times a year. Flores is getting used to being in spots where she is asked to be a scorer with a train of thought. For middle school prospects, learning to understand why they are doing what they're doing is an important part of becoming a consistent bucket getter. Flores has the tools and aptitude to do just that.

Howard is on pace to train with our staff as much as any prospect in recent memory before she finishes high school. As a result of her dedication, we're starting to see the fruits of her time and effort. She was able to compete and train with some of the top high school kids within a two-hour radius of the gym and not miss a beat. In those situations, becoming a consistent knockdown jump shooter will allow Howard to take advantage of drive and kick shot opportunities.

After leading her school to the state championship game a week ago, Mains was back in the gym already starting to prepare for the next go round. She is just scratching the surface with both her confidence offensively and skill set at an elite level. As Mains keeps adding to both of those, the results should show in a major way twelve months from now.
Niah Rhodes (Lexington, Ky.), Woodford County -- 2024

This was our first opportunity to train with Rhodes. It's evident that she's a prospect more than capable of putting the basketball in the bucket. As she keeps adding to her footwork tool box, expect more and more production on that end going forward. For Rhodes, continuing to watch and consume high level basketball will also go a long way in ensuring growth.
Alaina Schroeder (Powell, Tenn.), Powell HS -- 2024
Schroeder came into the session ready to get better. That's always a fantastic way to earn our staff's attention. The young guard has all the makings of one to keep an eye on in East Tennessee over the next three years. As her decision making and in-game reads keep sharpening, expect Schroeder to become an even more efficient scoring option.

With as many academies as Smith as attended in the past two years, it would be easy to take her blue collar work approach for granted. Trust us, our staff notices everything that she brings to the table. Smith is becoming more and more assertive on the hardwood with her voice. At the same time, her shot pocket continues to rise as does her field goal percentage.
Williams trained with our staff in Winston-Salem and again in Knoxville. Her ability to make plays off the bounce jumps right out. Williams is a major cog on the same school team as Sydney Mains and will look for a state title next spring. If Williams keeps working on her willingness to shoot the open 3-pointer, Knox Catholic will be in a great place to be crowned champions next March.

Brandon Clay serves as the Director of Scouting for ProspectsNation.com and owns The BrandonClayScouting.com Evaluation Report, which is read by more than 200 colleges and universities nationwide. He also serves as the Executive Skills Director for the Brandon Clay Scouting Academy Series.