BCT Summer Showcase Spotlight II
Posted
1 month 2 weeks ago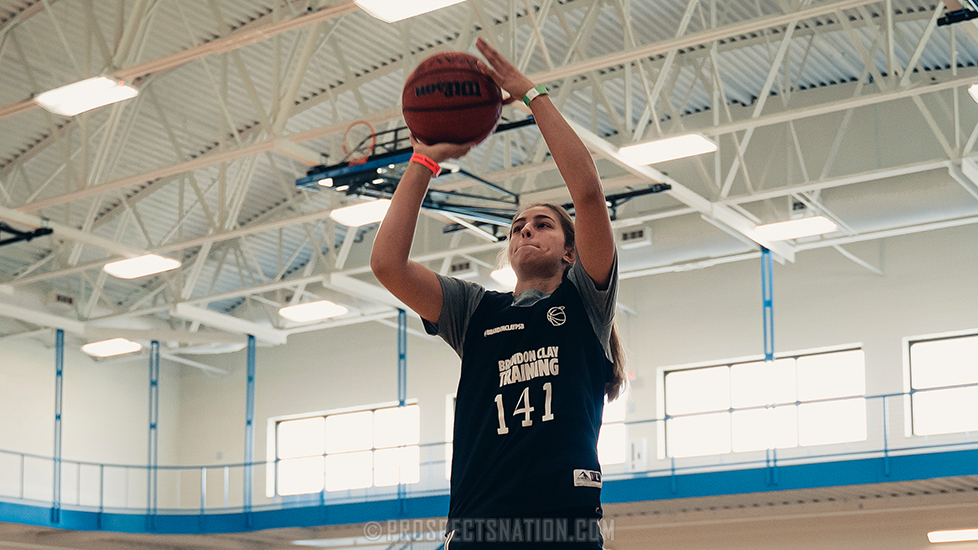 McKayla Miller elevates for a jumper at the Brandon Clay Training Summer Showcase in Georgia. *Photo by Anthony Lugardo.
BUFORD, Georgia – The Brandon Clay Summer Showcase Session II allowed some of the nation's elite prospects to take center stage in the middle of June. We offered a spotlight training session ahead of the start of the sessions. Here are the second set takeaways from that workout:
Finley Parker came into the weekend off of a high level showing less than a week ago in the same venue. An elite shooter with legit size already, Parker has a shot that is always the same way. As she keeps working on attacking off the bounce while playing through contact, Parker is one to keep an eye on. She has a fantastic work ethic.

McKayla Miller has elite size on the wing. As she gets more and more comfortable understanding when to hunt her shots, her game will keep expanding. Miller has a similar build to classmate Emily Monson (Purdue commit). Miller's right hand tails off her jumper just a bit on the follow through. When her form stays tall and tight, her outside shot is a bucket.
Barrett's game has improved dramatically since the start of the pandemic. She has the skill set of a modern day combo guard. Barrett projects as a shooter whose shot has developed to the point where she has 3-point range. She is working daily on improving her mechanics. It's paying off. She'll have a chance to expand her recruiting with the Southeast All Stars during the first half of July.

Brandon Clay serves as the Director of Scouting for ProspectsNation.com and owns The BrandonClayScouting.com Evaluation Report, which is read by more than 200 colleges and universities nationwide. He also serves as the Executive Skills Director for the Brandon Clay Scouting Academy Series.