Posted
1 year 1 month ago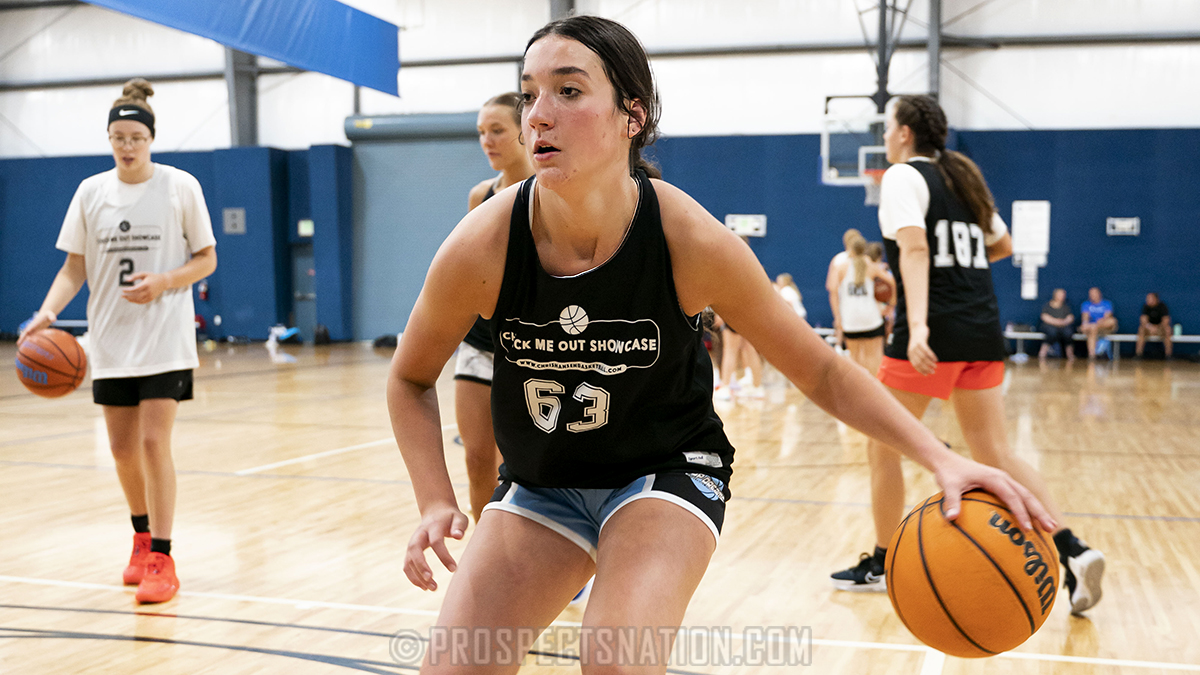 Sydnie Rodriguez of Boise, Idaho showed her ability to impact the game in a lot of areas. *Photo by Calvin Koo.
MERIDIAN, Idaho – For the first time, Elite is Earned Basketball brought the CMO Showcase to the Treasure Valley. Talent from five states plus Canada got in the gym to end their summer. Before the camp began a small group of Feature Players got in the gym for extra work and to set the tone for their weekend.
Lola Donez (Makawao, Hawaii), Oaks Christian – 2024
Donez brings a rare combination of length and smooth athleticism to the floor. For a long 5-foot-11 guard she has very nice handle and it's all functional. Once she gets an angle her gait and ability to extend to the rim stand out. The combination led to a lot of paint touches. She got out in transition and found easy buckets and was also very active defensively.
Amari Whiting (Provo, Utah), Timpview – 2023
The BYU commit came to camp and showed what makes her an ELITE 150 prospect. She's a heady guard who competes on both ends of the court with the same intensity. She used her physicality off the dribble to create scoring angles and handled being the kid that everyone wanted of piece of with grace. The toughness she brings to the floor with her skill set makes her fun to watch and someone players like playing with.
Avery Howell (Boise, Idaho), Boise – 2024
It's been a breakout year for Howell. Coming off a good summer with her Meta club program, Howell really showed her game as at a new level at camp. She's using her physical tools on both ends of the floor. She's a disruptive defender, both on the ball and in help. She's an active rebounder who can start the break on her own and her range continues to expand.
Jayla Frasz (Regina, Canada), Rabun Gap Nachoochee – 2025
Because of COVID-related border closures we've not seen Frasz in some time. She's made some big strides in her game. She has the ball skill and understanding to do everything we threw at her. What was really impressive was the poise and patience she showed when we got into live action. On countless occasions she waited her defender out to commit to the long close out and making it simple and easy for her to attack to the rim or mid-range.
Sydnie Rodriguez (Boise, Idaho), Borah – 2024
Rodriguez stood out for a lot of reasons. The 5-11 guard from Boise, Idaho, stood out with her attention to detail in her skill set. From the tiniest things like believable pass fakes to game like reps even without a defender, Rodriguez was locked in. Her skill set is really versatile where you can throw a lot of assignments at her as well. She was super competitive and had a great weekend in the gym.
Jaycee Jensen (Twin Falls, Idaho), Twin Falls – 2024
Coaches love players with consistent energy on the floor and Jensen brought just that. The 5-8 guard has a solid skill set in the works. She handles the ball well and was comfortable with a variety of finishes around the bucket, including some nice reverse work. Her next big leap will come with adjusting to the speed of the game at the elite level.
T'Maea Eteuati (Layton, Utah), SHorline – 2026
Eteuati has elite speed and quickness with the basketball. The next phase of her evolution is simple, learning to change speeds and be efficient. Once she masters playing slow to fast and fast to slow she'll be incredibly difficult to guard. But with her speeds she still puts a lot of pressure on defenders, gets paint touches and finds angles to score. She was a positive ball of energy on the floor as well.
Kylie Dansie (Rigby, Idaho), Rigby – 2024
Dansie is a combo guard with good length in her 5-9 frame. The rising junior is competitive. She plays with good quickness both with the ball and without it. She set up a couple of nice step-through moves and showed some nice bounce to her finishing game. Dansie was active defensively and really responded well to coaching.

Chris Hansen is managing editor of ProspectsNation.com and serves on the McDonald's All-American and Naismith Trophy selection committees. He was a co-founder of and the national director of scouting for ESPN HoopGurlz from 2005 until 2012 and is the director of the Check Me Out Showcase and ELITE is EARNED events. He can be reached at chris@prospectsnation.com.