Brandon Clay Recruiting Program Rundown: October 5
Posted
1 year 11 months ago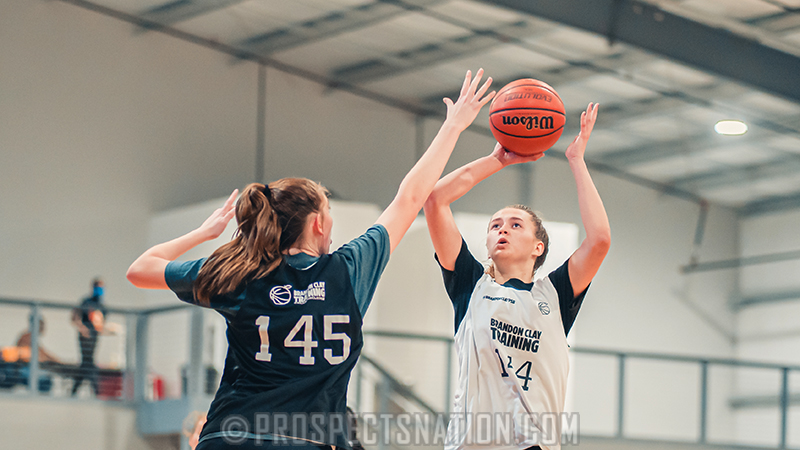 Mckenzie Swanson elevates for a jumper in Indianapolis. *Photo by Anthony Lugardo.
A lot has happened over the course of the summer for the members of the Brandon Clay Recruiting Program. Here's an update on multiple prospects with new recruitment information:
Class of 2022 guard Lydia Mordarski of Massachusetts has a new offer from Babson. Mordarski had a fantastic summer with the Bay State Jaguars. She will be a part of our Boston Academy in late-October in Boston.

Class of 2023 wing Emily Monson of Tennessee is starting to turn the corner with her game. She had numerous schools in for open gym adding an offer from East Tennessee State in the process. Monson's play at both our Atlanta and Indianapolis Academies is a major reason why colleges are flocking to Blackman to see her.

Class of 2023 guard Jada Clarkson of Montana was fantastic during our workout in Atlanta a month ago. She is open to attending schools from coast to coast and just visited The Master's University in California last weekend. They offered Clarkson.

Class of 2023 guard Peyton Freiermuth of Texas had Texas Arlington in to watch her workout this week. UTA coach Shereka Wright has already extended an offer to Freiermuth. In our Austin Academy, she showed the ability to be a multi-faceted option in the backcourt whether playing on or off the basketball.

Class of 2023 guard Karson Martin of Georgia visited Mercer this past weekend. Martin's game and confidence showed a new level of growth at our Atlanta Academy in June. She's one to keep an eye on this school season.

Navy has shown interest in both Class of 2023 guard Rachel Smith of Kentucky and Class of 2024 guard Izzy Proffitt of Tennessee. They showed real growth during the Atlanta workout last month and are two of the premier guards in their respective states.

Class of 2024 forward Ellery Minch of Indiana is seeing her recruitment start to pickup. She has a new offer from Butler and just visited Lehigh this past weekend. Minch showed during the Indianapolis Academy in June that she has the shooting range to match any forward in the class shot for shot.

Class of 2024 forward Harper Peterson of California has a new offer from BYU. Peterson has established herself as one of the West Coast's premier recruits in the class and an elite option nationally at the same time. We trained for the first time in Dallas this past weekend.

Class of 2024 post Mckenzie Swanson of Michigan visited Northwestern last weekend. A standout during our Indianapolis Academy, Swanson projects as a national level recruit in the frontcourt.


Brandon Clay serves as the Director of Scouting for ProspectsNation.com and owns The BrandonClayScouting.com Evaluation Report, which is read by more than 200 colleges and universities nationwide. He also serves as the Executive Skills Director for the Brandon Clay Scouting Academy Series.