Brandon Clay Training Northeast Spotlights
Posted
1 year 6 months ago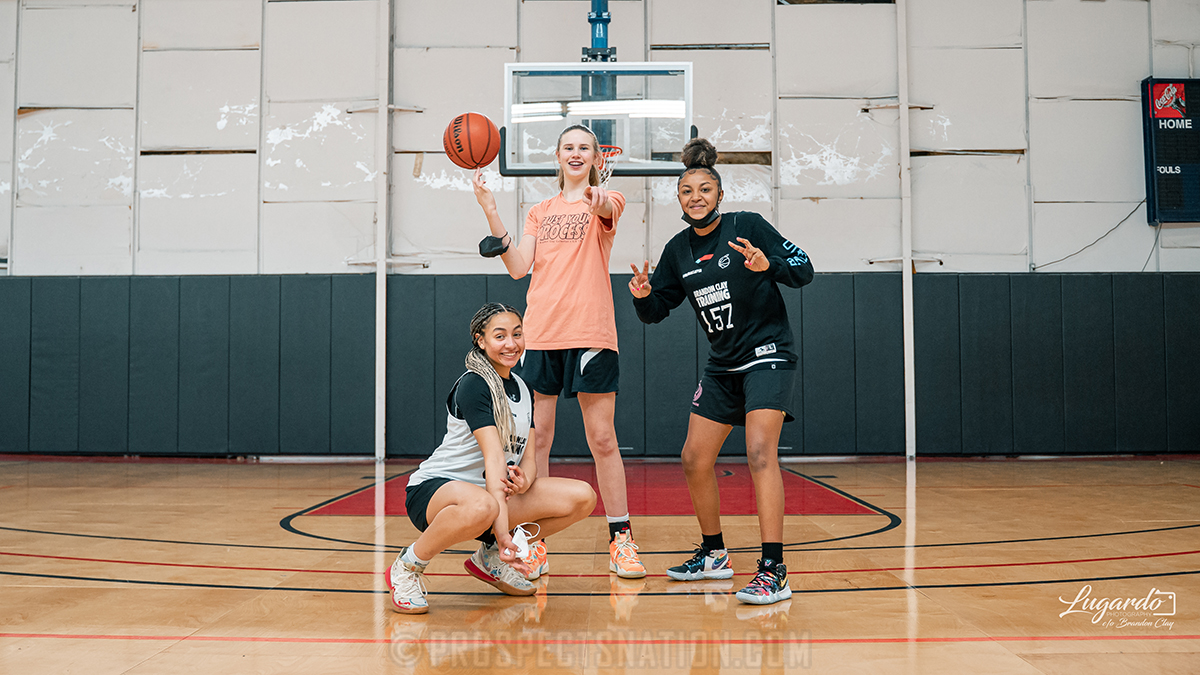 Devyn Quigley, Kaelyn Carroll and Olivia White at the 2021 Brandon Clay Training Spotlight Session in New Jersey. *Photo by Anthony Lugardo.
NEW JERSEY – The Brandon Clay Training Spotlight Sessions in partnership with Brandon Clay Recruiting are designed to provide an add-on opportunity for some of the region's elite to get shooting instruction prior to a major individual event in the area. This time the sessions were held just before the Northeast All American Camp presented by SLAM. Here's a look back at the underclass session:
2024 Checklist
Layla Hernandez (East Stroudsburg, PA)
Hernandez is a slender framed sniper from the outside. She possesses a consistent release point on her shot. Like most good young shooters, continuing to work on building her low, long and quick first step downhill will be a point of emphasis over the next 12 to 18 months.
Mackenzie Hohulin (Plymouth, MA)
When Hohulin's followthrough is high, her shot goes in at a high percentage. She's the type of camper we look forward to training for years to come. We made a couple of tweaks to her release point that Holulin was able to adjust to in a timely fashion seeing instant results.
Sophia Martinez (Westampton, NJ)
Martinez has the bloodline to understand the work ethic it takes to make it happen at the college level. Her sister is playing at Colby College. Mia has the skill to be a next level prospect for sure but more importantly she showed the willingness to pay attention to detail. Martinez has a legitimate first step downhill.
Devin Quigley (Manchester, NJ)
Quigley has a fantastic base from which to grow her game. She's a capable shot maker from the wing with the skill to create off the bounce. Quigley's footwork and ability to pick up on concepts quickly caught our attention here.
Jessie Silk (Newton, MA)
Silk is a steady hand at the guard spot. She's a more than capable jump shooter who in our first time on the floor with her impressed our staff with her high skill level and shot making. A left-handed shooter, Silk has a compact frame that should let her take contact while still making plays.
2025 Checklist
Carroll stood out during our Rhode Island Training Academy in October. She is such a talented yet coachable middle school prospect with a huge upside. She is committed to elite skill development at an early age.
Kennedy Henry (Hockessin, DE)
Henry is a slender yet smooth prospect on the perimeter. In this setting, she excelled with her followthrough crisp at the top on multiple occasions. As Henry continues to get physically stronger with time, her range will continue to extend as a result.
Summer Krajcir (West Haven, CT)
Krajcir came in focused and ready for action from the very first drill. She's a prime candidate to be a high level shot maker in time especially with her feet set. Expect Krajcir to be a consistent recipient of the dribble and drive kick action that the modern day game has brought to the forefront.
Layla Mahani (Wilmington, DE)
Mahani is a steady option in the backcourt. She definitely has the qualities to her game and jumper that a potential coach can count on. As ProspectsNation.com National Director of Scouting Jonathan Hemingway likes to say, "Mahani has a fantastic wrist snap action to complete her shooting motion."
Angelina Mckenna (Derby, CT)
McKenna came across as one to track in large part due to her smooth pullup jumper coupled with an easy release on her jumper. For young prospects like McKenna, learning how to consistently stick the landing on the shot takes their game to another level. Stay tuned for how she grows from here.
Jada Snow (Hockessin, DE)
Snow has the size and skill that seems to translate well over time when there's a continued focus on development. Our staff was impressed with her touch from the outside given her versatility as a middle school prospect.
Olivia White (Bronx, NY)
White has a bright future if she'll keep working on her overall shooting ability with the attention to detail that we saw here. She's got good size at the guard spot coupled with the fact that she hasn't even entered high school yet. As her footwork progresses, so will she.
Yarnevich work ethic for a player at this age is uncanny. She has been to numerous training academies with us over the past years. In the process, we've watched the release point on her jumper elevate and improve her stamina. Keep a close watch on Yarnevich's game the next couple of years as there is plenty of upside still remaining.
2027 Checklist
Taylor Brown (Wyncote, PA)
Brown might have been the youngest player in the training session but it didn't feel like it. In what was the first of many sessions to come with our staff, Brown's footwork and mechanics far exceeded her age. In that regard, the foundation is there for her to lead the way in her class over time.

Brandon Clay serves as the Director of Scouting for ProspectsNation.com and owns The BrandonClayScouting.com Evaluation Report, which is read by more than 200 colleges and universities nationwide. He also serves as the Executive Skills Director for the Brandon Clay Scouting Academy Series.