Bright Lights At Summer Invite
Posted
1 year 4 months ago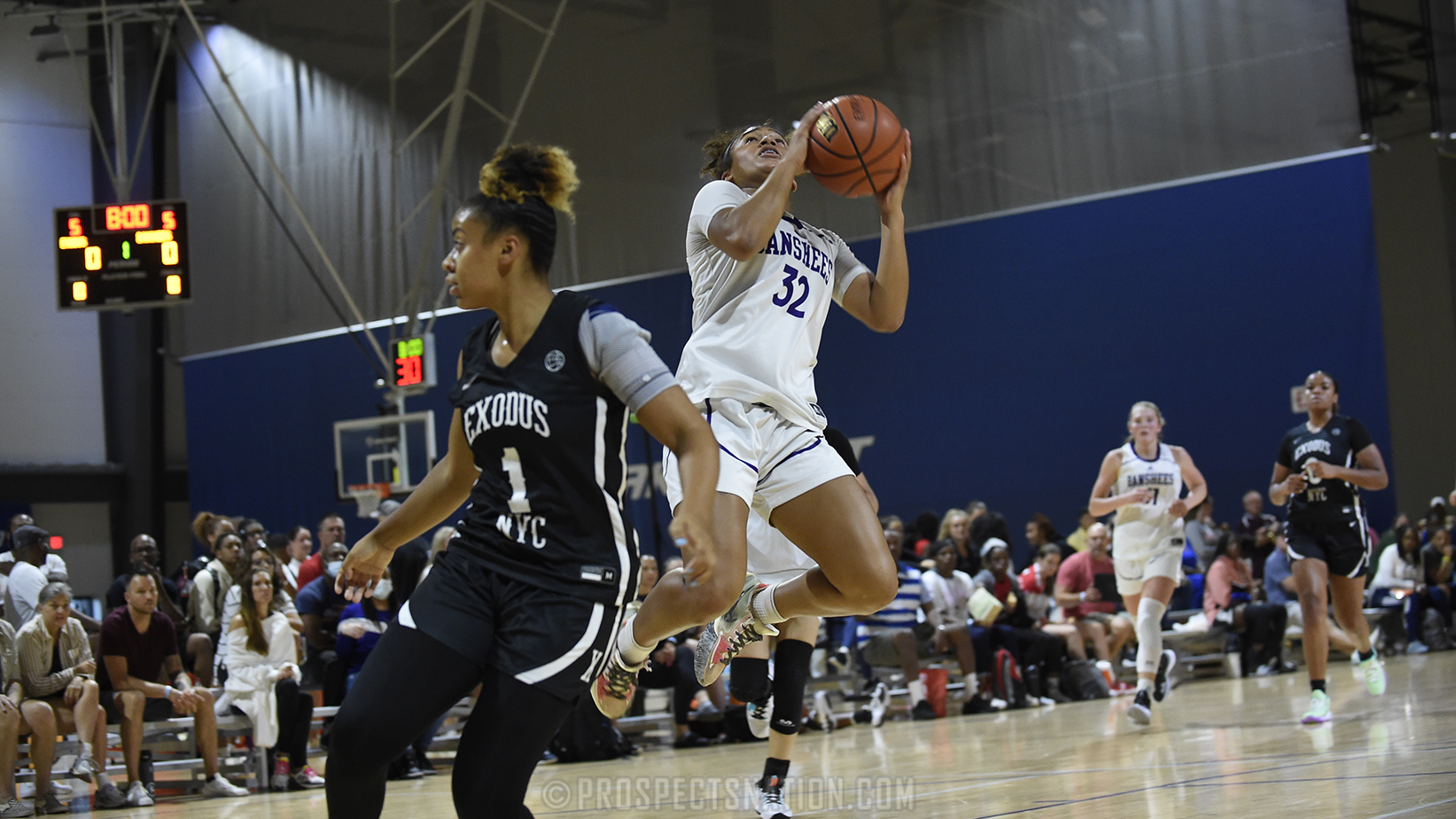 Banshees rising junior Ashley Singhateh of Eureka, Kansas, elevates for a bucket against Exodus EYBL. *Photo by Chris Hansen.
EMERSON, Georgia – The second half of July kicked off in the Peach State and the BCS Summer Invite South saw packed baselines and ample talent. After the two-day event we learned plenty about players from across the country.
Banshees Show Out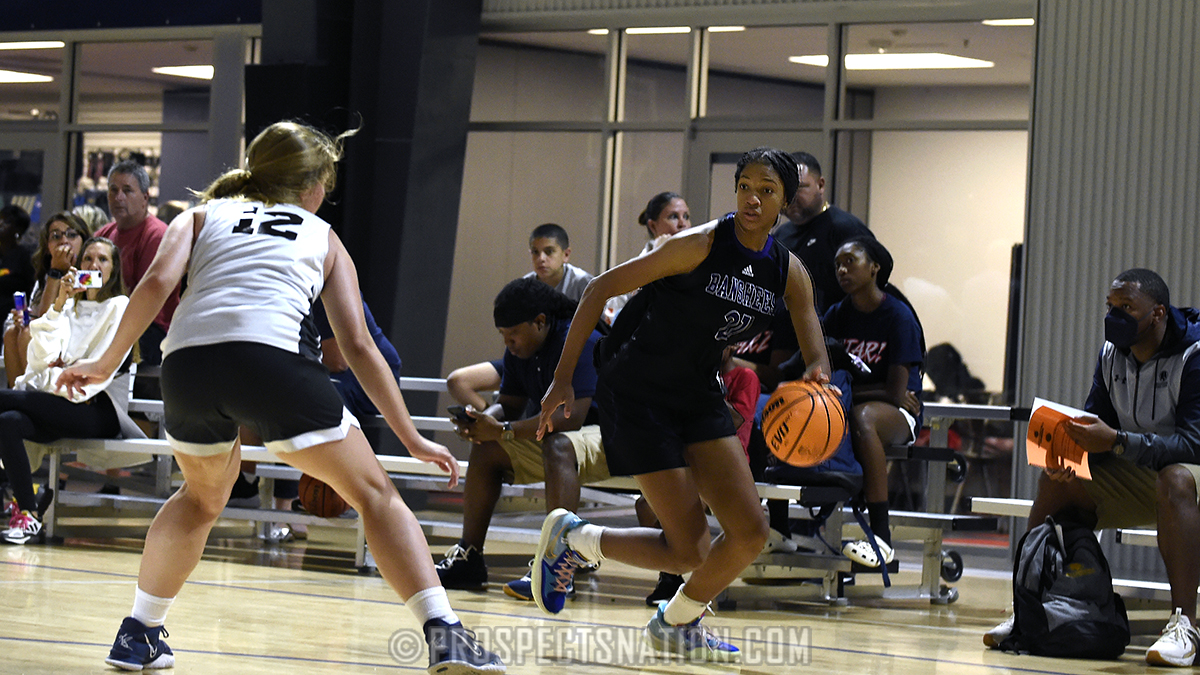 Taliyah Parker of Oklahom City, Oklahoma, attacks for the Banshees 17U squad. *Photo by Chris Hansen.
In the argument for the top program in the country without a shoe company sponsorship are the Banshees. With players from Arkansas Kansas, Missouri and Oklahoma, the regional powerhouse had three teams in the building making waves.
The Banshees 17U Morgan squad has a big name prospect known nationally in Taliyah Parker of Oklahoma City, Oklahoma. The 6-1 wing showed why she is on the ELITE 150 watch list in the 2024 class. Also impressing for the oldest Banshees squad were Aaliyah Henderson of Norman, Oklahoma, and Pacious McDaniel of Springdale, Arkansas. Both are 2023 prospects who check a lot of boxes. Henderson is a physical presence on the perimeter. McDaniel was player her coaches trusted to guard the other team's best scorer, regardless of position.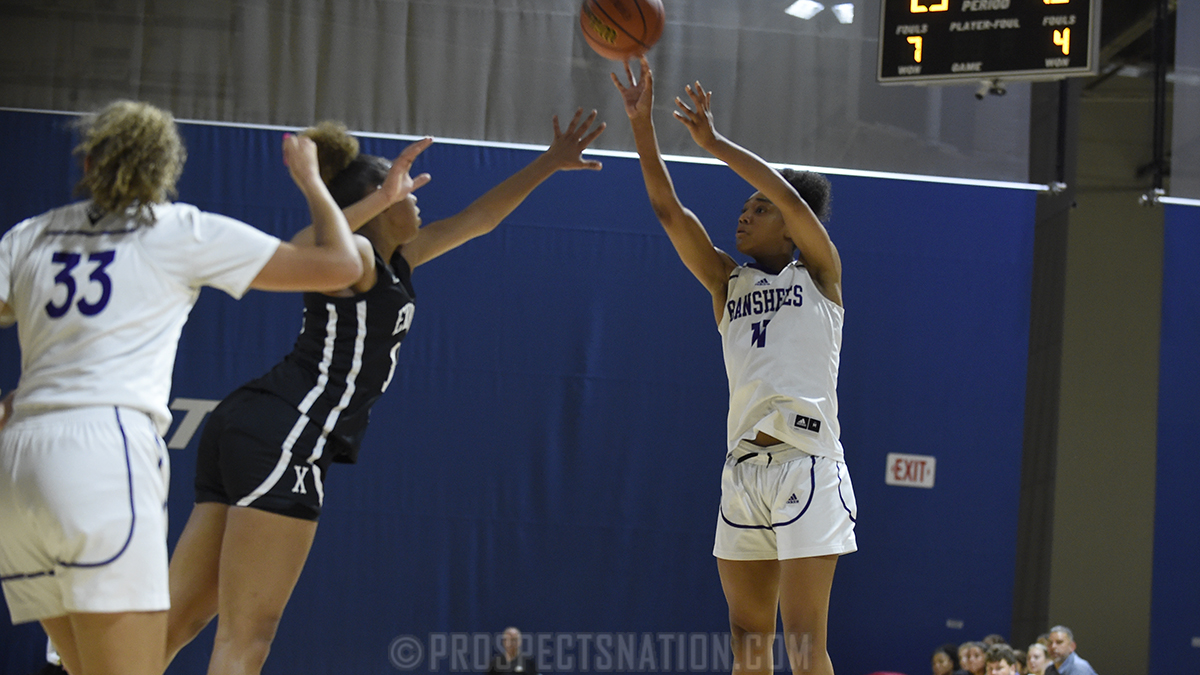 Marcayla Johnson of Tulsa, Oklahoma, elevates for a bucket for the Banshees 16U squad. *Photo by Chris Hansen.
The Banshees 16U team consists of mostly 2025 prospects and their talent pool is deep. Point guard Janiyah Williams of Stillwater, Oklahoma, sets the tone for the team and is a smooth operator. She's flanked by Keziah Lofton, a 5-11 wing from Yukon, Oklahoma, and Marcayla Johnson, a 6-0 guard from Tulsa, Oklahoma, both of whom are in the ELITE 25 conversation. Joining them in the backcourt is sharpshooter Seleh Harmon of Norman, Oklahoma. Both Audrey Hopkins of Owasso, Oklahoma, and Ashley Singhateh of Eureka, Kansas, bring big energy. And in a look to the future the Banshees have 2028 guard Payton Caudle of Elkins, Arkansas, earning her stripes early.
The Summer Of Exodus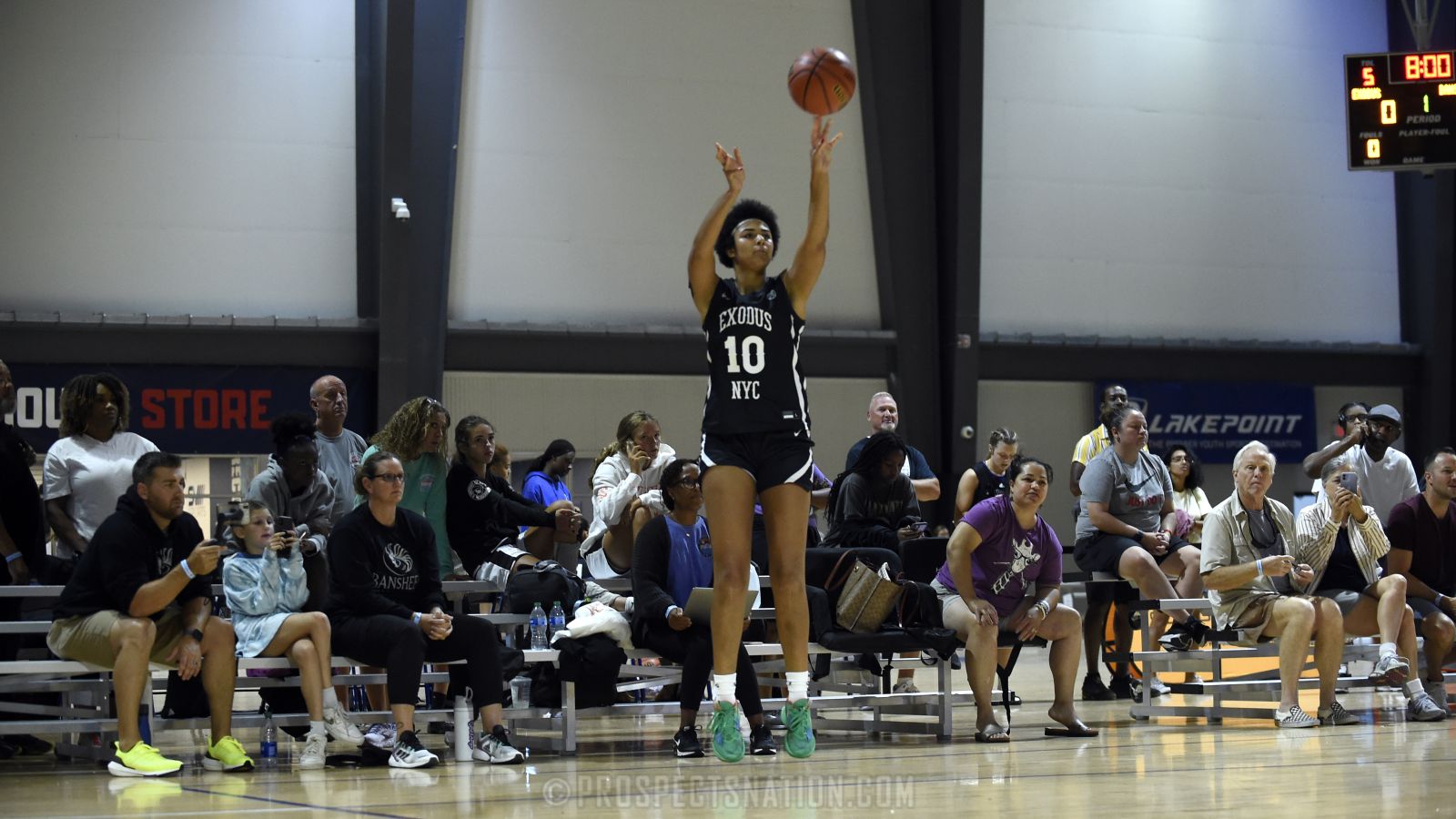 Carys Baker of Exodus 17U EYBL got her jumper dialed in at Lakepoint in Georiga. *Photo by Chris Hansen.
Coming off a run to the Nike Nationals championship game, a program first, Exodus EYBL brought plenty of talent and moxy to Atlanta.
In Chicago it was Rylie Theuerkauf of Tenafly, New Jersey, a Wake Forest commit, who shot the cover off the ball. Lakepoint in turn looked to be a home court for Carys Baker, a 6-2 small forward from West Hartford, Connecticut, as she found her shooting stroke and kept her heater going.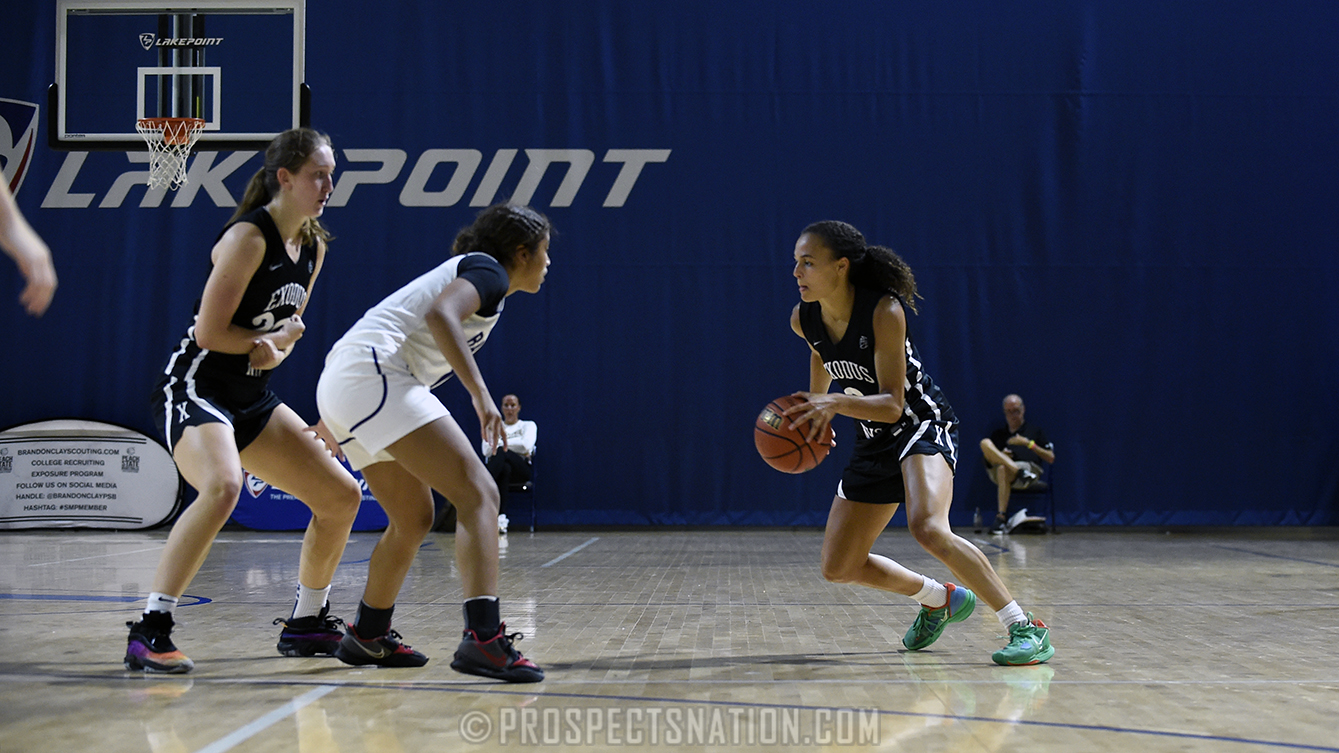 Mackenzie Nelson's play for Exodus this summer has been on point. *Photo by Chris Hansen.
With point guard Mackenzie Nelson of Greenwich, Connecticut, in charge and putting a lot of pressure on teams' help defenders, you have to be ready to knock down shots. She is going to get you open. And when Nelson isn't on the floor you're dealing with Lauryn Swann, a 5-7 rising junior point guard from Queens Village, New York.
The inside play across the board for Exodus is a lot to contend with. There is no drop off with the second unit in the front court. The quartet of Clara Strack, a 6-4 Virginia Tech commit from Orchard Park, New York, Mary Ashley Groot, a 6-2 ELITE 150 prospect from New York, New York, Kateryna Koval, a 6-5 ELITE 25 Watch List rising junior from Rosedale, New York, and Tayla Thomas, a 6-4 rising junior from East Orange, New Jersey, can matchup with any front line in the country.
Starring In The Southeast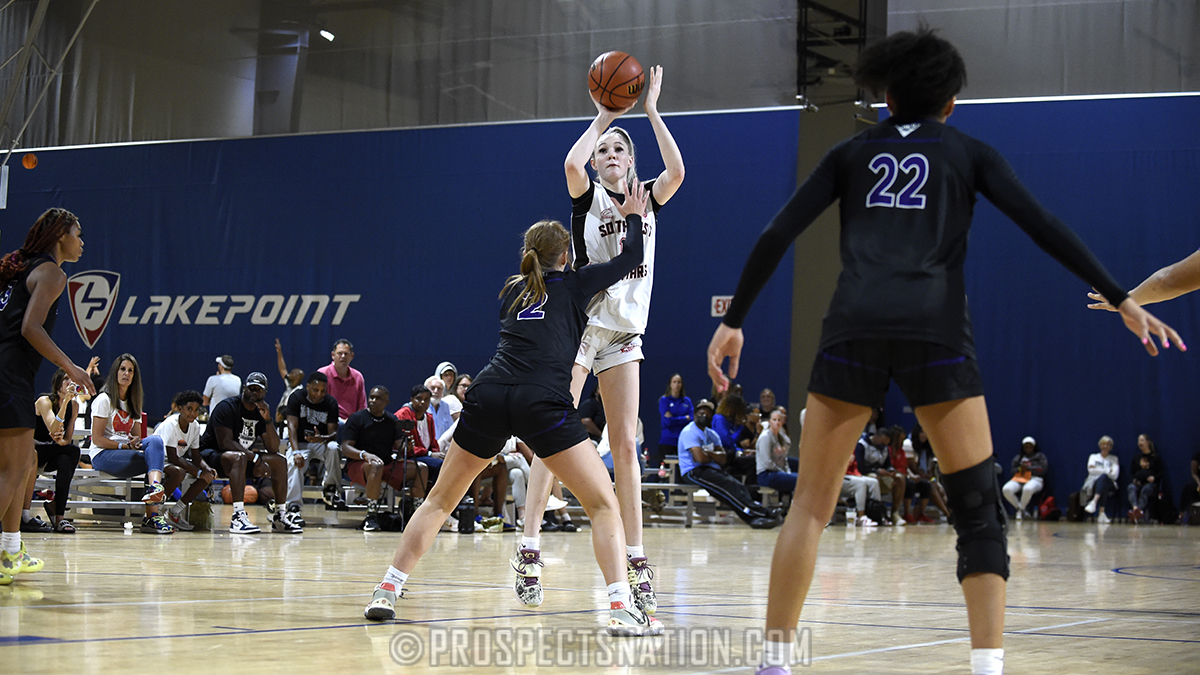 Chloe Kitts of Southeast All Stars Black elevates over her defender for a bucket. *Photo by Chris Hansen.
It's been a tricky summer for Southeast All Stars Black. With two of the staple players missing time playing in FIBA championships, getting Diana Collins of Lilburn, Georgia, and Chloe Kitts of Oviedo, Florida, back on the court together. Collins fresh off her 11.6 point, 3.3 rebound and 2.9 assist per game performance in the FIBA U20 European championships for Sweden, brought back her moxy and scoring to the point guard position. Kitts, who was with the program in the first half of July fresh off a gold medal with the USA Basketball U18 team in Argentina. Those two together were needed for the matchups with Exodus EYBL and Banshees 17.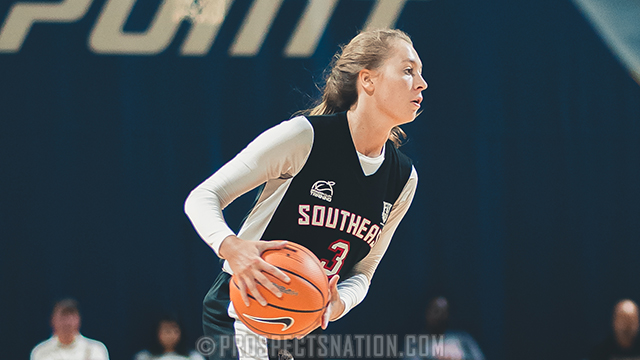 Hannah Cail of Savannah, Georgia, has stepped in and played great minutes in July for SAS Black. *Photo by Anthony Lugardo.
But the two ELITE 150 players aren't the only thing SAS Black has. Lily Pereira of Winston-Salem, North Carolina, continued her gritty play from the first half of July. Strong interior play from Kendall Emener of Lizella, Georgia, was on time given the size of the competition. Hannah Cail of Savannah, Georgia, was a new addition to the Black team in July and her energy, quickness and ability to knockdown the long-range jumper all added to the teams ability to compete with top teams.

Hansen is managing editor of ProspectsNation.com and a McDonald's All-American selection committee member. He was the national director of scouting for ESPN HoopGurlz from 2005 until 2012. He can be reached at chris@prospectsnation.com.