Cardinals Land No. 1 Durr
Posted
9 years 3 weeks ago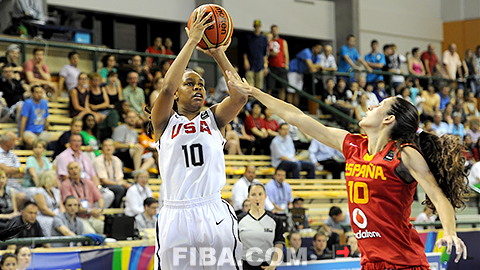 Asia Durr has FIBA hardware and will look to earn an NCAA championship at Louisville. *Courtesy of FIBA.com.
Tweet
Asia Durr, the No. 1 overall prospect in the ELITE 150 for the class of 2015, made a verbal pledge to Louisville today. With her commitment, the Douglasville, Ga., native who chose the ACC school over Baylor, Duke, Maryland, and Notre Dame, gave coach Jeff Walz and his staff Louisville's first No. 1 overall recruit in program history.
Durr's timeline was sped up following her August 30th campus visit to Louisville. She decided to cancel her remaining visits and pull the trigger on becoming a Cardinal.
With Durr joining their 2015 recruiting class, Louisville now has four verbal commitments for the class, all of whom are members of the ELITE 150 -- Taja Cole, a 5-foot-8 guard from Richmond, Va., Brianna Jones a 5-9 guard from North Babylon, N.Y., and Erin DeGrate, a 6-3 post from Waco, Texas.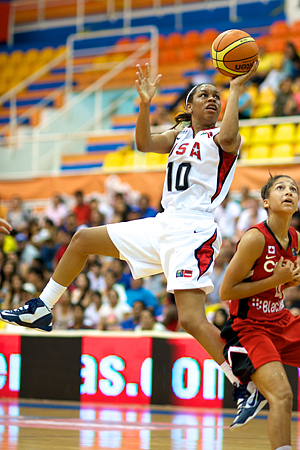 Asia Durr is Louisville's first No. 1
prospect. *Photo by Haley Weit.
Cole, like Durr, has combo guard like ability and could be used as both a true point guard or a slashing wing while playing alongside Durr. Jones is a very good mid-range shooter who is starting to develop into a high level 3-point shooter. Her ability to make open 3-point shots will be key as playing alongside of Durr and Cole for four years should free up a high number of quality looks. DeGrate is a true five player and will give the ACC program much needed size and toughness on the interior.
Next year Louisville will lose five seniors and have at least nine freshman and sophomores on the roster. While there will certainly be an abundance of talent on the 2015-16 Louisville roster, they will also undoubtedly be young and inexperienced.
However, Durr has the potential to be a different kind of freshman. Throughout her prep career she has led teams and managed to carry a large part of the offensive scoring load while doing so. Durr's ability to walk on campus and score the ball at a high level early in her career will be much needed for the Walz and his staff as her presence will give a young team a heightened level of confidence.
While the 2015 class fails to compare to some of the more talented classes in years past, Durr's excellence is certainly on par with being a No. 1 overall prospect. As the top ranked player in the class, she has that "it" factor that acts as a true game changer for college programs. With the No. 5 ranked recruiting class for 2014 on campus and now the No. 1 overall prospect in the 2015 class on the way Louisville has the core to compete for a spot in multiple final fours in the future. Follow @KeilMoorePSB

Moore is the Director of Scouting for the JumpOffPlus.com National Scouting Report and international scouting report. He has been a member if the women's basketball community for more than six years as a trainer and evaluator. He can be reached at keil@prospectsnation.com.