Carolina Style BClay Training
Posted
10 months 2 weeks ago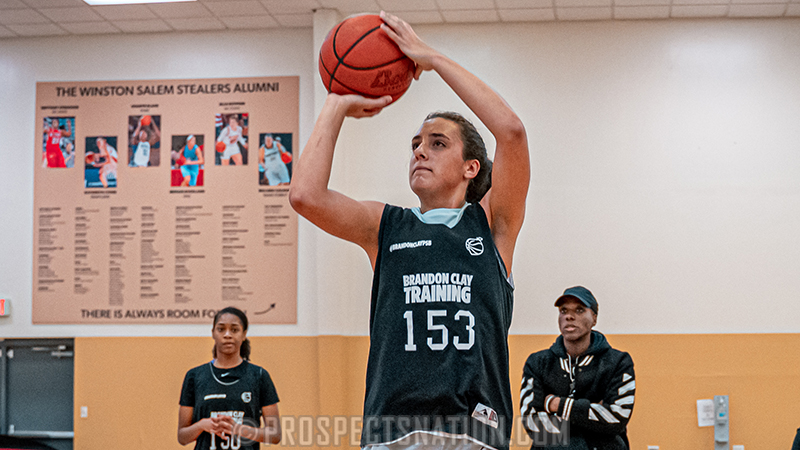 Lily Pereira of Wesleyan Christian works on her jumper during the Brandon Clay Training spotlight session. *Photo by Anthony Lugardo.
WINSTON SALEM, North Carolina - The Brandon Clay Training Academy series to bring a unique training atmosphere to gymnasiums across the country. Our favorite part of the Academy is working with campers during our Spotlight Session Workout. Here are the takeaways from the session:
Beaty made the 7-hour trek one way from Tennessee to be a part of what we had going on. It was apparent right away that she has a knack for finding ways to score the basketball. As with most middle school prospects, it will be important for Beaty to keep learning to understand why she's making certain reads at certain moments. The foundation is there for her to be a steady hand scoring the ball both at the high school but college level as she matures.
Parker Childress (Millers Creek, N.C.), West Wilkes - 2023
Simply put, Childress is the type of all around worker that coaches need on a roster. She made arguably the most instinctually sound basketball play of the whole weekend on a called double team trap late game situation. Childress was on the off side and shot the gap for a steal without having worked on rotations at all. Coupling that instinct with Childress ability to catch and shoot on the other end gives us good reason to project her as a next level prospect.
For a middle school prospect, Graves took advantage of the chance to compete with high level older talent. She has the skill to keep leveling up over the coming years with the confidence to let it fly when she gets a clean look. Expect Graves to keep learning how to quarterback a team with her voice on both ends of the floor. Her mind was in step with our teaching the whole weekend as she genuinely used the Academy as a chance to grow her game.
Trinity Hairston (Kernersville, N.C.), East Forsyth - 2023
For a first time camper, Hairston did a good job of picking up the skill and drill concepts thrown her way. She's a prospect who should continue to grow vocally as she becomes more and more comfortable with what she's seeing on the floor and understanding what calls, terms to use where. With her length and speed, there's no reason Hairston shouldn't be a fantastic on ball defender as well. In that regard, she was really impressive here as we got into gameplay.
Grace Harriman (High Point, N.C.), Bishop McGuinness - 2023
The most impressive aspect of our staff's time with Harriman was without question her work ethic and desire to grow. She showed real growth throughout the weekend doing whatever was needed especially during gameplay. Harriman's overall versatility coupled with her grit and high on floor IQ are going to compliment her face up offensive game nicely. She's a definite possibility to be utilized in pick and roll or pop sets.
Adelaide Jernigan (Winston-Salem, N.C.), Summit School - 2025
In a long line of quality backcourt play to emerge from the area, Jernigan appears to have next up. She's still growing into her body and game playing with prospects three to four years her senior here. Jernigan's ability to shoot the 3-pointer with a consistent 2-handed, one second followthrough is the next step in her development. The talent and work ethic both seem to be in place for her to be successful as time goes on.
Michela Jones (Winston Salem, N.C.), Winston Salem Christian - 2023
Jones has a smooth, slender build with the skill to be a consistent threat on the outside shooting the ball. Right now, she is still developing the rhythm to handle the ball in the halfcourt against high level defenders. That said her potential and upside is fantastic based on what our staff saw here in our initial evaluation of her game. Jones has all of the physical tools to be a next level player.

From the opening shooting session, Pereira's excitement about the game and desire to improve jumped out at our staff. She has the skill to be a consistent jump shooter from both the midrange and the 3-point line all in due time. In a lot of aspects of her game, Pereira represents the new era of positionless basketball as she potentially could serve as a three if not 4 position option for a college. Factor in her academic prowess and the sky appears to be the limit for her.
Emma Pendleton (Pfafftown, N.C.), Ronald Reagan - 2023
Like so many of the prospects here in Winston Salem, this was our first chance to train with Pendleton. She has the true size and build that colleges nationwide covet. Pendleton showed a nice, soft touch even making shots consistently out to 17 feet here. Going forward, expect her to be a prospect capable of giving a college roster quality minutes on the interior. The better her conditioning, the more of those minutes Pendleton will be able to provide.
We worked with Yarnevich back in February. Her game has progressed nicely since then. Yarnevich has the skill, size to be a consistent threat on both ends inside and outside. Her blend of outside shooting coupled with interior play is perfectly tailored to the modern era of frontcourt play. Despite the limited playing opportunities for kids this summer, Yarnevich didn't look a bit out of rhythm especially in gameplay.

Brandon Clay serves as the Director of Scouting for ProspectsNation.com and owns The BrandonClayScouting.com Evaluation Report, which is read by more than 200 colleges and universities nationwide. He also serves as the Executive Skills Director for the Brandon Clay Scouting Academy Series.