Championship Day At May Day
Posted
7 years 2 weeks ago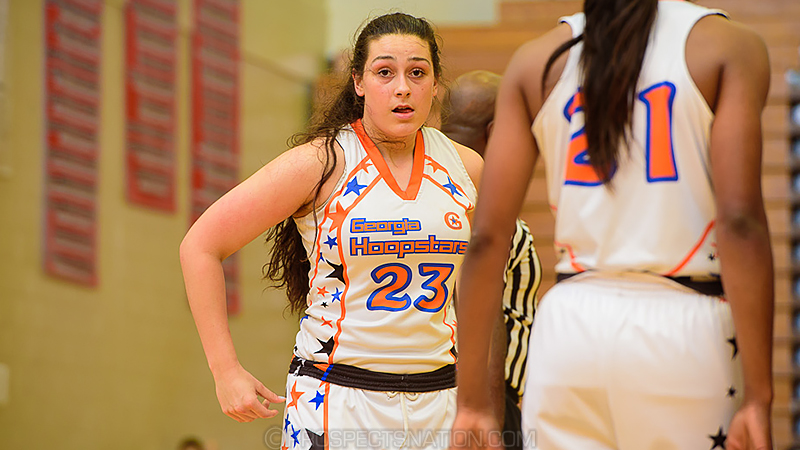 Aubrey Weiner finished with 19 points for the Georgia Hoopstars in the championship game at PSB May Day. *Photo by Ty Freeman.
LAWRENCEVILLE, Ga., - The May Day Challenge concluded on Mother's Day with championships, buzzer beaters and live streamed games on TheSUVtv.com. Some of the best talent in the Southeast showcased their talent on Championship Sunday. Here is a look at the premier performances from Sunday.

In one the most competitive games of the day, the 5-foot-7 shooting guard proved to be the difference in a win for Team Elite Hubbard. Fizouaty's three 3-pointers in the fourth quarter gave her team the lead for good. The dead-eye shooter got hot at the right time and finished with 14 points on the afternoon. She is quickly becoming a difference maker for this team on both ends of the floor.
#PSBMayDay

'18 Bianca Fizouaty @moreofbiancaa_ (@HubbardCoach) made it rain from 3 today pic.twitter.com/IsJaxKJPCd

— ProspectsNation.com (@ProspectsNation) May 8, 2016
A key element in the Georgia Hoopstars winning the @ProspectsNation bracket this weekend was the play of Weiner. She is a 6-0 wing-forward that finished with 19 points in a win over Georgia Sting Avery. Weiner earned a reputation as a shooting specialist this spring with her play at the PSB Tip-Off Classic. She backed up that reputation with four more 3-pointers in this championship game. Yet her overall game continues to develop. She demonstrated the ability to score off move and display vision as a passer. Keep an eye on Weiner as a rising prospect within coach JD Davis' program.

Saadia Munford (Decatur, Ga.), - Jonesboro High School – 2017
Coach Kirk Pointer's Team Elite EYBL roster boasts one of the deepest backcourts in the nation. On Sunday afternoon he found a timely contribution from Munford off the bench. The 5-6 point guard provided needed defensive energy that turned the momentum in her team's favor while locked in a battle with Tennessee Xtreme Hunt. Her aggressive pressure defense led to multiple deflections and steals, which ultimately disrupted the Xtreme ball screen offense. Munford's value as a primary handler and on-ball defender gives Team Elite a change of pace guard that will be important on the July EYBL circuit.
AROUND THE RIM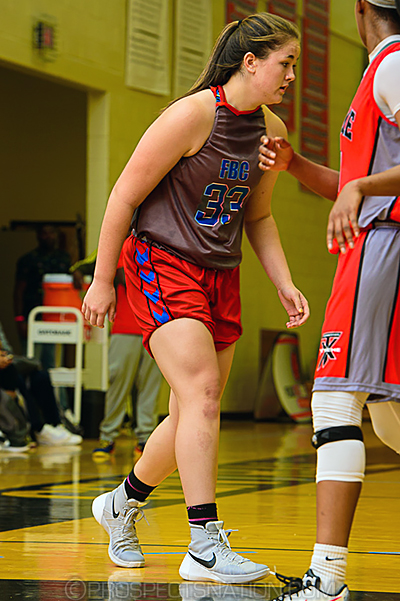 Linsey Marchese of FBC Black.
*Photo by Ty Freeman.Class of 2017 post Linsey Marchese of Dacula, Ga., is a factor in the middle for FBC Black. An Indiana University commit, Marchese has the size and skill to be effective on both ends.
Amber Hunt of Chattanooga, Tenn., has consistently grown her game. The class of 2017 forward is highly skilled and has displayed quality footwork as well playing with Tennessee XTreme Hunt, a PSBFamily member.
Class of 2019 guard Kendall Bollmer of Dacula, Ga., is an Elite Basketball Academy camp veteran. She earned an invite to the Super 64 Camp in June with her play for Blue Collar Basketball during the event.
Class of 2019 guard Rylee Calhoun of Peachtree City, Ga., knocked down multiple 3-pointers during the weekend. She made eight in a game for PSB Family member Georgia Pearls 2018. Like Bollmer, she has an invite to Super 64 Camp on June 4-5.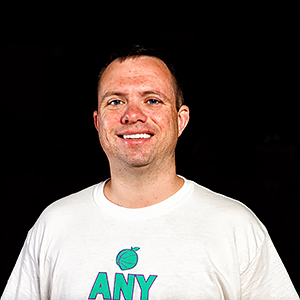 Jonathan Hemingway is the Assistant Director of Scouting for the JumpOffPlus.com National Scouting Report, is on the Naismith Trophy Board of Selectors and owns CoachHemi.com, the go-to source for coaches for X's and O's. He is the floor director of #TeamEBA camps, a site director for #TeamPSB tournaments and can be reached at jonathanhemingway@peachstatebasketball.com.

Brandon Clay serves as the WNBA Director of Scouting for ProspectsNation.com and owns The JumpOffPlus.com International Report, which is picked up by more than 150 colleges and universities nationwide. He serves as the Executive Camp Director for the Elite Basketball Academy Camps. He serves on the Naismith Trophy Men's / Women's College Player of the Year Academy and is chairman of the HS Boys / Girls Board of Selectors and is on the McDonald's All-American Selection Committee. He also is the publisher of PSBPopCulture.com.