Championship Day PSB TOC I
Posted
6 years 3 months ago
LAWRENCEVILLE, Ga.—Championship day at the PSB Tip-Off Classic Session I featured some marquee matchups in each division. Teams completed for 10 division titles throughout Sunday morning and afternoon. Here is a look at the highlight match up and players from day three.
FEATURE GAME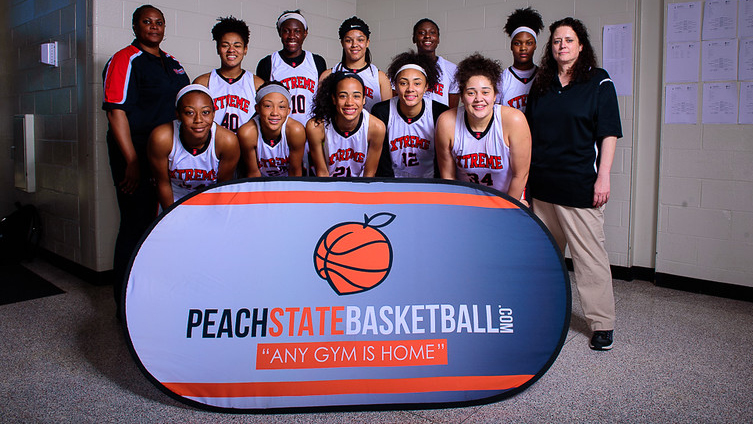 A taletned Tennessee Xtreme PSB team played their best with a championship on the line. *Photo by Ty Freeman.
The VinceSmithPSB bracket showcased eight teams loaded with talent. In the championship round it came down to a battle between two PSB Family members, the Tennessee Xtreme PSB and Team Elite Hubbard PSB.
Team Elite Hubbard is stacked with 2018 prospects including 6-foot-1 forward Victoria Saxton of Rome, Ga., and Kaila Hubbard of Jonesboro, Ga. Saxton created an immediate presence in the paint for Team Elite. She scored in a variety of ways off of rebounds, baseline jumpers and creating well after establishing early post-position. Hubbard provided some outside looks and attacked the basket from the wing and top of the key to keep Team Elite in the game in the first half.
It was the guard play of the Tennessee Xtreme that created an extremely up-tempo flow to the game. The Xtreme are also a star-studded group of 2018 players including Jazmine Massengill, Rhyne Howard, both from Harrison, Tenn., and Elizabeth Balogun from Chattanooga, Tenn. They proved to be a backcourt to reckon with this summer as they feed off of one another so well. Howard would push the ball in transition and get it ahead to Massengill or Balogun for a finish at the rim.
Class of 2017 guard Amber Hunt of Chattanooga, Tenn. also provided critical baskets for the Xtreme down the stretch. Her game has continued to improve over the last few months.
The two sleepers of the game were 2018's Taylor Smith of Ackworth, Ga., and Robyn Benton of Conyers, Ga. on Team Elite Hubbard. Smith and Benton were flying around on defense making plays and converting layups. Both were knocking down mid-range jumpers and creating in the open floor as well. Keep your eye out on these two throughout the summer.
SPOTLIGHT PLAYERS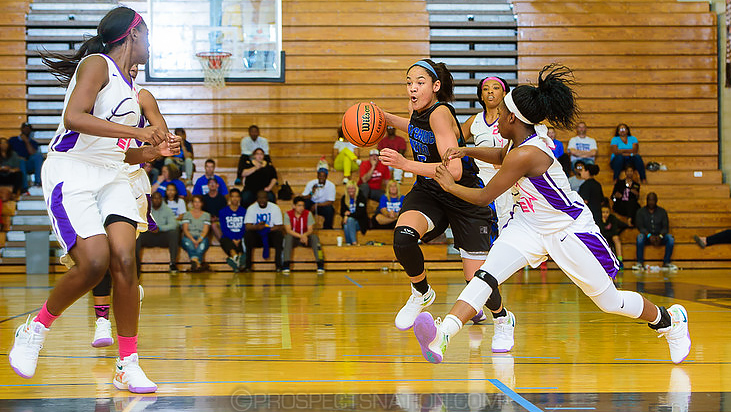 Anaya Peoples' game is growing up before our very eyes with Best Choice United. *Photo by Ty Freeman.
Peoples plays with such control and great understanding of the game. Her play-making ability has improved as she added strength to her frame. She can score from anywhere on the floor, but she operates well from the point guard position as a primary distributor. Her high-IQ and motor have impressed and with each event she continues to add to her arsenal.
Wise was clicking on all cylinders for the Magic on Sunday morning. The 6-0 guard showcased her ability to attack the rim and finish through traffic. She is a versatile wing who is capable of knocking down the mid-range pull up and 3-pointer. Wise operates well in the flow of the game, but can also create an opportunity off screens and moving without the ball.
Mason is a high-motor, explosive athlete for Team Elite Pointer. She is a matchup problem for opponents because of her ability to beat her defender with her first step. She had a great championship game and displayed her ability to slash through the lane and maintain control in order to score or pick up an assist.

Dyer joined the team at the end of 2012 and quickly made her presence felt as our in-house contributor for Peach State Media during all events and now as a writer for Prospects Nation. She's been in the community as a columnist since 2008 and also serves on the Naismith Awards selection committee. Rebecca played college ball at both Kentucky and North Carolina.