Check Me Out '14 -- Underclass
Posted
9 years 3 months ago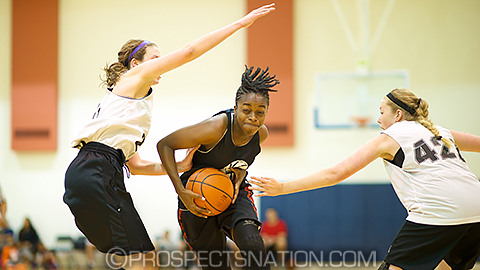 Miami-native Channise Lewis flew 3,000 miles to Seattle to show she was an elite point guard prospect. *Photo by Glenn Nelson.
SEATTLE, Wash. – The second year of the Check Me Out Showcase in the Northwest saw an influx of new and young faces in the mix. After last year's senior-loaded cast, we look at some of the up and coming underclassmen that used the Showcase to make names for themselves.
Bendu Yeaney (Portland, Ore.), Team Concept – 2017
Because of her frame, Yeaney has been on the recruiting radar since the eighth grade. The exciting thing for this 5-10 wing is that her basketball skill and court savvy to use her physical gifts is coming around. Her perimeter skills continue to grow and that allows her to make more plays. She brings good energy and attitude to the court as well.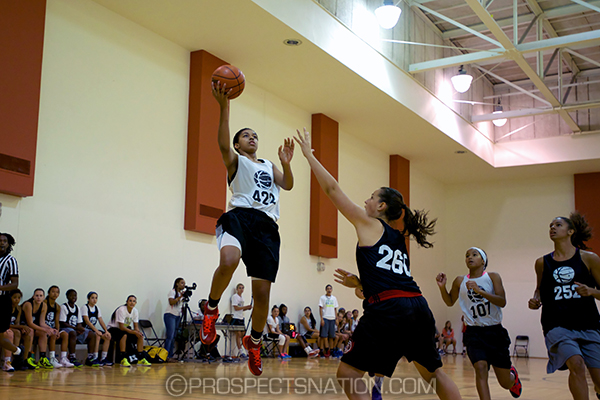 '17 guard Evina Westbrook. *Photo by Glenn Nelson.
Evina Westbrook (Salem, Ore.), Cal Stars Nike Elite – 2017
The phrase kids are throwing out these days is "lock-down" when it comes great individual defensive play. Westbrook certainly was just that this weekend, going out of her way to guard some of the best players in the country and show that she can be a disruptive force with her length, athleticism and most importantly her smarts and knowing how to defend on the ball. The 5-foot-11 perimeter player is also showing more confidence on the offensive end. Her pull-up jumper has become a go-to and complements her ability to get to the rim as well.
Channise Lewis (Miami, Fla.), Below The Rim – 2017
A lot of times kids with filthy crossovers can't help but throw up a shot every time they go by their defender. Lewis is an exception to the rule. She has top tier breakdown ability but showcased the brains to be a dynamite point guard, making plays with the pass as often as the finish. She seemed to fully grasp how dynamic she can be collapsing help defenders and finding wide open teammates. She's go the quickness and length to be an impact defender as well.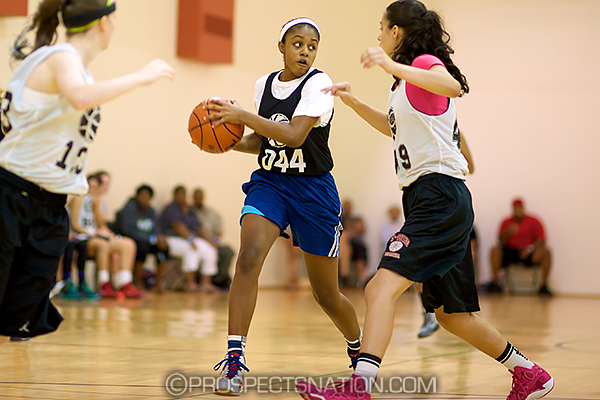 '18 Watch List guard Desiree Caldwell.
*Photo by Glenn Nelson.
Desiree Caldwell (San Antonio, Texas), SA Finest – 2018
Caldwell was as impressive as any 2018 all year. With eight talented teams at the Check Me Out Showcase, Caldwell was teamed up with Andee Valasco, a seasoned, 2015, floor general who will attend LMU next season. The duo put together an incredible showing of team basketball that propelled them to an undefeated weekend. Caldwell has an ability to make her teammates better. She created off the bounce and has great vocal energy on the floor. If this kid is on the court, you want her on your team.
McKenzie Williams (Auburn, Wash.), Tree of Hope – 2017
Williams was a relentless guard here at the showcase. The 5-5, 2017 guard penetrated at will against elite competition. Her basket attacking ability was in full force getting to the rack from both sides of the court and tallying up several and-1 finishes. She looked her in element sharing the ball and making things happen. She proved she can compete at a high level and watching her play against top level competition indication that she is a prospect at the Division I level.
AROUND THE RIM
♦ Seattle Transition's Taya Corosdale of Bothell, Wash., and Gina Marxen of Woodinville, Wash., both picked up where they left off this weekend with a successful summer on road. Marxen continued to show her range from beyond the arc, while Corosdale imposed her will inside around the basket.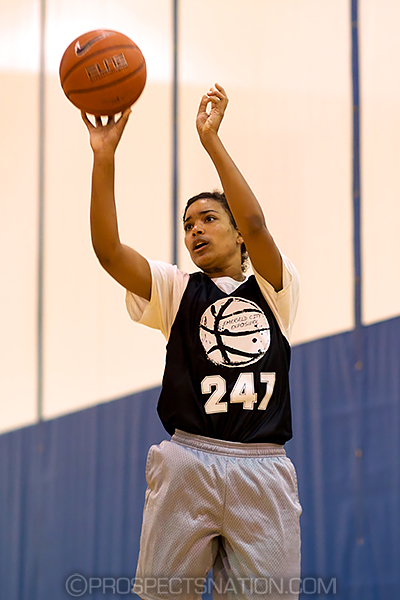 '17 Watch List forward Makayla Mabry.
*Photo by Glenn Nelson.
♦ Makayla Mabry of San Antonio, Texas, reminded us what we loved about her in July, her versatility as a true inside-outside threat. She has good touch on the interior and can step out and knock down the three. As her handle improves so too will the minutes she can play on the wing.
♦ Northside Swarm guard Paisley Johnson of Everett, Wash., seems like she's just on the verge of a breakout season. The 5-9 guard does so much with her energy and athleticism that she works through some mistakes simply by being relentless. As she learns the game more she could make some noise.
♦ In our upperclass recap we mentioned the stellar play of Jessie Loera, but her younger sister Jamie played well on Saturday as well. The 5-6 combo guard has a smoothness about her that makes pressuring her really difficult. Follow @ChrisHansenPSB

Hansen is managing editor of ProspectsNation.com and a McDonald's All-American selection committee member. He was the national director of scouting for ESPN HoopGurlz from 2005 until 2012. He can be reached at chris@prospectsnation.com.

Wetmore joined ProspectsNation.com in the summer of 2014 after graduating from the University of Washington with a Communications degree. She left Washington as the all-time leader in games played and also played with the softball team in the College World Series. She was the Gatorade State Player of the Year her senior year in high school capping off a career which included three state titles. She can be reached at mercedes@prospectsnation.com.