Check Me Out Day Two Standouts
Posted
7 years 3 months ago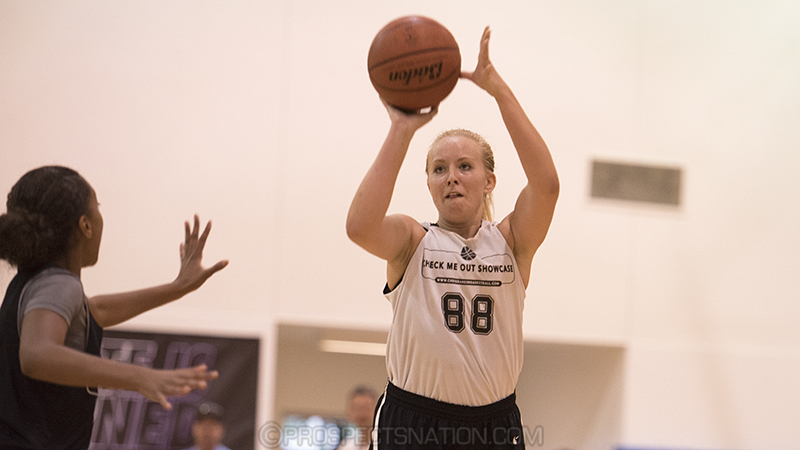 Arieal Scott of Oakwood, Ill., brought her energy and shooting touch to the floor in Seattle, Wash., at the Check Me Out Showcase. *Photo by Glenn Nelson.
SEATTLE, Wash. -- Sunday brought the conclusion of the fourth annual Check Me Out Showcase presented by ChrisHansenBasketball.com. Over 150 campers were challenged by top-notch trainers and exposed to the nation's top evaluators. Here is a recap of day two's top performers.
Keeli Burton (Redmond, Wash.), Evergreen Middle school – 2020
It is refreshing to see a big kid have a polished skill set at a young age. Burton checked many boxes in terms of what you want out of a post player. She understands how to duck-in, seal and score with a defender on her hip. Her soft hands and ability to finish with either hand around the rim allowed her to finish a high percentage of shots in the paint. She even stepped out and hit a 3-point jumper with a release that looked very natural. Burton still has physical maturation and conditioning as hurdles to jump in upcoming years, however she is on a great trajectory for the future.
Kierra Collier (Lee's Summit, Mo.), Truman High School – 2017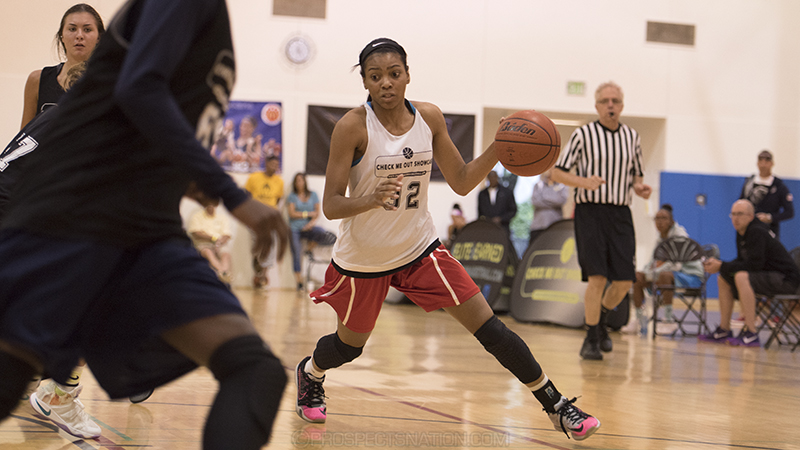 Kierra Collier of Lee's Summitt, Mo., showed off her ability
to pressure defenses with her offensive skills in Seattle.
*Photo by Glenn Nelson.The 5-6 Missouri native looked to be right at home in Seattle. That is a positive sign for coach Mike Neighbors and the Huskies since they received a verbal commitment from Collier in June of this year. A left-handed ball handler, Collier is capable of creating plays for herself and others in half-court action. Yet what makes her a potential difference maker at the next level is unique body control and craftiness in traffic. She even showed the ability to post up her defender when she had an advantage. She proved at the camp that she is on trajectory of even bigger things in the next 12 months.
Meghan Fiso (Seattle, Wash.), Madison Middle School – 2020
Fiso is a guard, but she plays the game like a bulldog on both ends. She could be found attacking the glass with fervor and scoring the ball through contact. When she did find herself handling the ball, she created a play for herself or found the open player in space. At 5-10 she is a unique player, because she has the size to play on the wing or even post a smaller defender. However, her ball handling and play-making ability give her the versatility to score facing the basket. Look for bigger things from Fiso in the future.
Acquira DeCosta (Sacramento, Calif.), St. Mary's Stockton – 2018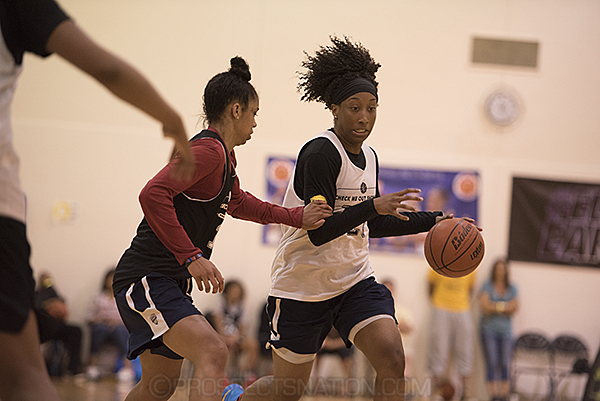 Aquira DeCosta competes against Cal Stars teammates
Evina Westbrook in Seattle. *Photo by Glenn Nelson.There was not a more athletic player at the camp this weekend. Truth be told, there may not be a better athlete in the nation regardless of class than DeCosta. The left-handed forward showed why she is currently ranked No. 6 in the class. She shows flashes of things that is capable of doing consistently in years to come. She hit the trail 3-pointer, attacked the rim off of the drive and even scored on isolation post ups on the block. She seemed comfortable using her footwork on reverse pivots to attack her defender's momentum in those one-on-one situations. Polishing her skill set and becoming more efficient in her production will be key in her development.
Bria Dixson (Portland, Ore.), Lane Middle School – 2020
There is value in finding point guards who like to involve their teammates in the action. This is what Dixson brings to the court each time. She is a 5-7 point guard who worked the pick and roll game to near perfection in her team's first game of the day. She is very adept at using the screen and floating a perfect pass into her teammate's hands as she rolls to the rim. Dixson also showed the ability to score the ball off the move, which will give her the ability to score and dish assists as she develops her game.
Raigan Reed (Marysville, Wash.), Lake Stevens High School – 2020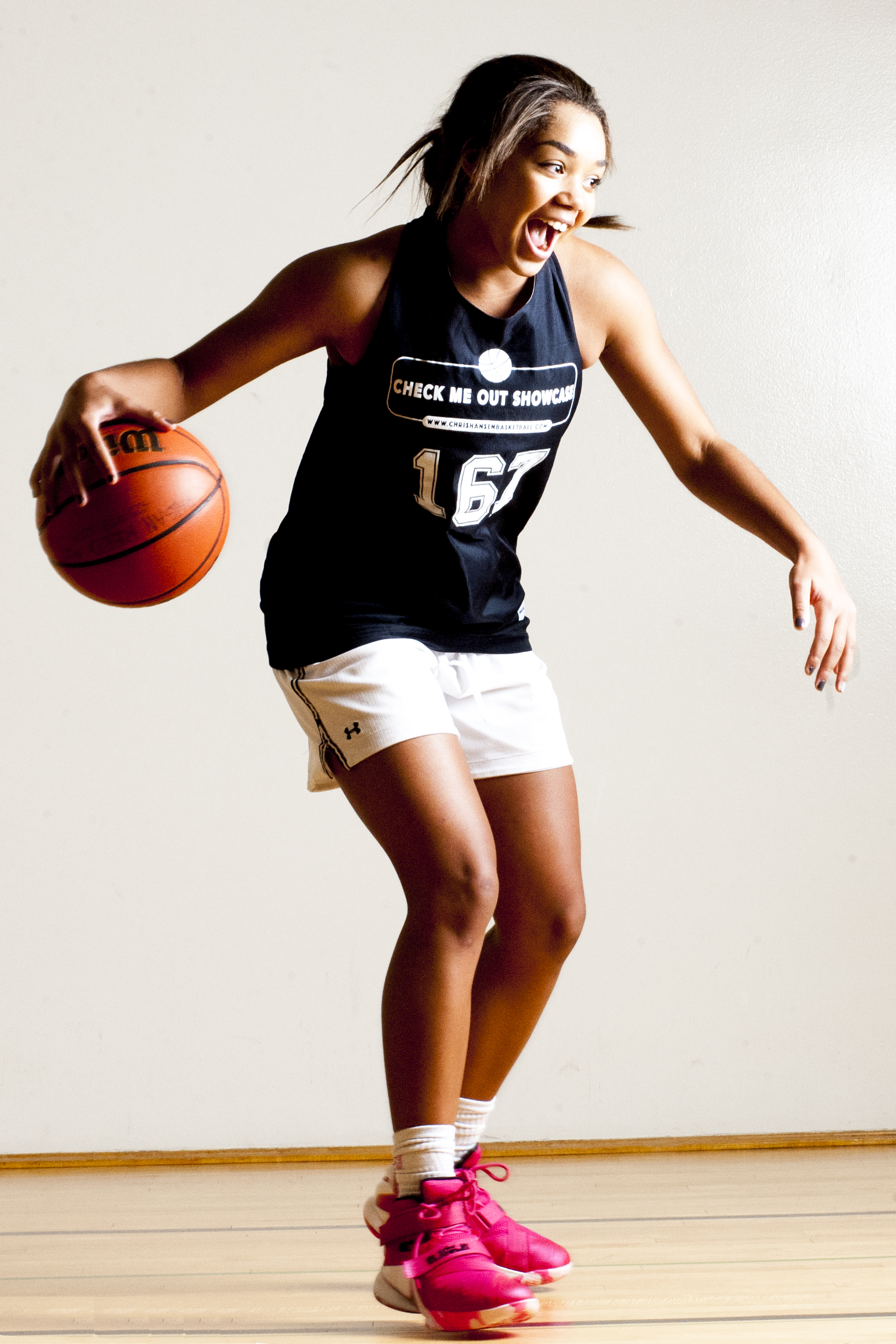 Raigan Reed showed she is poised for
a terrifice freshman year at the 2016
Check Me Out Showcase. *Photo by
Rom Cuala.Reed made a big impression on Sunday afternoon while playing on @SUVtv. Her lightning quick ball handling crossed up the defense and gave her space to hit shots in the midrange. Her playmaking ability at a young age is special and should translate to even bigger things in the future. Reed even showed court awareness by delivering baseball passes in the full court. Her feel for the game combined with skill made her a much talked about prospect in the underclassmen division.
Arieal Scott (Oakwood, Ill.), Urbana High School – 2018
This type of camp setting is perfect for players who are hungry to add tools to their skill set. Scott used every opportunity to push herself and receive as much instruction as possible this weekend. This is considerably impressive given the fact that Scott finished July where many said that she was the EYBL circuit's top shooter. She arrived to the gym early Sunday morning to work with trainers to grow her footwork on the perimeter. Scott's willingness to get better and ability to produce have her collecting offers and producing at a high level.
AROUND THE RIM
Tanisha Elbourne of Honolulu, Hawaii, made the most of her trip to Seattle. She made plays off the dribble and finished plays in transition as well as any in the camp. The 5-8 point guard in the class of 2018 has notable skill and athleticism.
One of the better 2022 point guards in the bunch was Addy Heaphy of Missoula, Mont. She was not fazed by older and bigger opponents. Her quick handles and compact release allowed her to make plays on the offensive end.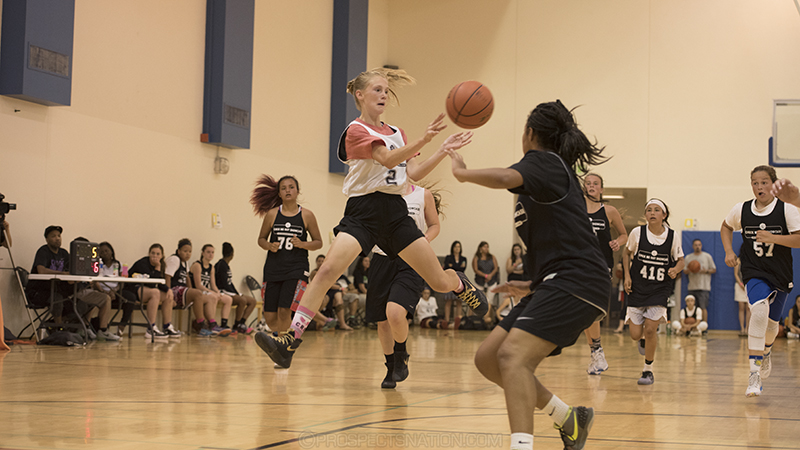 Millie Long is a smart player on the floor which allows her
to make plays with the ball in her hands. *Photo by Glenn
Nelson.Class of 2021 point guard Millie Long of Port Angeles, Wash., is a smart point guard. She is quick and can set up her teammates with the pass effectively. Although she is a bit undersized right now, her understanding of the game is far developed.
Class of 2018 post/forward Emma Jackson of Kent, Wash., has good hands and touch around the basket. At 6-1 she has a good feel for the game never seems to get sped out of control in game play.
Keep India Otto of Los Angeles, Calif., on the radar of skilled guards on the west coast. A 2019 combo guard, standing at 5-9, she showed ball skill and shot making ability that should earn attention at Windward High School this year.
Mark Makiah Reed of Tacoma, Wash., as one of the better 3-point shooters in the camp. The class of 2020 point guard complemented her shooting abilities with solid ball handling skill.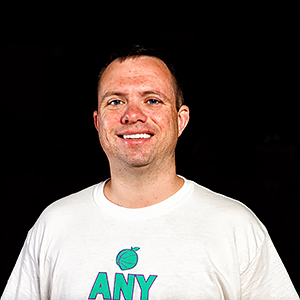 Jonathan Hemingway is the Assistant Director of Scouting for the JumpOffPlus.com National Scouting Report, is on the Naismith Trophy Board of Selectors and owns CoachHemi.com, the go-to source for coaches for X's and O's. He is the floor director of #TeamEBA camps, a site director for #TeamPSB tournaments and can be reached at jonathanhemingway@peachstatebasketball.com.