Check Me Out Midwest Standouts
Posted
7 years 7 months ago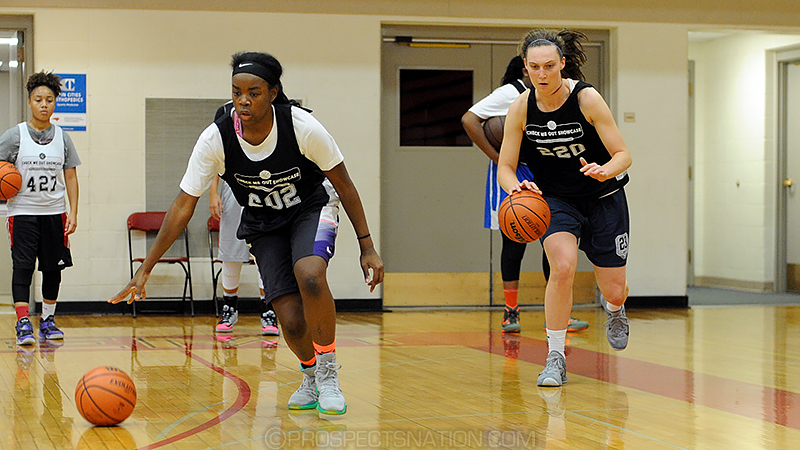 Zoe Young (left) and Jeannie Boehm (220) work on their ball handling skills at the 2015 Check Me Out Midwest Showcase in Minneapolis, Minn. *Photo by Chris Hansen.
MINNEAPOLIS – The 2015 Check Me Out Midwest Showcase was the final stop for the camp series this calendar year and saw 89 players from 10 states hit the courts at Minnehaha Academy. With intense skill sessions led by three different trainers, Chris Hyppa, Ashley Corral and Arvin Mosley Jr.,
Class of 2016 forward Jeannie Boehm of Winnetka, Ill., is headed to Harvard next year. The day she arrives on campus, Boehm, who stands 6 feet 3 inches, will be in the discussion as one of the best post players in the Ivy League. Boehm's combination of skill and toughness this weekend and did not disappoint. On offense she is aggressive around the rim and will look to post with her back to the basket and use either a power move or her advanced touch to score the ball. When she caught the ball further away from the basket, Boehm had the ability to connect on jumpshots and force defenders to guard her. Defensively, Boehm was a factor too. She is a superior shot blocker who uses athleticism and length to change shots from the weakside of the defense.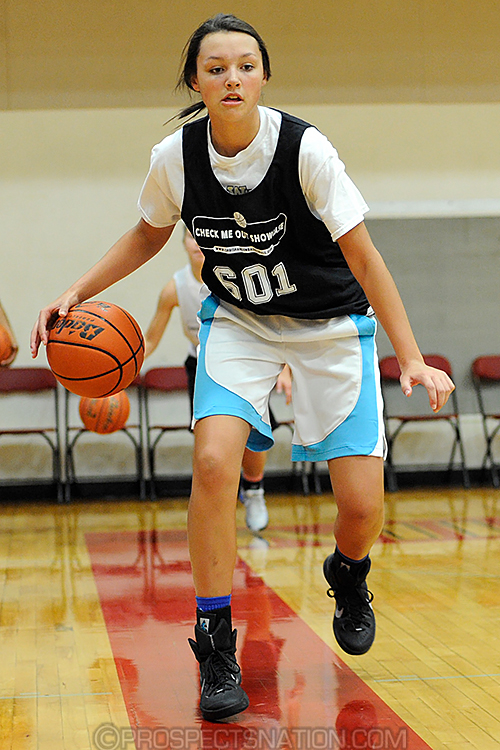 Taylor Kissinger of Minden, Neb., has a reputation as a quality perimeter shooter. This weekend the 6-2 wing proved she has the ability to make an impact in a variety of ways beyond just making shots. While Kissinger was still lethal from the perimeter, she was also effective attacking the rim and using her size as an asset on the offensive side of things. As a member of the class of 2017, Kissinger still has time to continue to grow and expand her offensive game. With two years until college, Kissinger is an intriguing wing option who has a great feel for how to play in structure and will be an offensive weapon for whatever college she ultimately chooses.
Class of 2019 guard Zoe Young of Des Moines, Iowa, made a name for herself this weekend. Young, a 5-foot-9 guard, has the ability to handle well enough to be a primary ball handler while scoring the ball well enough to play on the wing. She is a crafty passer with a natural feel for how to create scoring opportunities for her teammates. Coaches should continue to track Young and her development but this was an impressive showing for her.
One player who brought energy and perimeter defending to camp this weekend was class of 2017 guard Nia Harris of Burnsville, Minn. Harris has combo guard potential and was able to be effective using her pull up jumper to score the basketball. At 5-7, Harris is a quality athlete and should be able to develop into an impactful on-ball defender in college.
Aiana Whitfield of Minneapolis, Minn., was a game-changing scorer all weekend at the Check Me Out Midwest showcase. Her approach offensively was all confidence and poise. She knocked down several big 3-pointers to keep her team in games and to secure multiple victories. Her clutch performances this weekend proved she wants to take the big shots at the end of games. The 5-5, class of 2019 point guard was a coaches dream this weekend because of the confidence she had in her abilities.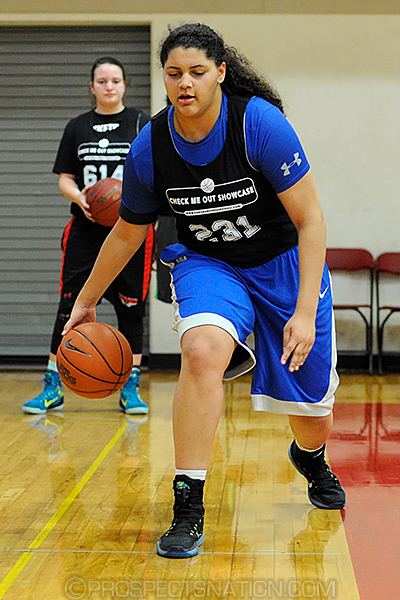 Class of 2019 post Destinee Oberg of Burnsville, Minn., is making her way back from a shoulder injury that forced her to miss a significant amount of playing time, dating back to April. Oberg is a traditional back to the basket post scorer who is effective using her size as a strength in the paint. While at times she struggled to finish plays around the rim, her timing and ability to operate in traffic were still there. If she can continue to develop and improve, at 6-2, Oberg has the potential to be a premier post in the 2019 class.
Emma Mastre of Lakeville, Minn., had a great outing shooting from beyond the arc this weekend. Her high release point and quick 1-2 step footwork on the perimeter allow her to have a smooth shot to the rim. She is very capable scorer in the wing position and, at 5-10, she has a great chance to to take advantage of her size at the off-guard position with her specialty. Only in the class of 2019, Mastre has an opportunity to be a successful sharpshooter if she continues to improve her speed and keep playing with confidence.
Kaylee Van Eps of Chaska, Minn., was one of the most confident and engaged players in the underclass session of the showcase. A Check Me Out Midwest two-timer and class of 2021 guard, Van Eps has made huge strides and was impressive in so many areas on the floor offensively and defensively. She was shooting the 3-ball with confidence, aggressive attacking the lane, and had one of the best motors on the floor. Her work ethic and coachability is as good as you will find at her age. Van Eps is one of those players on the floor that flat out understands how to compete and play with urgency.
Around The Rim
Dlayla Chakolis of Minneapolis, Minn., had an impressive shake and bake play in the midrange last game out day 1. The class of 2019 guard converted the points and showed she has nice balance off the bounce as she transitions to her shot.
Paige Bueckers of Eden Prairie, Minn., is one of the most talented point guards in the Midwest. Her ball skill and balance in the air, paired with her scoring instincts are incredible.
Serin Dunne of Colorado Springs, Colo., was one of the youngest players in the showcase but her approach and intensity was that of an upperclassmen. She has court awareness well beyond her years and isn't afraid of having the ball in her hands at key moments.
Keil Moore is the Director of Scouting for the JumpOffPlus.com National Scouting Report and international scouting report. He serves on the Naismith Trophy Board of Selectors and has been a member of the women's basketball community for more than eight years as a trainer and evaluator. He can be reached at keil@prospectsnation.com.

Wetmore joined ProspectsNation.com in the summer of 2014 after graduating from the University of Washington with a Communications degree. She left Washington as the all-time leader in games played and also played with the softball team in the College World Series. She was the Gatorade State Player of the Year her senior year in high school capping off a career which included three state titles. She can be reached at mercedes@chrishansenbasketball.com.