Check Me Out Midwest -- Upperclass
Posted
7 years 11 months ago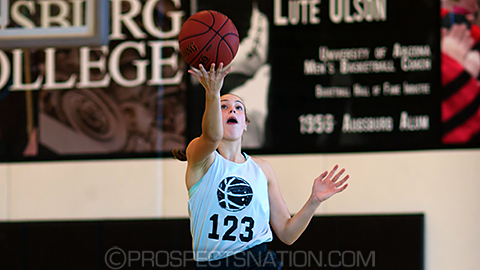 Hannah Hedstrom was a standout with her play on both sides of the ball at the 2014 Check Me Out Midwest Showcase in Minneapolis. *Photo by Chris Hansen.
MINNEAPOLIS – The Check Me Out Showcase headed east this past weekend to the Midwest where players from 11 different states competed in front of multiple scouting services and got hours of instruction from lead trainer Chris Hyppa. Here is a look at some of the upperclassmen standouts.

Hannah Hedstrom (Minnetonka, Minn.), North Tartan – 2016
Hedstrom was impressive this weekend with her effort and energy level. The 5-foot-9 class of 2016 prospect has the ability to be effective playing both on and off the ball on the offensive side of the floor as she is crafty with the ball in her hands. She also is capable of making shots from the perimeter in catch and shoot situations. One area where Hedstrom was very effective this weekend was stopping from 8-to-12 feet and using floaters and runners to finish plays. The defensive side of the ball is another place where Hedstrom was quite effective. She is a tireless worker and gives as much effort when guarding the ball as she does when playing in help-side. She can get her hands in the passing lane and grab a steal or get a deflection and create problems for the opposing offense.
Overall, it was Hedstrom's diverse skill set and high energy level that allowed her to have a very good weekend at Check Me Out Midwest. She has good size for a combo guard and as she gets stronger and develops her frame, she will only be more and more effective. All in all this was a strong weekend for Hedstrom as she showed the ability to make a positive impact on the game on both sides of the ball.
SPOTLIGHT PLAYERS
RaeAnnah Johnson (Albert, Minn.), North Tartan – 2017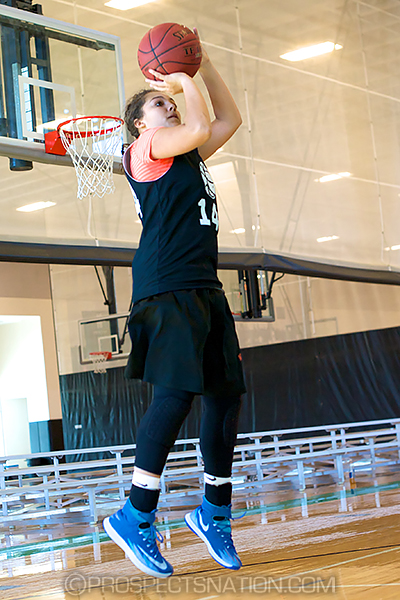 '17 Watch List guard Rae Johnson.
*Photo by Chris Hansen.
Johnson is a true point guard with a lethal perimeter shooting stroke. At 5-7 she has good size for the point guard position and the ability to both score the ball and create for her teammates. As a member of the class of 2017, Johnson's ability to both pass and shoot the basketball at a high level allow her to be at her best when playing in pick-and-roll situations as she has the ability to read the defense and make the fundamental basketball play.
Lindsey Corsaro (Indianapolis, Ind.), Gym Rats – 2016
Corsaro is a class of 2016 wing that has given a verbal commitment to the University of Kentucky. At 6-0 she has the ability to create her own shot off the bounce and showed that she could get to the rim to make a play in traffic or create enough space on the perimeter to be able to elevate and shoot the ball from distance. With her play this summer Corsaro completely elevated her stock as one of the premier perimeter prospects in the class of 2016. This weekend Corsaro proved that she was capable of staying towards the top of her class.
AROUND THE RIM
♦ Class of 2016 guard Emily Sandoval of San Antonio, Texas, has continued to get better with every evaluation from our Prospects Nation staff. At 5-8 she is a guard who can play with and without the basketball, making plays with the pass or slashing to the basket, finding spaces to be effective. Sandoval brings an abundance of energy to the floor and has been able to find success as a result.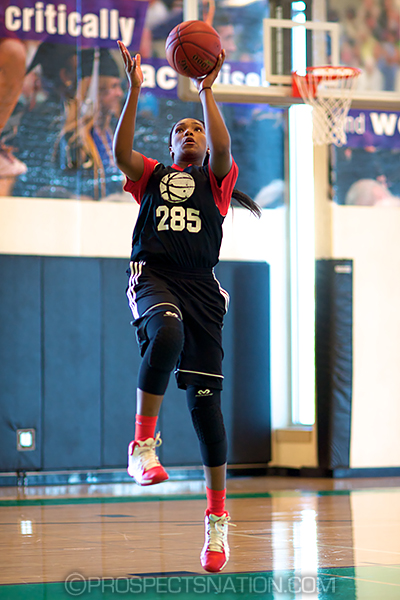 '17 Watch List post Lauryn Miller.
*Photo by Chris Hansen.
♦ Lauryn Miller, a 6-2 post from Kirkwood, Mo., was a force to be reckoned with this weekend as she consistently blocked shots, rebounded the basketball, and finished plays around the rim throughout the weekend. As a member of the 2017 class, Miller has very good long term upside.
♦ Nia Harris of Burnsville, Minn., is a class of 2017 combo guard that showed that she could both attack off the bounce and make open shots this weekend. Standing at 5-7, Harris has good size for the backcourt positions and is clever enough with the ball in her hands to make plays for herself and others.
♦ Class of 2016 Anna Grone of Gilbert, Ariz., was effective scoring the ball in Minnesota this weekend. Grone brings a good amount of toughness to the backcourt position as she showed she was able to handle the ball at the point guard spot and make plays on the perimeter through a good amount of contact. She is a true point guard who shoots it at a high percentage from the perimeter. Follow @KeilMoorePSB

Moore is the Director of Scouting for the JumpOffPlus.com National Scouting Report and international scouting report. He has been a member if the women's basketball community for more than six years as a trainer and evaluator. He can be reached at keil@prospectsnation.com.