Check Me Out SoCal -- Upperclassmen
Posted
7 years 4 months ago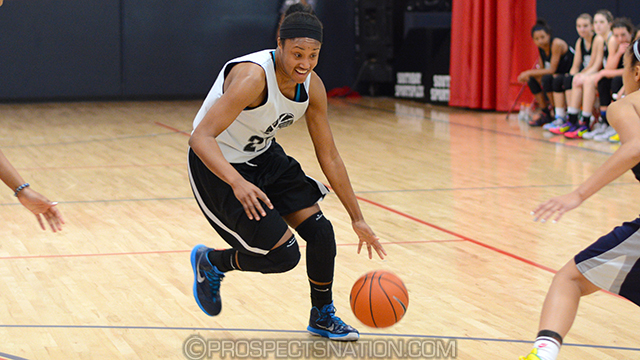 Jaelyn Brown of Vista Murrieta High School had a great outing at Check Me Out SoCal. Photo by Elite Girls Basketball
LAKE FOREST, Calif. – For the second straight year some of the best players in the Western United States converged on Saddleback Valley Sports Center where the elite competition allowed players to test their games outside the club circuit. The 122 players from eight different states and a quintet from Canada made the 2015 Check Me Out SoCal Showcase an outstanding way to kick off the spring season.
With both a high school and youth session on the schedule current high school stars and the next crop were in the gym on this Easter Weekend. Here is a look at the upperclassmen standouts.
Najiyyah Pack (Phoenix, Ariz.), GBL Lady Rebels – 2016
Often times the high school season shows a very different player than other non-scholastic settings. For Pack, surrounding her with other high level players allowed the 5-10 combo guard to showcase more than just her range. Her ability to break players down off the dribble was punctuated with a plethora of pinpoint passes to teammates. When she plays with energy she proved she can compete with the elite guards in her class with her play this weekend.
Dijonai Carrington (San Diego, Calif.), Cal Sparks – 2016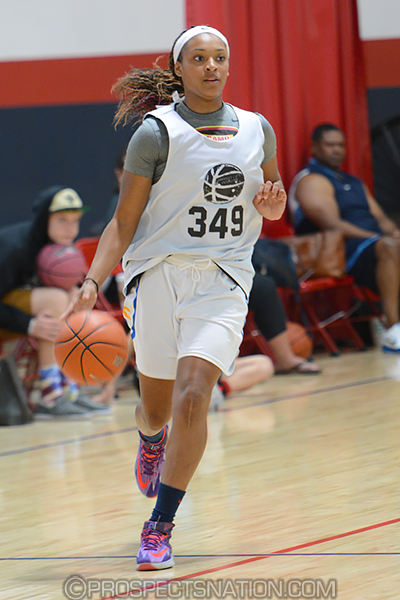 Coming off a terrific high school season at Horizon Christian Academy, there was already some discussion about Carrington's improvement and what that might mean for her national ranking. In this setting it was clear that she does more than score and rebound. She's a natural leader, both in how she handles herself and vocally. She has also added considerable range on her jumper, knocking down shots out to 23 feet on numerous occasions this weekend. She passes both the production and projects tests for the next level.
Madison Washington (Las Vegas, Nev.), GBL Lady Rebels – 2016
With the coveted combination of size and agility, Washington had herself a strong weekend. The 6-2 forward can run the floor as well or better than most players at the four position. She brings energy and a positive vibe to the floor as well. She rebounds the ball well and also has a solid face-up game. If she can continue to improve her handle she will be able to create mismatches with ease based on the defender.
Aislinn Konig (Surrey, B.C.), BC Elite – 2016
Despite spending two of her three prep seasons to date north of the border, the top player in Western Canada is no stranger to the competition in the US. She can score the ball from long range as well as penetrate. She uses the length in her frame to spin off larger post helpside defenders very effectively. She impressed here not with what she did with the ball but her floor awareness and ability to get open moving without the basketball. She was perhaps the only player to utilize the single-double screen action by using both screeners.
Briana Johnson (Carson, Calif.), Cal Sparks – 2016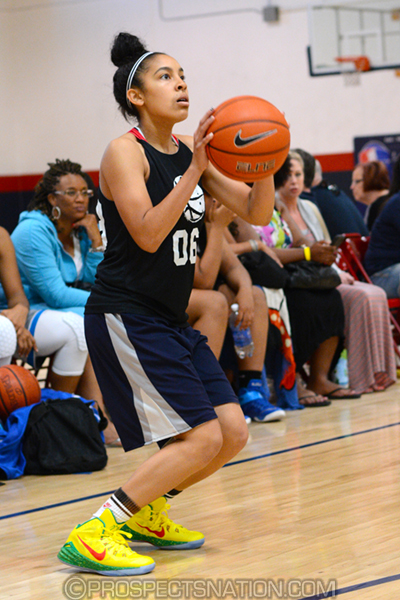 Johnson is a dynamite point guard. She plays like you expect an upperclassmen to play, with poise and purpose. She uses her quickness to attack defenders but also uses it to diffuse ball pressure by changing speeds and separating. She was good off the dribble looking to score as well as dish it out to her teammates. She plays fast but was also effective in the quartercourt.
Jaelyn Brown (Murietta, Calif.), Cal Sparks – 2016
Brown is a 6-foot-1 wing with a college-ready frame now. She is physical on the drive and elevates with ease, making even contested shots seem easy. She capped off the camp's final game by getting deep against the press, down one-point and sinking the game winning free-throw with just three seconds to play. Heading into her final club season as a prep she is poised for a big spring and summer.
AROUND THE RIM
► Genessa Bedoya of San Fernando, Calif. is similar to Johnson in that she is a smaller point guard with good presence. She is playing with a new confidence following a solid junior year at Bishop Alemany.
► Washington commit Mai-Loni Henson of Temecula, Calif., emerged last summer as a true perimeter option and her consistency continues to improve. She assumed a bigger role with her high school team but doesn't stop her from being able to blend into a talented team like she had here at the showcase.
► Twin sisters Alicia and Cierra Roufosse of Abbottsford, B.C., Canada, were the loan seniors in the event this spring and they proved their length, hands and work ethic translate against other college-bound post players. As they get adjusted to the more physical game the sum of their skills will begin to make a bigger impact. The pair of 6-3 frontcourt players decommitted from Simon Fraser in B.C., and will be at the PSB Tip-Off Classic during the April Evaluation weekend.
► Dalis Jones of Norco, Calif., isn't the biggest point guard in the gym by any stretch but that doesn't stop her from coming up big for her team. She is a player that loves to torment the opposition defensively. She has quick feet and knows how to stay tight without fouling.
► Celeste West of Bakersfield, Calif., performed at a level that should have her confidence sky high heading into the spring evaluation weekend. Despite the amount of size and length in the gym, this weekend the 6-3 post finished around the rim as well as we've ever seen her.
► When you talk about speed there are fast players and there are those like Payton Whitmore of Chandler, Ariz., who have another gear. She can really do some damage in transition and she is being more assertive offensively in the halfcourt as well.

Hansen is managing editor of ProspectsNation.com and serves on the McDonald's All-American and Naismith Trophy selection committees. He was the national director of scouting for ESPN HoopGurlz from 2005 until 2012. He can be reached at chris@prospectsnation.com.

Wetmore joined ProspectsNation.com in the summer of 2014 after graduating from the University of Washington with a Communications degree. She left Washington as the all-time leader in games played and also played with the softball team in the College World Series. She was the Gatorade State Player of the Year her senior year in high school capping off a career which included three state titles. She can be reached at mercedes@prospectsnation.com.