Chicagoland Showcase Breakdown
Posted
3 years 9 months ago
PALATINE, Ill. – The Chicagoland Showcase has become one of the midwest's premier events during the high school season. We take a look at four prospects who caught our attention during the day:
Brea Beal - Rock Island HS - 2019 - 6'1" - SG
Much like her performance at this event last year, Beal caught our attention with her size and skill package. The future South Carolina Gamecock would not be denied here against a tough Naperville North group. Beal willed her way into the lane time and time again finishing with 23 points, 23 rebounds. She's definitely in the mix for the postseason Naismith awards.
Halle Douglass - Lake Forest HS - 2020 — 6'2" - SF
Douglass struggled to find an offensive rhythm through the first 28 minutes but got it going in the last four competing until the final buzzer sounded. Her play late almost helped Lake Forest pull off the upset in this one. Much like her play at the PSBPower48 in July with All-In, she's at her best when she lets the game come to her and doesn't get sped up.
Greta Kampschroder - Naperville North HS - 2021 — 6'0" - SF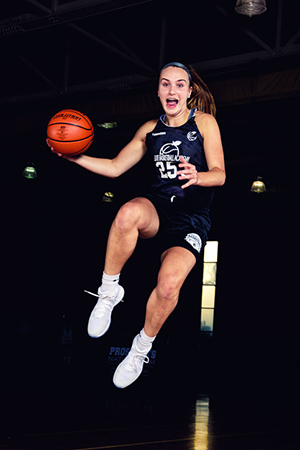 Greta Kampschroder at the EBA
All American Camp. *Photo by
Ty Freeman.Much like Douglass, this stage gave Kampschroder a chance to be evaluated in a different light than on the summer club circuit when she attended the Elite Basketball Academy All-American Showcase. Matched up against the aforementioned Beal, Kampschroder had a tough challenge but gave the elite prospect all she could handle on both ends of the floor not backing down even though her shot wasn't falling as it normally does.
Kendall Moriarty - Benet Academy - 2021 - 5'11" - SF
Moriarty burst onto the club scene at Jay Bee Bethea's Midwest Showdown as a member of The Truth roster. Similar to her showing in Cincinnati last May, Moriarty's versatility had the attention of multiple college coaches on hand including BrandonClayScouting.commembers Illinois and St. Louis.

Brandon Clay serves as the WNBA Director of Scouting for ProspectsNation.com and owns The JumpOffPlus.com International Report, which is picked up by more than 150 colleges and universities nationwide. He serves as the Executive Camp Director for the Elite Basketball Academy Camps. He serves on the Naismith Trophy Men's / Women's College Player of the Year Academy and is chairman of the HS Boys / Girls Board of Selectors and is on the McDonald's All-American Selection Committee. He also is the publisher of PSBPopCulture.com.