Class Breakdown 2019 - USC
Posted
4 years 11 months ago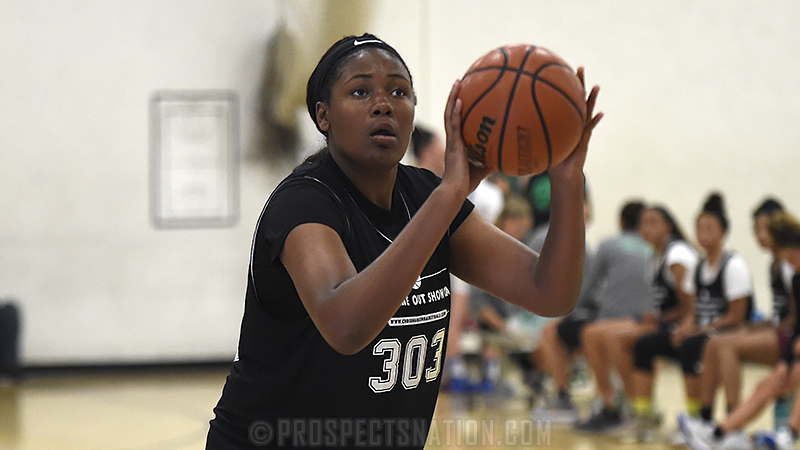 Angel Jackson shoots a free throw at the 2018 Check Me Out Showcase in Martinez, California. *Photo by Chris Hansen.
Signing six players in a class is not the norm. But when a new staff is trying to rebuild the program and the rare occasion that a program has that many opening scholarship slots, it's a chance to really mold the team for the future. And on top of the ranking and rating of the players USC is bringing in for the 2019 class, it is that influx of personalities and projected depth that should get Trojan fans excited.
Mark Trakh and his staff have six players all ranked in the ProspectsNation.com ELITE 150 joining the program this summer. The class spans from a dominant inside presence in Angel Jackson to the ultra-versatile Alissa Pili to perimeter scoring threat Endiya Rogers, the class covers a lot of areas.
Meet The 2019 Trojans
Jackson is the highest ranked player in the class and the 6-foot-4-inch post has a chance to make a huge impact because post players with her size and touch don't grow on trees. Kristen Simon was a feature interior player in Trakh's first year but she has graduated and transfer Cheyanne Wallace will complete her graduate year this season. Vanderbilt transfer Kayla Overbeck has one more year of eligibility. Jackson will come in and join current freshman Jillian Archer and red-shirt sophomore Asiah Jones to form a strong post trio.
Rogers was the last player to join the Trojan class but is one of the more important pieces as her ability to create and score from either the point guard or off guard positions is rare and needed. With Louisville transfer Mariya Moore and transfer Aliyah Mazyck set to graduate after this season, brining in an impact perimeter player is certainly timely.
Pili brings her unique game to Los Angeles from Anchorage, Alaska. The 6-footer can play inside and out and is a rare talent with her strength and perimeter skills. There is nobody on the roster now to compare Pili too and quite possibly nobody in the Pac-12 Conference like her. She has the perimeter skill to attack a post defender and the size and touch to dominate a perimeter defender inside.
Miura is a sharpshooting point guard option coming off a terrific summer on the travel circuit. Her efficiency, ability to distribute and scoring skillset should translate. She'll have the benefit of playing behind current junior Minyon Moore and freshman Desiree Caldwell, giving her a chance to grow without the pressure right away.
The 5-9 combo guard with a deceiving nickname, SloMo, is a terrific addition to the Trojan roster because her game and mentality is adaptable. She's a team first kid who will always make the extra pass to find a shooter but really came into her own learning out to score the ball late in her high school career.
Campbell is a winner first and foremost; a coach's daughter who can lead on the floor. Her prep career had her on a loaded, senior-laden Clovis West team ranked No. 1 in the country as a sophomore and she stepped up and became a real threat in multiple areas of the game thereafter. She's a big guard with range having played so many position in high school should help her earn playing time.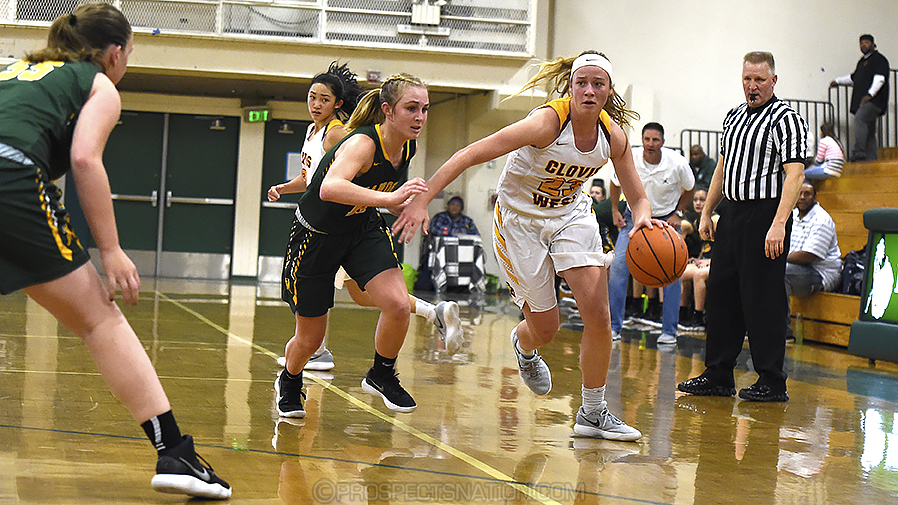 Madison Campbell competes at the 2018 Elite Is Earned New Year's Showcase at Miramonte High School. *Photos by Chris Hansen.
Looking Forward
USC has a lot of really good young pieces on the roster next year. As the program pivots to 2020 recruiting. Look for an emphasis on adding frontcourt depth for the future.

Chris Hansen is managing editor of ProspectsNation.com and serves on the McDonald's All-American and Naismith Trophy selection committees. He was a co-founder of and the national director of scouting for ESPN HoopGurlz from 2005 until 2012 and is the director of the Check Me Out Showcase and ELITE is EARNED events. He can be reached at chris@prospectsnation.com.