Posted
1 year 3 months ago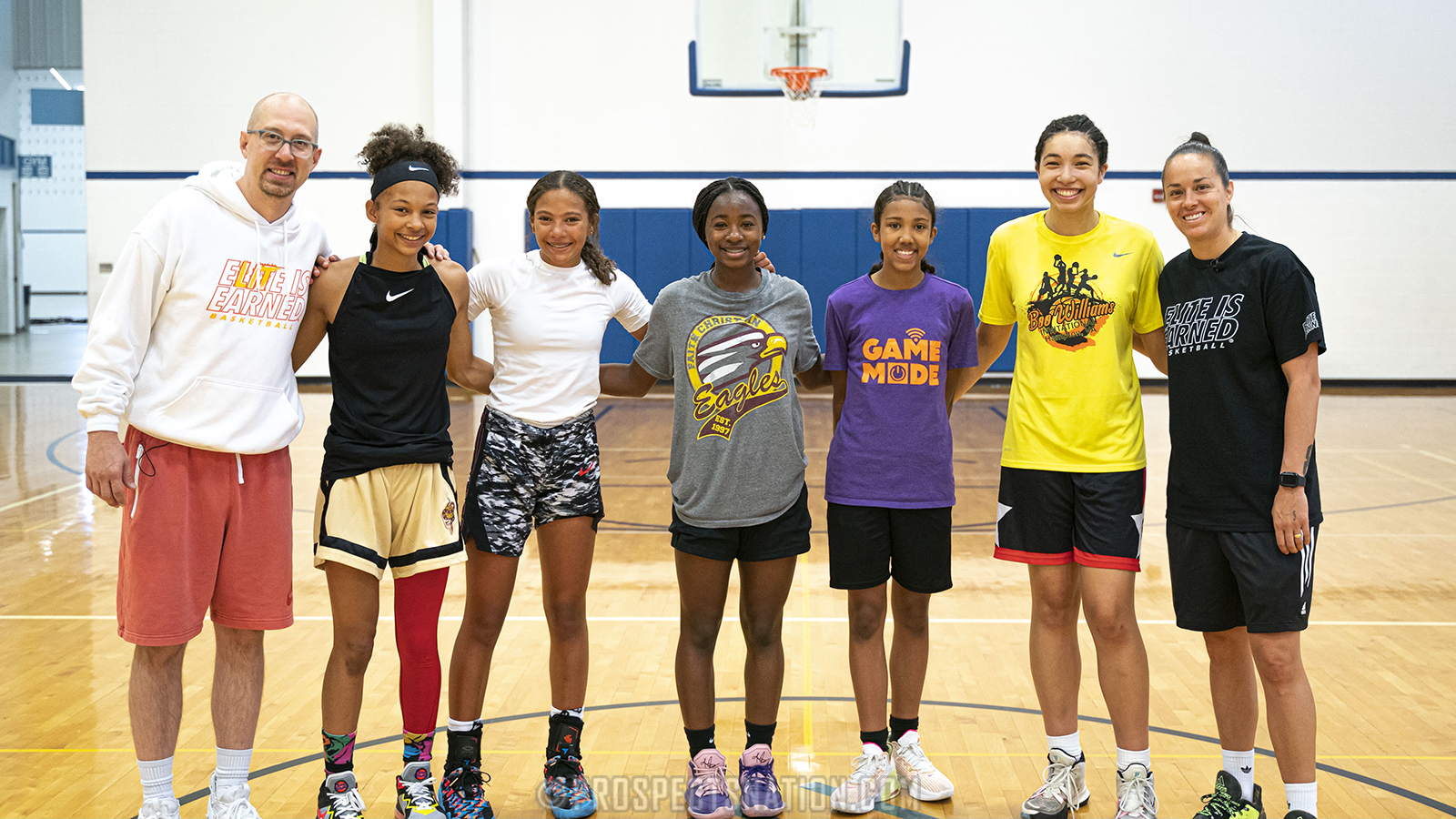 Nakia Ollivierre, Riley Schellhammer, Trinity Wilburn, Isabelle Ellison, Zion Belcher-Arill, joined Chris Hansen and Ashley Corral for Feature Player Training in Indianapolis. *Photo by Eliteye Media.
NOBLESVILLE, Indiana – The Check Me Out Showcase, hosted by Elite Is Earned, made its way to the Greater Indianapolis area for the first time and the lineup was loaded with talent. Before the first camp session the Feature Player Training group came in to work with us in a small group setting.
Belcher-Arill jumped right out in this session with her size and strength on the perimeter. Working on using that advantage she quickly adapted to putting her defender in a bad position. And this 6-1 wing from Grand Rapids, Michigan, has the ultimate counter weapon for sagging defenses, a legit jumper with range. Her form shooting work was dialed in and it carried over to camp game play. The more she can use her size and strength in the coming years the harder it will be to guard her.
We've been in the gym with Ollivierre countless times early in her career. She's growing up right before our eyes. From a skilled youngster to what we see now, someone who can be fluid and effective against high school competition. She has become a confident playmaker. Just finishing her eighth grade season, she was really comfortable making plays against upperclassmen.
Ellison was one of the youngest players in the camp so simply continuing to compete is such a fierce atmosphere was a win. She's on the cusp of having a breakout in her game with just a little strength. She found space on the floor and was ready to shoot, even when thrown in the fire against older players. Her size at a young age and willingness to compete are great early signs.
Schellhammer is young in the game but her understanding of her strengths allow her to compete at a high level. She has elite speed both defensively and with the basketball. Her handle and ability to get down hill was a strength. Once she masters changing speeds, it's over, as her top end is crazy fast but still under control. We liked how she was willing to mix it up with the older competition without reservation.
Wilburn, like Ollivierre, is just finishing her last year before hitting the high school game and like her was unphased by older competition. Standing 5-5, she has a strength to her that allowed her to attack bigger defenders downhill by taking and controlling space. Her speed was a factor on both ends of the floor and she seemed to take pride sitting down and making the ballhandler really work.

Chris Hansen is managing editor of ProspectsNation.com and serves on the McDonald's All-American and Naismith Trophy selection committees. He was a co-founder of and the national director of scouting for ESPN HoopGurlz from 2005 until 2012 and is the director of the Check Me Out Showcase and ELITE is EARNED events. He can be reached at chris@prospectsnation.com.