Posted
5 months 1 week ago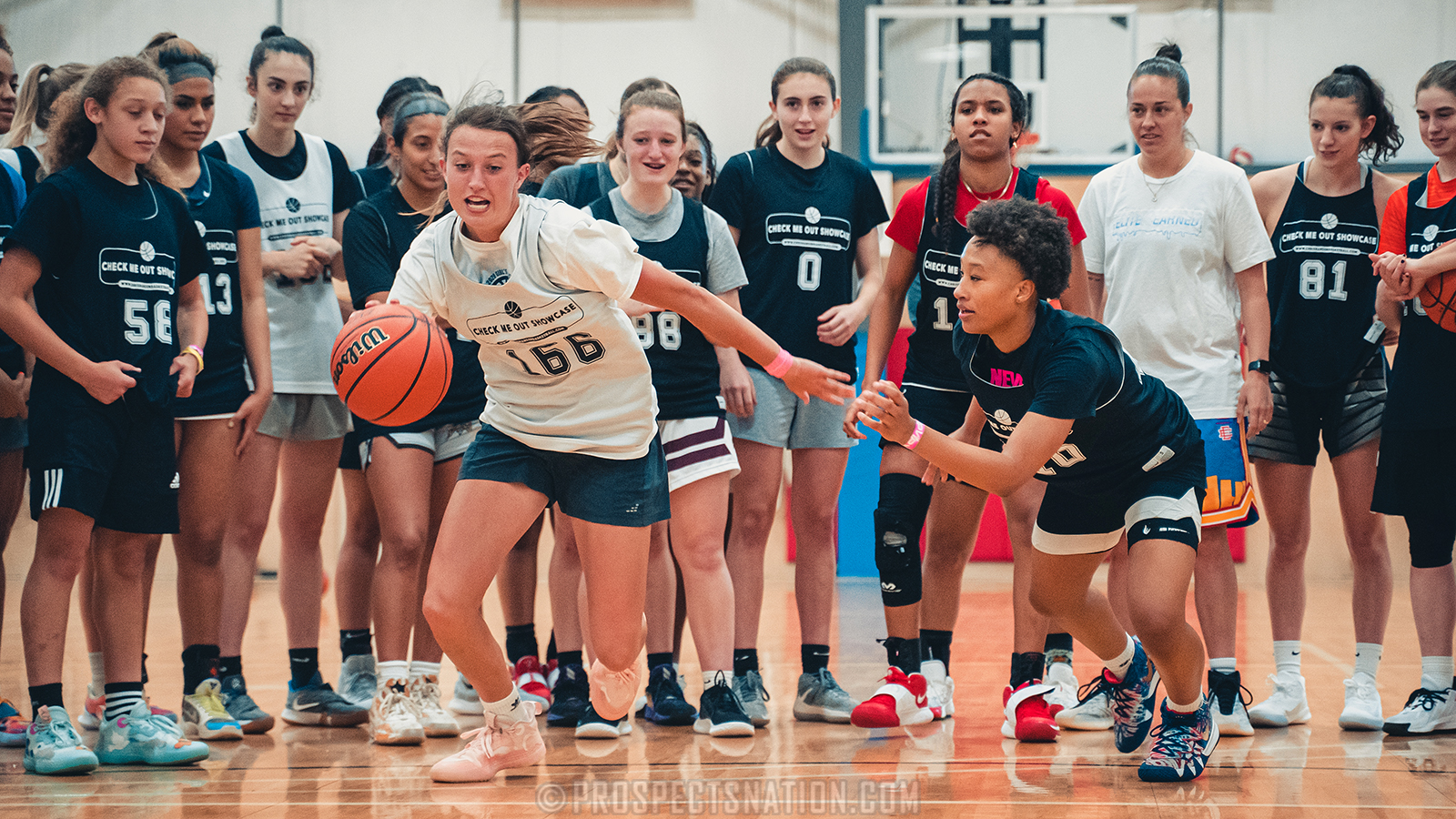 Bailey Maupin of Gruver, Texas, had no issues being front and center at the Check Me Out Texas Showcase. *Photo by Anthony Lugardo.

AUSTIN, Texas – Since 2015 the Check Me Out Showcase camp series has made a stop in Texas, the last five years in the Austin area. This year's pool of talent had a great showing from the Southwest with some national buzz from Iowa and Washington joining the Texas, Oklahoma and New Mexico based players.
Sneed has yet to play a high school basketball game officially and her reputation as an elite prospect in 2025 continues to build. Her initial splash was made as a fierce on-ball defender but her offensive weaponry is expanding every time out. Her poise with the ball improved even from when we saw her in March.
Like Sneed, Hanson is young in the game but is not scared of any moment or matchup. Her youth shows in her quiet style but her game is loud. She can get downhill against older defenders and make plays. She's also well versed in getting to her pull-up.
Maupin showed she has a passion for the game in everything she did. She is a terrific athlete and uses her fluidity with the ball and leaping ability to put a lot of pressure on the defense. Her confidence shooting the ball is growing since we last saw her and that's bad news for whoever is guarding this high energy hooper.
We've been watching and working with Arredondo for three years now and this spring has been her breakout. Her ball skill has been off the charts for her age and she's now making perimeter shots making her a more complete threat on offense. Year in and year out she's among the hardest workers in the gym when we come to town.

Konig has been in the gym with us for six years now and this weekend we saw the change we've been looking for, her command of pace and tempo. She's long been a terrific off the bounce creator. Last year she added deep range and now, seeing her slow the game down makes her a stock riser in the 2022 class.
#CheckMeOutNATION

Maintaining focus was our challenge to the 100 players competing with us in Texas on day 1.#ELITEisEARNED pic.twitter.com/KaUBLuJMWs

— Chris Hansen (@ChrisHansenPSB) May 9, 2021
AROUND THE RIM
Camryn Tade of Southlake, Texas, is a big guard at 5-10 and has a strong build. Even with her size she has a fluid way about her and really strong ball skills. That combination made her terrific attacking off the dribble-hand off action.
Arianna Roberson of San Antonio, Texas, impressed with her ability to use her length and speed. She's just a 2024 but this 6-4 forward is putting things together. Players with her size and youth don't usually move like she does.
Jamie Ruede of Pipe Creek, Texas, played all weekend with a strength and tenacity. She competed hard and stood out with her play defensively on the perimeter.
Chayse Goetz of New Braunfels, Texas, is a 2023 guard who has a scoring specialty – a knockdown jumper. She was one of the most consistent catch and shoot performers of the weekend.
Ja'Shelle Johnson of San Antonio, Texas, is no stranger to our camp series and her high energy and willingness to use her gifts to get teammates open shots makes up for her lack of prototypical height.
MORE COVERAGE:
Friday Night Lights Part I

Chris Hansen is managing editor of ProspectsNation.com and serves on the McDonald's All-American and Naismith Trophy selection committees. He was a co-founder of and the national director of scouting for ESPN HoopGurlz from 2005 until 2012 and is the director of the Check Me Out Showcase and ELITE is EARNED events. He can be reached at chris@prospectsnation.com.