CoachHemi.com Showcase Headliners
Posted
7 years 10 months ago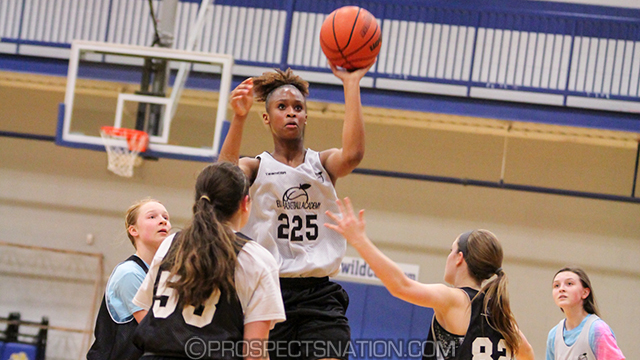 Jordan Isaacs at the CoachHemi.com Showcase. *Photo by Nakita Hemingway
LEBANON, Tenn. – The 2nd Annual CoachHemi.com Showcase again brought a crop of talented players from the Volunteer State and beyond for development and exposure. Here are some of the underclassmen standing out.
Emily Beard (Dickson, Tenn.) -- 2017
Beard turned heads last weekend with her play and toughness on both ends of the floor. The 5-foot-6 point guard has the ability to make plays with the ball in her hands and run a team from the lead guard position. She is a crafty playmaker who can create offense off the bounce or with the pass. Beard is a quality perimeter shooter who will force defenses to guard her beyond the 3-point line, opening up driving opportunities. More than anything we were impressed with Beard's energy level this weekend. She was one of the kids who made camp competitive with her willingness to push the tempo and make extra effort plays. Those are the kids that help programs win games and Beard, a member of the class of 2017, showed that type of pedigree this weekend.
SPOTLIGHT PLAYERS
Jordan Isaacs (Dallas, Ga.) -- 2019
One of the great things about camp settings is it gives us an opportunity to watch young players develop and grow their games. Isaacs is a perfect example of this. The 6-3 prospect continues to show a high ceiling as an interior player who has not played a game of high school basketball yet. This weekend she was effective blocking shots and rebounding the basketball but also showed growth as she stepped on the perimeter and made a couple face-up jumpers. Isaacs is a young prospect who should be watched closely as she progresses.
Brinae Alexander (Murfreesboro, Tenn.) -- 2018
Alexander was one of the most impressive prospects in the gym this weekend. At 6-1 she has a motor that just won't quit and she finds ways to make a positive impacts on the game. She was effective on both sides of the basketball as she made defensive stops and used those plays to create offensive advantages. Alexander projects as a dual-threat forward as she can potentially be effective playing on the wing and the baseline.
Moore is the Director of Scouting for the JumpOffPlus.com National Scouting Report and international scouting report. He has been a member if the women's basketball community for more than six years as a trainer and evaluator. He can be reached at keil@prospectsnation.com.