Posted
10 years 4 months ago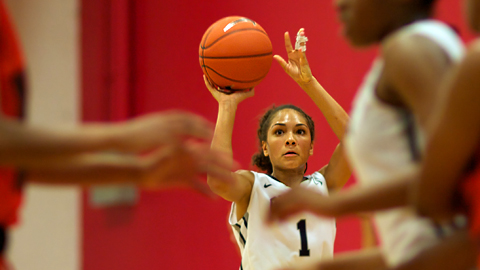 Texas commit Brooke McCarty stepped up big when her
Cy-Fair team needed her most at the Boro . *Photo by Chris Hansen.
Tweet
FRANKLIN, Tenn. -- The first day of the 2013 Battle in the Boro saw a trio prospects, two of whom are already committed, step up and carry their respective teams. That fact dispels the myth that players coast after securing their scholarship. If that were the case, the field here at the Boro is so deep that coasting will get you embarrassed.
Brooke McCarty (League City, Texas), Cy-Fair Nike Elite – 2014 (Texas)
Cy-Fair is dealing with a shortened roster with Ariel Atkins and Tasia Foman playing with their high school team. While the team still has ample talent available, the domination we saw at the Boo Williams Spring Invitational in April isn't coming as naturally. In both of Cy-Fair's wins on day one, the diminutive Brooke McCarty showed exactly why she ranked 11th in the ELITE 100 and rated a five-star prospect. Despite being a pass-first guard most of the time she stepped up and knocked down big shots to help separate her team from the Georgia Hoopstars and Illinois X-citement, both teams looking for a marqee win at her teams expense. Her ability to score while maintaining her best attribute, getting her teammates easy shots.
Jaycee Coe (Cookville, Tenn.), Tennessee Flight Silver – 2014 (Kentucky)
Jaycee Coe, the 6-foot wing for the Flight, shot the ball very well today from the 3-point line, proving that she is one of the better, if not the best, long range shooters in the class. Her ability to stretch the floor and consistently knockdown shots from beyond the 3-point line make her a unique weapon for a team with a true post player or a wing who can draw multiple defenders. Coe is headed to the University of Kentucky and while there should be able to play with players that should fit both molds. There is a quasi-race for the best shooter in the 2014 class going on right now and Coe is in it along with Kortney Dunbar and Courtney Ekmark.
Beatrice Mompremier (Miami, Fl)-Miami Suns Fowles-(2015)
Post players come in all shapes and sizes. At 6-5, Beatrice Mompremier has great size which is complemented by her ballhandling skills. She was impressive today, showing that she could put the ball on the floor to create space and scoring opportunities for herself. As she continues to develop this will be a valuable asset for her at the next level, especially given she has post size and can defend in the paint.

Hansen is managing editor of ProspectsNation.com and a McDonald's All-American selection committee member. He was the national director of scouting for ESPN HoopGurlz from 2005 until 2012. He can be reached at chris@prospectsnation.com.
Follow @ChrisHansenPSB

Moore is the National Director of Scouting for the JumpOffPlus.com National Scouting Report. He can be reached at keil@prospectsnation.com.
Follow @KeilMoorePSB

Peck is the owner of Dream In Motion Athletics and is a national evaluator for the JumpOffPlus.com National Scouting Report. He also serves as a on-floor skills coach at the Elite Basketball Academy events. He can be reached at StephenPeck@peachstatebasketball.com.
Follow @StephenPeckPSB