EBA All American Spotlight III
Posted
3 years 8 months ago
BUFORD, Georgia – The Elite Basketball Academy All-American Showcase has been the proving grounds for players currently playing in the WNBA and at all levels of collegiate basketball. Now in it's 10thyear, the showcase gives the campers a chance to work with the Brandon Clay Skill Training staff as well as be seen by the ProspectsNation.com evaluation staff. I had a chance to work with select groups of the campers personally. Here are the breakdowns from the 5:25 pm group:
Kionna Gaines – Columbus, Ga. – 2021 – Shaw HS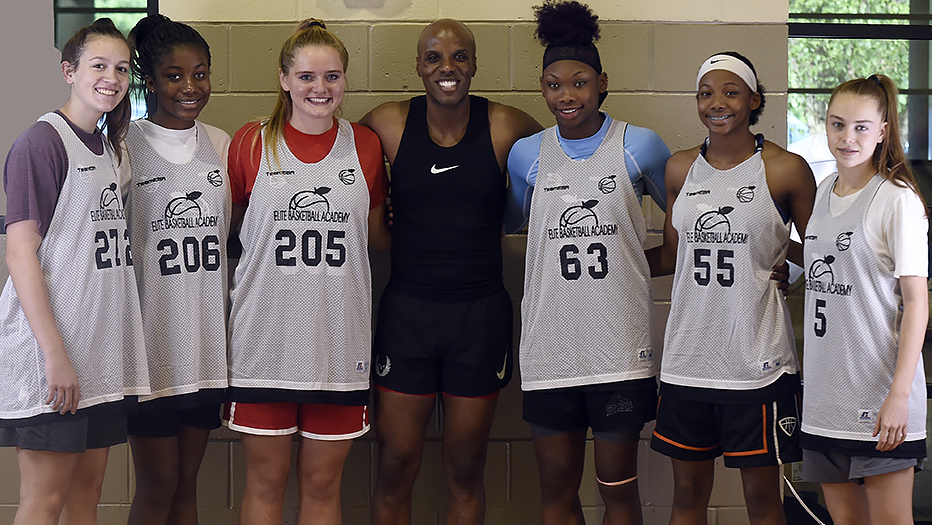 (l to r) Madison Henegar, Ryane Williams, Keegan Sullivan, Brandon Clay, Kionna Gaines, Aniyah Jones, Pace Rickard. *Photo by Chris Hansen.
Gaines has established herself as one of the Peach State's premier young perimeter threats. She's a capable option to score off of the bounce with the athleticism needed to make plays at the rim on both ends of the floor. Continuing to work on her jumper will only enhance Gaines game.
Madison Henegar – Murfreesboro, Tenn. – 2020 – Riverdale HS
Henegar has the size and skill to be a versatile frontcourt threat. When she's confident and ready to let it fly, Henegar has the skill to be a tough matchup at either forward spot. She is a joy to work with as a result of her ability to take instruction on the fly and make the needed adjustments from there.
Aniyah Jones – Grovetown, Ga. – 2020 – Grovetown HS
Jones continues to grow her overall game. She's added some strength to her frame and is noticeably more willing to attack the lane to score. Jones length and skill set package give her a bright upside over the next 12 months. If she can stretch opposing defenses with her outside shot, watch out.
Keegan Sullivan – South Bend, Ind. – 2020 – St. Joseph's
Sullivan was in early to work on her pick and roll skill set package. As a perimeter threat with the versatility to even play some point forward, Sullivan is learning how to slow the game down to make the right read based on what she is seeing. With her strength off of the bounce, most defenses have to send a second person to force her to give the ball up. Learning when to pull up and when to kick is the next step in Sullivan's progression.
Ryane Williams – Cumming, Ga. – 2020 – South Forsyth HS
Williams was impressive in this setting with her ability to stretch the floor by shooting the outside shot. Skill wise, she can play multiple positions with arguably her best value right now coming as a pick and pop option at the 4 spot. Williams hit multiple shots in the workout from where the 4 pulls up in the secondary break to shoot the 3-pointer. She's a good athlete as well. Tightening her footwork will only add to her game.
Pace Rickard – Austin, Texas - 2023 – Hill Country MS
Rickard is still developing physically but has all the tools to be a high level guard. She sees the floor, can handle the ball and make the right read. Continuing to understand where, why and when to make a play will only enhance her current skill set package. Rickard wasn't intimated at all by going against players three to four years her senior in the session.

Brandon Clay serves as the WNBA Director of Scouting for ProspectsNation.com and owns The JumpOffPlus.com International Report, which is picked up by more than 150 colleges and universities nationwide. He serves as the Executive Camp Director for the Elite Basketball Academy Camps. He serves on the Naismith Trophy Men's / Women's College Player of the Year Academy and is chairman of the HS Boys / Girls Board of Selectors and is on the McDonald's All-American Selection Committee. He also is the publisher of PSBPopCulture.com.