EBA Super 64 -- Live Blog '16
Posted
6 years 8 months ago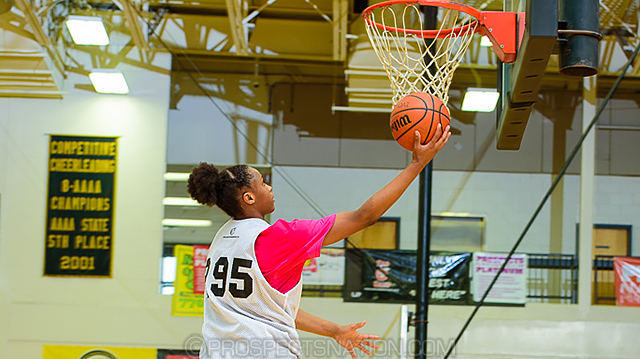 Jordan Isaacs of Dallas, Ga., is a tough matchup in the front court. *Photo by Ty Freeman.
LAWRENCEVILLE, GA -- Follow all the action and standouts from #EBASuper64 Camp, including social media, here.
One player who has turned heads today is 2019 guard, Paige Shy of Huntington, W. Va. Shy is a skilled guard who has the ability to be effective playing on and off the ball. She is comfortable handling the ball under pressure and showed a smooth pull-up jumper this weekend.
Lyric Custodio is actually an international prospect who is here at camp this weekend. She is a quality perimeter shooter who has combo guard ability because of her overall feel for the game. This was a strong showing for the 2018 Canadian.
When it comes to impacting the game outside of scoring, Anna Claire Atha of Rome, Ga., is your kid. The 5-8 guard has a strong build, jumps passing lanes, sprints back to tip balls out in transition. But hustle isn't her only trait. She can knock down the knock down the ball reversal three, make good decisions in transition and moved well without the basketball.
Strong post play isn't the easiest thing to come by but Jordan Isaacs of Dallas, Ga., is showing the tools to be among the best in the 2019 class. She is a good athlete and can put a lot of pressure on defenses as a rim runner but she can also get position, seal and score over her left shoulder.
Savannah Dhaliwal is a work in every aspect of camp. As we transition from drill work to live 5 on 5 play, the amount of effort she gives does not change. She sets good screens, reads defenses, posts big and plays physical defense. When a kid flies 2,700 miles to be at a camp she better get the most out of it and this 6-1 forward from Surrey, B.C.
Zahria Jenkins of Crystal River, Fla., got off to a quick start at camp using her speed, quickness and by making good reads on the floor. Because of her quickness defenders have to overplay and she has a wide catch radius making it easy to find her on the backdoor cut.
Class of 2018 guard Bobbi Wardell of Evans, Ga., was aggressive today looking to put the ball on the floor and attacking the rim. Wardell has a long, lean frame and is capable of playing both wing positions.
One player who brought great energy in addition to her athleticism is Jasmine Robinson of Hephzibah, Ga. Robinson is a high-level athlete with quality size. She rebounds and plays with toughness when guarding the ball.
Fresh off her stellar performance at USA U17 trials, Sydney Parrish of Fishers, Ind., is at EBA Super 64 Camp applying the same effort and intensity that she did in Colorado Springs. It's the level of consistent production that will spark her recruiting on a national level in the near future.
People often talk about matchups as being key to success in basketball. Brinae Alexander of Smyrna, Tenn., is a matchup nightmare. She can comfortably post perimeter defenders and is a catch and shoot threat on the perimeter with range out the three as well.
Some players are unguardable in one-on-one settings. Miami commit Endia Banks of Duluth, Ga., is one such player. As camp progressed to 3-on-3 play it actually made her harder to guard as she added the threat of passing off of dribble penetration.
Hannah Barber of Homewood, Ala., gets the most out of every rep and her energy uplifts her teammates. In a setting like this where you are grouped with kids you don't know, leading the way as Barber does is truly impressive. She's a highly skilled point guard on top of her leadership qualities which bodes well for the next level.
#EBASuper64 Camp - Select camp games live on @SUVtv June 5th https://t.co/j8gaO7HwGt pic.twitter.com/fvY3hpzPqG

— SUVtv (@SUVtv) June 4, 2016