EBA Top 40 Spring 2016 Day One
Posted
6 years 4 months ago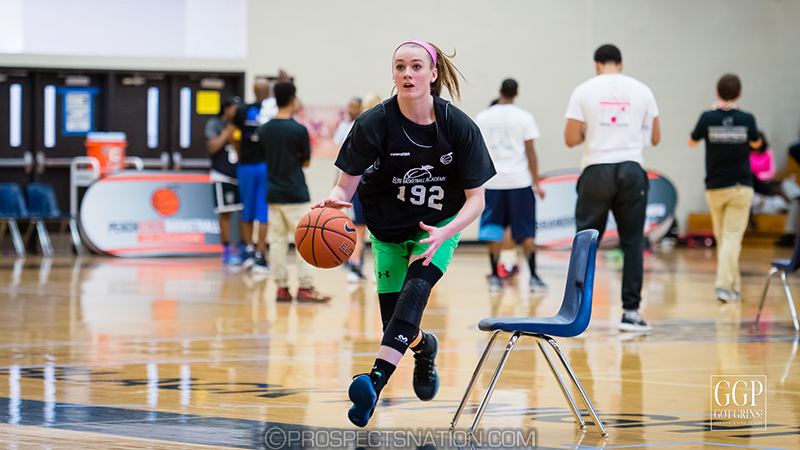 McKenna Haire of Charlotte, N.C., wasted little time showing her desire to improve at the EBA Top 40 camp. *Photo by GGP.
LAWRENCEVILLE, Ga. -- Prospects from 10 different states traveled to Central Gwinnett High School to showcase their skills at the EBA Top 40 Camp. After emphasizing individual skill development and communication, the players moved into half court team games. Here are a few standouts from day one.
Players wasted no time getting on the court as two hours before camp was slatted to begin, there was a small group who were able to get some extra individual instruction with the coaching staff. Of those prospects, class of 2019 point guard Anaya Peoples of Danville, Ill., showed her ability to create off of screens and connect from the mid-range. At 5 feet 10 inches, Peoples has good size and adding new elements to her already impressive arsenal.
Class of 2017 shooting guard McKenna Haire from Charlotte, N.C., showed a great deal of energy on both sides of the ball. Haire stands at 5-11, creates well off the bounce, will post up smaller defenders, and has the size and lateral speed to defend anywhere on the floor. McKenna demonstrates a solid understanding of the game and how to get her teammates involved as well.
After coming off an ACL injury last season, Tyra Cox of Winter Garden, Fla., has made an impressive comeback and returned to full strength. At 5-8, Cox has a great build out on the wing and uses her strength to her advantage. Her first step is explosive and she will attack and finish with either hand in the paint.
Sydney Parrish of Fishers Ind., made a great impression in our afternoon session on day one. Parrish, a class of 2020 wing, stands at 6-1 and works a strong mid-range game. She can consistently knock down shots around the elbow, and also create enough space on the perimeter to hit a contested 3-pointer.
Energy and communication were a few of the focal points made during individual instruction Saturday and nobody has mastered those skills better than Jessee Wallis of Dayton, Tenn. Wallis, a class of 2016 shooting guard, made her presence known on both ends of the ball by constant communication to her teammates. She is a lights out shooter if you leave her open and will make you pay if you overplay her on defense.

Rebecca joined the team at the end of 2012 and quickly made her presence felt as our in-house contributor for Peach State Media during all events and now as a writer for Prospects Nation. She's been in the community as a columnist since 2008 and also serves on the Naismith Awards selection committee. Rebecca played college ball at both Kentucky and North Carolina.