ELITE 100 -- 2017 June Update
Posted
7 years 5 months ago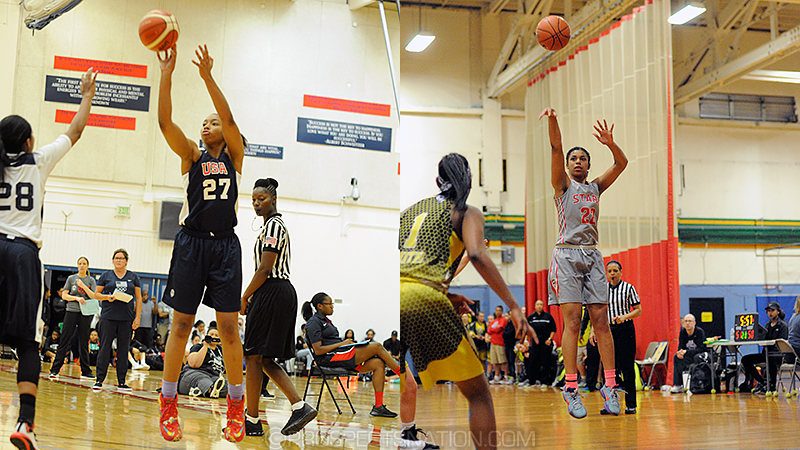 Megan Walker (left) and Evina Westbrook (right) are the cream of the 2017 recruiting crop. *Photos by Chris Hansen.
The evolution of the national recruiting cycle has made the spring season as deep and impactful as all-important month of July, especially given the shrinking live period for NCAA coaches. (Remember when it was six weeks long?)
With hours of debate, reviewing of notes and fresh evaluations at events in May and early June, the ProspectsNation.com ELITE 100 for the 2017 class got a face-lift from the last release in the fall. Though it appears the No. 1 spot is as sure of a thing as it has been since 2012 with Breanna Stewart, there is plenty of change after Megan Walker in the pre-summer rankings.
Evina Westbrook, the 6-foot guard from Salem, Ore., who will join Walker on the USA Basketball U18 national team this summer, moved up another spot to No. 2 overall. Her ability to impact the game offensively, defensively and on the glass make her arguably the most complete player in the class.
Among players ranked in the top 10, nobody's stock rose as much as point guard Dana Evans of Gary, Ind., who moved up six spots to No. 3. She is a scoring point guard but has proven to be the leader and distributor worthy of the top rated player at the position in the class, which is saying something considering Alexis Morris of Beaumont, Texas, Chasity Patterson of Houston, Texas, and Anastasia Hayes of Hendersonville, Tenn., are all five-star rated players in the same class.
On The Come Up
When comparing this late spring rankings to last fall, nine players moved up 20 spots or more. The growth in players' games shows how fast the game evolves when players really spend time on their games.
The biggest stock riser from the likes of the previously ranked is Chyna Nixon of Norfolk, Va. The 5-10 guard is a big part of why Boo Williams EYBL is off to a strong 4-1 start in EYBL play this spring and she jumped to No. 47 in the class.
"Nixon is one of those electric players who have the ability to get you out of your seat with an exciting block, an explosive rebound, or a one of a kind move off the bounce," Keil Moore, ProspectsNation.com's director of scouting, said.
Another mega riser this spring is Elisia Grisset of Durham, N.C. The 6-2 guard moved up 43 spots to No. 34 overall.
"Grissett has proven to be one of the most competitive wings in the 2017 class," Moore said. "She is consistently looking to attack a defense, get to the rim, and make plays for her team."
While the Rennia Davis may not have moved up as many spots as Nixon and Grissett, she did elevate her status to that of a 4-star-plus prospect. She moved up 36 spots to No. 11 class.
"Davis's combination of length and athleticism has separated her from her peers but it is her improved perimeter jumper that is most responsible for this leap," Moore said.
Alabama-bound post Ariyah Copeland matched Davis' rise of 36 spots. The 6-3 prospect from Columbus, Ga., now sits at No. 42 in the 2017 class.
By The Numbers
6 – rank of highest rated verbal commit
18 – new players not previously ranked
24 – players who have made verbal commitments
33 – players listed at 6-2 or taller
Deepest States:
Georgia – 12
Texas – 12
Florida – 10
California – 9
North Carolina – 6
Virginia – 5
By Position:
Point Guard – 25
Guard – 21
Wing – 19
Forward – 18
Post – 17

Chris Hansen is managing editor of ProspectsNation.com and serves on the McDonald's All-American and Naismith Trophy selection committees. He was the national director of scouting for ESPN HoopGurlz from 2005 until 2012 and is the director of the Check Me Out Showcase. He can be reached at chris@prospectsnation.com.