ELITE 32 Provides Big Stage
Posted
6 years 3 months ago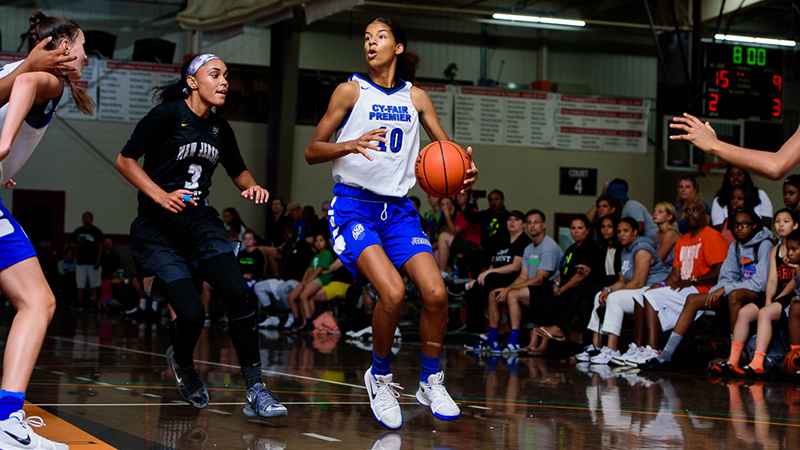 Priscilla Williams of Cy-Fair Premier, a 6-2 guard in the 2020 class, had a break out summer, capping it off at Elite 32. *Photo by Ty Freeman.
SUWANEE, Georgia - The last three days of the July viewing period provides a valuable exposure opportunity for prospects. The PSB Elite 32 brought together nearly 100 club teams to compete in front of college coaches from over 100 programs. Interest was gained and offers were earned in the final moments of the NCAA evaluation period. Here is a rundown of the major stories from PSB Elite 32 which was ran at Suwanee Sports Academy.
Featured Team
Greensboro Gaters Bradford
The Greensboro Gaters took advantage of the opportunity to earn big wins over nationally regarded programs. For this squad, it was a confirmation of their talent that they have worked hard to attain and develop in past years. And for the individual players it helped elevate them further into the conversation of the ELITE. As an aside, they accomplished all of this without the play of ELITE 100 guard Cayla King, who was sidelined with a knee injury this summer. King gave her verbal commitment to coach Kenny Brooks at Virginia Tech during the July break.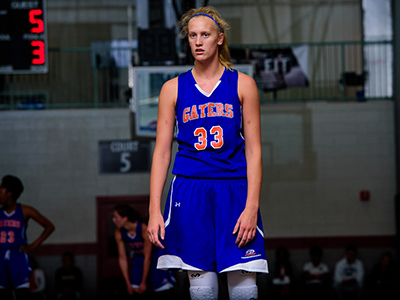 Elisa Cunane finished off her summer in style.
*Photo by Ty Freeman.Looking closer at the roster of the Gaters, North Carolina State commit Elisa Cunane took another step in her game. The 6-foot-5 center played the high-low game flawlessly while also swatting shots consistently. In a new development with her game, Cunane demonstrated her ball handling and play-creating skills while facing the basket. She did this in some of the biggest moments in games as well. Currently ranked No. 34 in the country, her play put her in the mix to rise when the next rankings are released. She is projecting as a player who should be seriously considered for the McDonald's All-American game next spring.
Today's game tends to favor 'small-ball', meaning that coaches prefer to play with more guards on the court and fewer big bodies that could clog the lane. However, the Lady Gaters proved that playing big can still work, even on the summer circuit. Alongside of Cunane was class of 2019 prospect Elizabeth Kitley, a 6-4 center who worked the interior game well from the low block and from the elbow. Also like Cunane, Kitley was adept at altering shots in the paint.
The guard play of the Gaters should not be overlooked in the team's success. Class of 2019 shooting Faith Price exerted herself as a capable shot-maker and on-ball defender. Class of 2020 point guard Reagan Kargo stepped up big for the team with her ball handling. She showed great poise for an underclassman when facing intense ball pressure.
Budding Stars
Katie Ball (Williamson, West Virginia), West Virginia Thunder – 2020
Bell is merely scratching the surface of the type of player she will become. The 6-1 forward fancies a versatile skill set. She rebounds well on the interior while also having range to hit jumpers beyond the arc. However, Bell's best skill is her ability to pass the ball. Bell can execute Scott Johnson's high post offense effectively. Her ability to catch passes in the high post and deliver the ball to cutters and shooters is critical. Bell's recruitment is trending upward with offers and visits lined up this fall.
Alexis Duckett (Port Orange, Florida), DME - 2019
Duckett is a name that is picking up steam in recruiting circles. Duckett came into Elite 32 with several offers. She left with an offer from the University of Illinois after first year head coach Nancy Fahey watched her play. Duckett is an exceptional athlete standing at 5-11. Her slashing ability and pull-up game coming off ball screens makes her a threat to score consistently. Duckett plays a good bit of point guard for her team, but projects to be most efficient at the 2-guard. Given her physical tools and her growing skill set, expect Duckett's recruiting interest to grow in coming months.
Lasha Petree (Canton, Michigan), Michigan Storm – 2018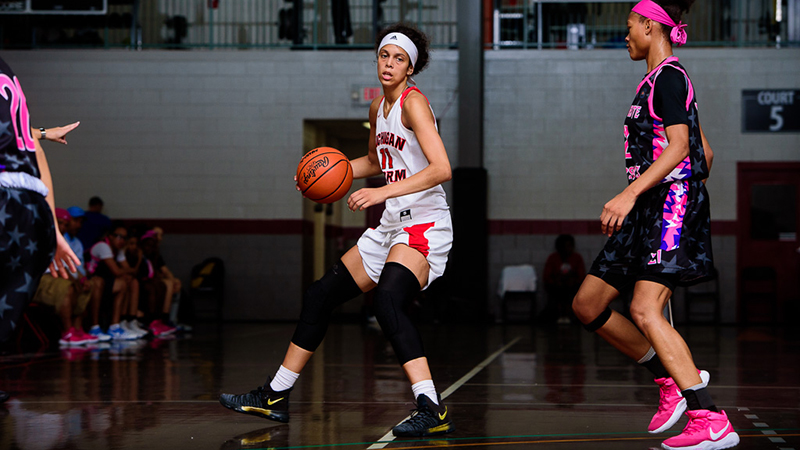 Lasha Petree of Canton, Michigan, put herself in the
mix nationally in the 2018 class. *There was not a bigger stock-riser in July than Petree. She went from being an unknown name to a player that could crack the ELITE rankings soon. The 6-0 wing proved that she could do it all from the perimeter. She hit the trail 3-point jumper while also using the ball screen to create shots off the dribble. Her nose for scoring the ball helped her Storm team win the @ProspectsNation bracket with a win over Team Takeover EYBL. Petree visited Providence earlier this month.
Ajah Wayne (Birmingham, Alabama), Alabama Southern Starz – 2018
Wayne is a prospect whose game took a small pause as she recovered from a knee injury last high school season. However, Wayne solidified her place as a highly recruitable athlete with her play with the Starz during July. She is built like a small-forward, however she has play-making skills like a lead guard. She scored the ball at a high rate for coach Doug Bush's team. Her size and strength allows her to score over smaller guards, but her quickness allows her to move past slower forwards. Expect to hear more from Wayne this winter as she plays for Homewood High School which are the defending Class 6A State Champions in Alabama.
Ari Wiggins (Indianapolis, Indiana), Indy Lady Gym Rats – 2021
The big stage is usually reserved for seasoned veterans or the highly talented. Wiggins falls in the category of the latter. She was inserted into Danny Reigo's lineup seamlessly during the second evaluation week. The rising freshman made plays on both ends of the court and solidified her standing as one of the nation's ELITE in her class. It is on the defensive end where Wiggins can make the most impact currently. She hounds ball handlers into mistakes. She also can fool a passer into thinking there is a passing lane and then quickly flipping the floor into a transition lay-up for her team. Wiggins can dart into the lane and make plays at the rim while also being unselfish enough to find the open teammate. When Wiggins can find consistency on her jumper, look out as she could be as polished of a lead guard as 2019 point guard Shaila Beeler.
Priscilla Williams (Katy, Texas), CyFair Premier Blue - 2020
Williams is a unique prospect. She has the size of a frontline forward. However, her skill set resembles that much more of a shooting guard. She is an impossible match-up for opposing coaches who try to trade size for speed or vice versa. At PSB Elite 32 she demonstrated her ability to get downhill and score at the rim off the dribble. Her soft shooting touch keeps perimeter defenders honest. Yet it is her long first step which is her greatest attribute from the wing. Williams entered the 2020 ELITE rankings at No. 11.
Around the Rim
Expect the stock of post class of 2018 Hannah Sadler of Team Elite to soar through the roof this fall. She played a game at Elite 32 where she blocked 11 shots. She followed that performance with a five block, six rebound game versus the Greensboro Gaters. Her energy and willingness to make hustle plays as a 6-3 center cannot be understated.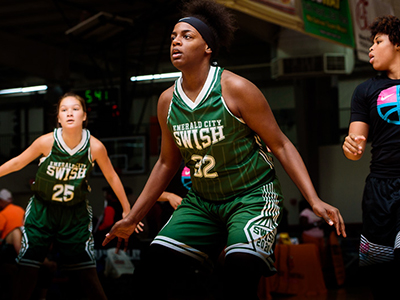 Jordan Jenkins is a rising sophomore from the
Pacific Northwest who showed out in Georgia.
*Photo by Ty Freeman.
Class of 2020 post Jordyn Jenkins of ECBA Swish Wasberg is a player to highlight for future reference. Her scoring and rebounding ability make her a very productive player.
Class of 2020 wing Kelsi Mingo of Boca Raton Thunder is a player to track. Her length, wingspan and shooting touch made her impact player for coach Nhu Nguyen's group at Elite 32.
Director of International Scouting Keil Moore pinpointed class of 2018 post Kayla Brown of the Georgia Pearls as a value recruit during PSB May Day. Her athleticism and overall upside helped her pick an array of interest following Elite 32.
Class of 2020 wing Khera Goss of Nike Indy Lady Gym Rats is already a popular name in recruiting circles. The 5-10 prospect showed versatility at Elite 32 and even had a game winning assist in one of the tournament's opening games.
Class of 2020 forward Alaya Chapman of Indy Lady Gym Rats Cardinal is another versatile prospect. At 5-11 she played inside and out. Her 3-point range combined with her mobility is intriguing as bruising frontline player.
Class of 2021 point guard Madison Ott of Lady BIQ caught the eye of on-site evaluators. She is a heady player with advanced fundamental skill.
Another class of 2021 point guard that made noise was Sydney Shaw of Miami Suns Team Larkins. She is a play-maker with great scoring ability. She will be on the scene for years to come.
Class of 2020 wing Aaliyah McQueen of Michigan Storm made her presence felt. She is a strong wing who can play bully-ball with agitating defenders. Her touch around the rim makes her a competent scorer.
Midwest Takeover Take 2 point guard Jenna Simon proved her skill set in a tough battle versus the New Jersey Sparks 15U. She handled the ball with confidence and created space on the perimeter.
Team Elite Hoopstars added an important piece to the roster during July with Kendall Bollmer. The class of 2019 shooting guard had several big games where she opened the score book with tmultiple 3-pointers.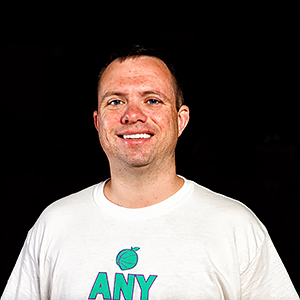 Jonathan Hemingway is the Assistant Director of Scouting for the JumpOffPlus.com National Scouting Report, is on the Naismith Trophy Board of Selectors and owns CoachHemi.com, the go-to source for coaches for X's and O's. He is the floor director of #TeamEBA camps, a site director for #TeamPSB tournaments and can be reached at jonathanhemingway@peachstatebasketball.com.