Elite Is Earned Invitational: Risers
Posted
7 years 7 months ago
ALAMEDA, Calif. – The three-day ELITE is EARNED Invitational tournament featured some highly competitive matchups as bracket play progressed to some fantastic championship showdowns on Sunday afternoon.
While there were some big name players showing out, like Evina Westbrook, Taya Corosdale and others with ample recruiting options, there were also plenty of players marking this spring as their time to break out. Here is a look at some stock risers from the three-day weekend in the Bay Area.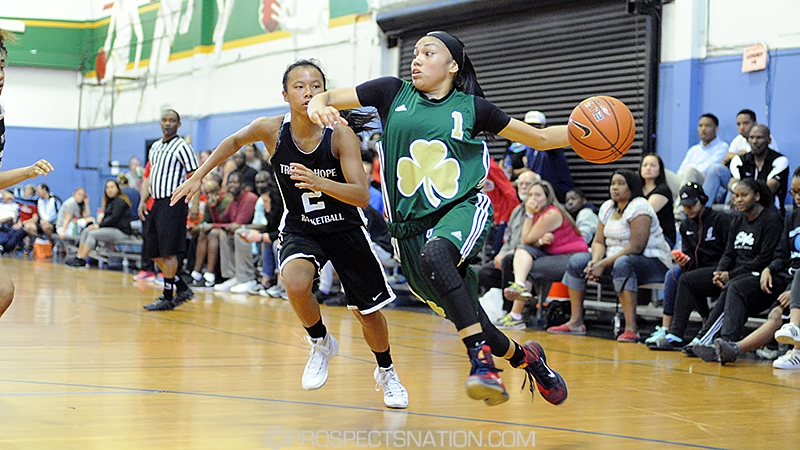 Jenay Bojorquez made plays with the pass and scoring
the ball for the I-10 Celtics. *Photo by Chris Hansen.This 5-foot-6 point guard can play! She is from Phoenix and is not afraid to make flashy plays and try things that might not always work. She sees plays one step ahead of most of the players on the court with her, giving her the ability to get her teammates into great situations to have open looks and score. She has a chip on her shoulder and does not care who she is going up against. She is a true leader who keeps her team calm and under control with her body language and voice.
For being 6-1, this 2017 post from Federal Way, Wash., moves up and down the court well. She has quicker feet than it might appear to the naked eye. She is able to elevate with ease, allowing her to change and block a lot of shots. She has a solid right hand finish and developing her left could take her game to another level.
This 5-8 guard from The Utah Dynasty impressed all weekend. She plays with a chip on her shoulder and has bounce in her step. She has smooth footwork and shifts on people in the open court and in tight spaces while finishing. Her basketball IQ is high and she sees plays developing three steps before they happen. Scouts ask of players to make their teammates better, and this is exactly what she does.
The 5-9 point guard from Alaska is quick and nimble with the ball. She was impossible to corral this weekend in many teams' attempt to trap in their press. She is a young 2019, who has a lot of a work ahead of her, but her athleticism speaks volumes and helps her naturally move on the court in ways that others wish they could. She is very smooth and effective. She has a high basketball IQ and use her length when getting deflections and blocking shots.
Flores, a 2019 shooter, has an extreme confidence in her game. She has a mentality that is rarely seen in this day and age, especially in young athletes. She will shoot when the defenders hand is down or she has a glimpse of space in her view to the rim. She is smart and shifty with ball, but not overly flashy. She is confident and willing to take risks.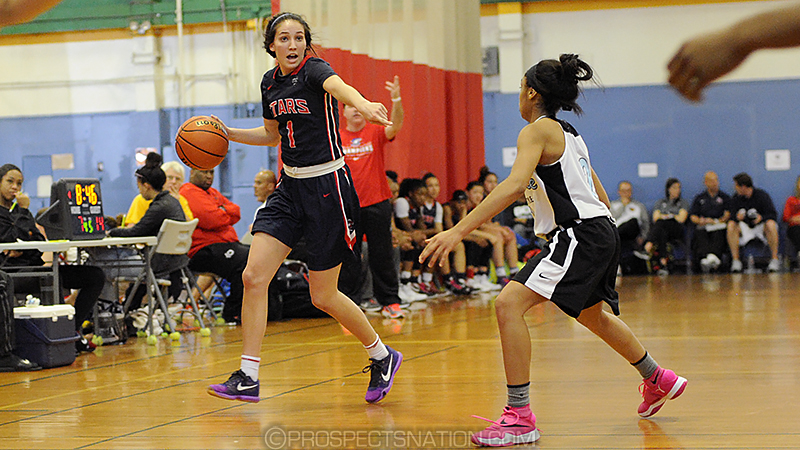 Aleah Goodman is running the point and leading for her
new team, the Cal Stars. *Photo by Chris Hansen.Although a newcomer to the Cal Stars Nike Elite squad, Goodman came out of the gates playing hard like she had been in the program for years. She led her team well and kept her teammates in order. She also is a knock down shooter when her feet get set early. Goodman is a long point guard with the ability to see the floor and hit open shots. She needs to speed her feet up defensively and laterally.
The 2018 guard from Tolleson, Ariz., was lights out this weekend from deep. She hit multiple long balls in each of her games and had no fear in pulling the trigger. She has a quick release and gets her feet set early before the ball gets to her. Her handle on the ball is decent, but could is an area that would only make her more dangerous if she developed it. If she develops a counter to her deadly jumper she'll be a problem for defenses at the next level.

Grace Sarver of Seattle, Wash., at the Elite is Earned
Invitational. *Photo by Chris Hansen.The 5-9 guard from the Pacific Northwest had an explosive weekend. She did all of the little things and added more to her game than we saw two weeks ago at the Check Me Out SoCal Showcase. This weekend she was on another level. She was flying around on defense and making plays offensively. She is a fundamentally sound player who also has a shifty and blue-collar mentality.
The 5-8 guard from the Cal Stars 15U Nike team was a shooting machine this weekend. She hit big time shots in crucial times for her team. She was also capable of driving to the basket, initiating contact and finishing. Her ability to accept contact while in the air, and finish, was impressive. Getting the old-fashioned 3-point play helped give her team energy.
If you have not seen this 5-11 forward, you should add her to your must-see list. She might be young having just finished her eighth grade season, but she can play. She averaged over 15 points per game this past weekend and dominated her opponents with her outwork everybody attitude and her size. She might be undersized in the post but she makes up for it in many ways.
The young 2019 guard from Sacramento High School had a great showing this weekend. She has a great basketball frame and uses her athleticism in ways to make her more efficient than her opponents. She has an explosive first step offensively and defensively. She changed the momentum multiple times this weekend with her ability to get into help side and take charges.

Ashley Corral joined the staff in 2016 after joining the Check Me Out Showcase staff in 2014. She was a McDonald's All-American out of Vancouver, Wash., and was a standout player at Southern Cal. She played professionally overseas as well as in the WNBA. She owns Ashley Corral Performance Training and can be reached at ashleyscorral@gmail.com.