Posted
4 months 2 weeks ago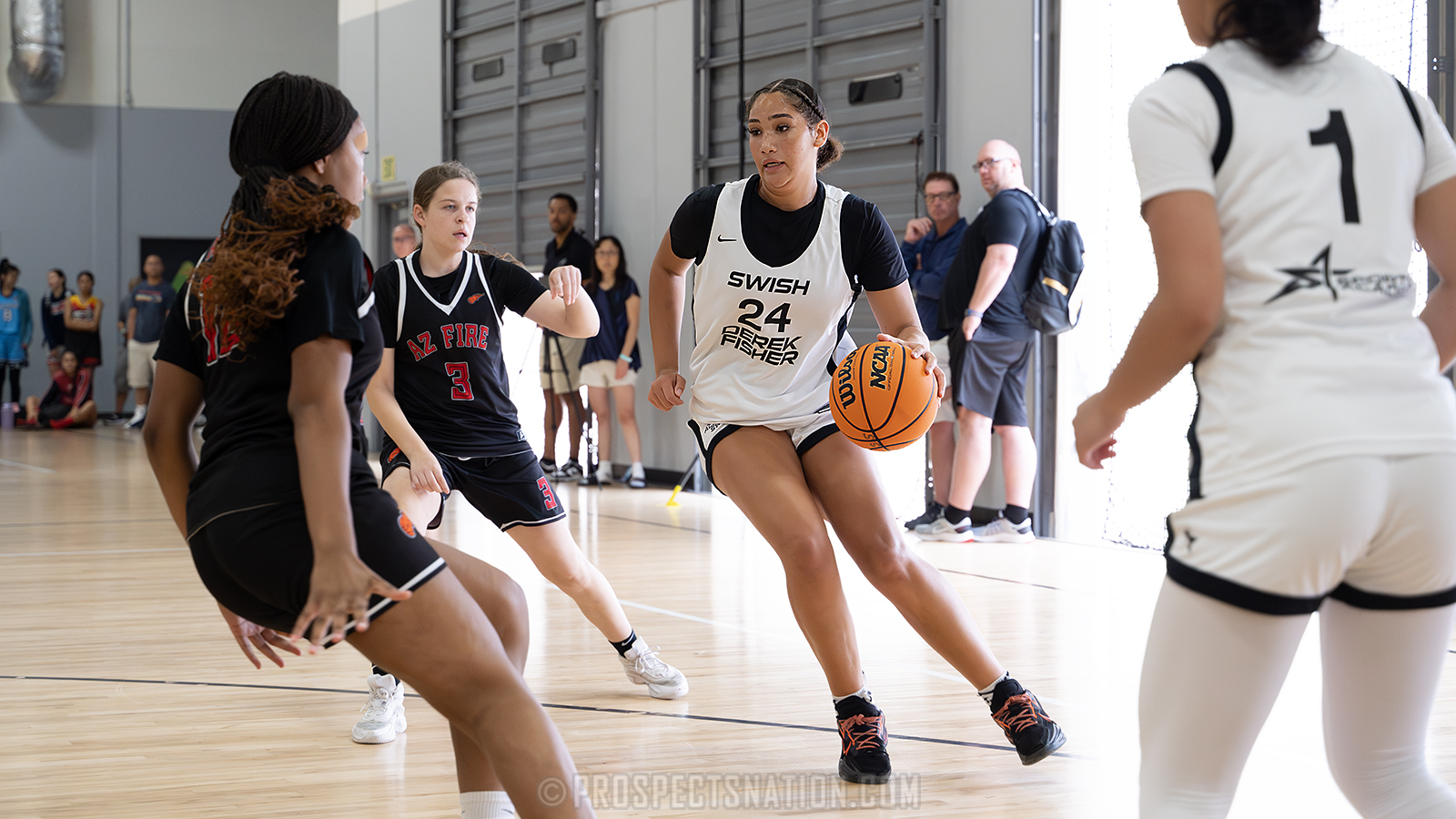 Kaeli Wynn of Yorba Linda, California, was on a roll at the EOT Summer Swoosh. *Photo by Chris Hansen.
SEAL BEACH, California — The EOT Summer Swoosh showcased an array of big-name players and programs, leaving spectators thrilled with outstanding performances. College coaches were treated to highly competitive games, featuring deep rosters of talented players recruitable for all levels. Coaches from every power 5 conference made it out to the Golden State, as well as coaches from the Big West, Big Sky, WCC, WAC, Mountain West, Ivy League, Summit League, C-USA, PACWest, GSAC, CCAA, SCIAC.
Kaeli Wynn of Yorba Linda, California, remained on fire after her impressive showing at Nike Nationals, where she was 17-34 (50-percent) from range in six games. On Saturday against SW Premier she was an impressive 6-6 beyond the arc. On Monday, she started the game against MW Premier a perfect 3-3 from three, despite their attempts to take her shot away. As MW Premier begin to be successful denying her the ball on the perimeter, Wynn took her game inside, attacking off the dribble, posting up and getting on the boards to finish with 28.
The uncommitted 2024 Mackenly Randolph of Encina, California, who has several schools like Michigan State, Notre Dame, Louisville, South Carolina, Florida, Texas A&M and USC sitting on her, was one of the main attractions along with 2025 Addie Deal of Irvine, California. Randolph did not disappoint. Her infectious energy, effort on the boards, versatility and communication skills were on full display and helped ignite her team. She was a force that couldn't be stopped.
Among the rising stars, freshman Nation Williams of Las Vegas, Nevada, proved to be a force inside the paint, showcasing her physicality, agility, and skill. Creating mismatches for opponents with her size and ability to attack the rim, she scored efficiently around the basket and dominated the boards.
Natalie Martinez of San Leandro, California, from Cal Stars 17U EYBL impressed with her consistent shooting and valuable contributions on the court. With so much attention given to UConn commit Morgan Cheli and Deal, a lot of opponents are sleeping on Martinez and her ability to make plays and clutch shots.
AROUND THE RIM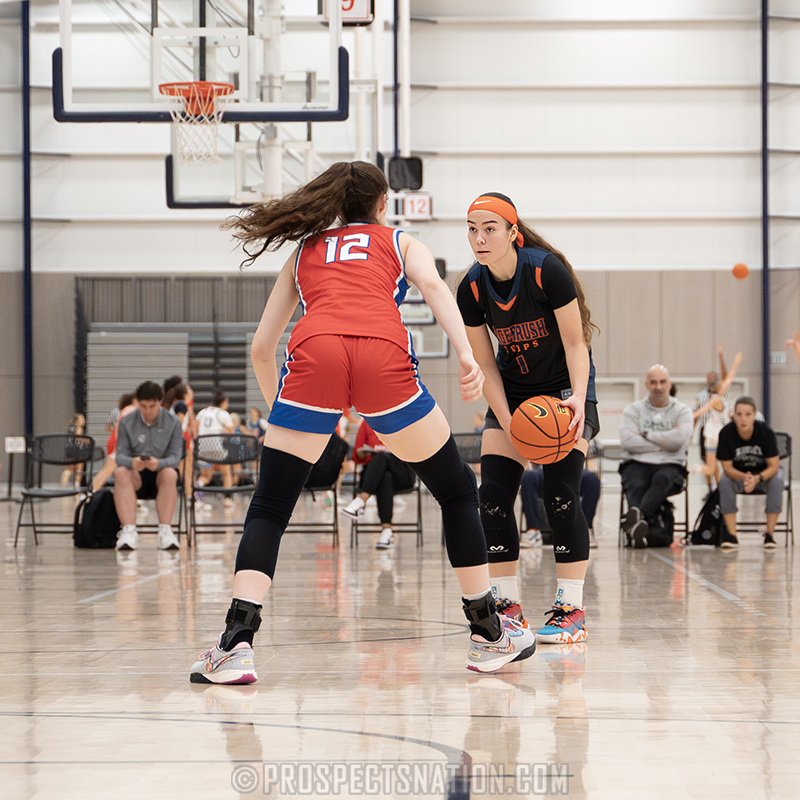 Chloe Deharo of Sagebrush Hoops.
*Photo by Chris HansenMW Premier 17U EYBL guard Tianna Chambers of Aurora, Colorado, put together one of her best tournaments of the year. She displayed her prowess in attacking, rebounding, and versatile defense.
VK's point guard Avery Sussex of Coquitlam, B.C., has been a steady force for the team out of Canada all year. Her court vision and playmaking savvy is unmatched. Her ability to connect from range is exemplary.
Sagebrush Hoops Black stood out as a tough and competitive team, led by the talented point guard Chloe Deharo of Spokane, Washington, who exemplifies teamwork, hustle, and physicality.
Gia Powell of Edmonds, Washington, is assertive on offense and was a driving force for Team Stuck, consistently putting them in a competitive position.
Addie Deal's game is clicking on all cylinders. Her confidence is soaring and her game is continually showing growth.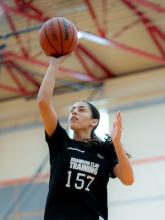 Other notable performers:
Jocelyn Chavez (Surprise, AZ) – 2024 – SW Premier CL
Maya Deshautelle (Agoura Hills, CA) – 2027 – S.A Swish DFisher
Callie Hinder (Chandler, AZ) – 2026 – AZ Fire Wimbish
Mikayla Oliver (Oxnard, CA) – 2024 –S.A. Swish 805
Lauren Olsen (Douglas, WY) – 2025 – MW Premier 16 EYBL
Taylor Tanuvasa (Highland, UT) – 2024 – MW Premier 17 Nike