Feature Player: Faith Lopez-Flores
Posted
10 years 2 months ago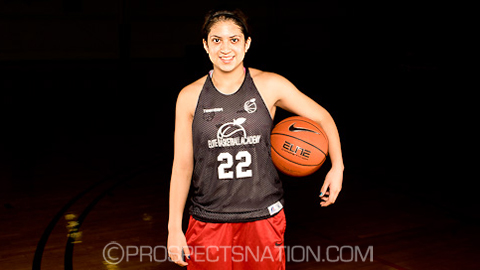 '15 combo guard Faithaleen Lopez-Flores from Jackson High School is the latest Feature Player Evaluation.
Tweet
The latest ProspectsNationTV Feature Player Evaluation is on 2015 combo guard Faithaleen Lopez-Florez, who plays with Tree of Hope out of Seattle during the club season.
Vitals
Name: Faithaleen Lopez-Flores – Grad Year: 2015 Location: Bothell, Wash. – School: Henry Jackson HS Current Position: PG – Projected Position: PG/SG
Strengths
Lopez-Flores is one of the best spot shooters inside the State of Washington. A junior guard, she is able to play as the primary ball handler or slide off of the basketball to be a primary shot maker. That combination will allow her potential school to use her in a variety of ways. Though we project her as a point guard long-term, one of the hottest trends in the game today is playing multiple primary ball handlers on the floor at the same time. Lopez-Flores skill set lends itself to a system where a shot-making point guard's value is at a premium. Her play at both the Elite Basketball Academy Fab Five Camp and the Check Me Out Showcase this summer were impressive as her versatility was on full display.
Area To Improve
Lopez-Flores can continue to work on her ability to defend on the basketball. As good of a ball handler and shot maker as she is, continuing to focus on her defensive positioning will only help the three-star guard improve her overall game. In addition, Lopez-Flores is intelligent enough to know what the other nine players are capable of doing at any moment. That level of understanding should be the bar nightly as she enters her junior season of high school basketball.
The Bottom Line
Armed with a spotless 4.0 GPA, Lopez-Flores is eyeing a possible engineering major as a degree choice. As you would expect, her work ethic on the hardwood matches the work that it takes in the classroom to maintain that type of grade average. She's a National Honor Society member who should flourish at the collegiate level with the in-depth scouting reports of the opposing teams.
#ProspectsNationTV and Brandon Clay breakdown video of Faithaleen Lopez-Flores:
Follow @BrandonClayPSB
Clay is the owner of the JumpOffPlus.com International Scouting Report, PeachStateBasketball.com and ProspectsNation.com. He can be reached at brandon@prospectsnation.com.