Posted
5 months 3 weeks ago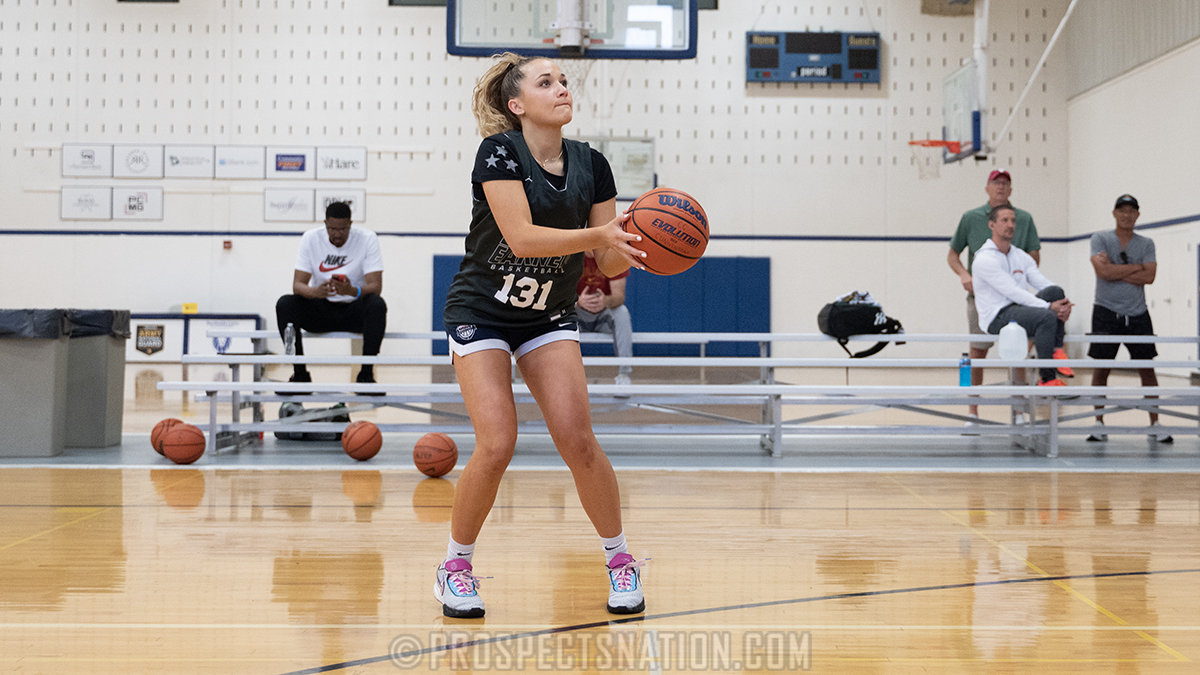 Brooklyn Shamblin, a USC commit, works on her jumper at the Indy stop of the Elite Is Earned national camp tour. *Photo by Chris Hansen.
NOBLESVILLE, Indiana – The Midwest stop of the Elite Is Earned National Camp Tour was back in the Hoosier State. As was the case last summer, the region's top talent made its way to the Greater Indianapolis Area for a weekend of competition and development. Players from nine different states made the trip and it kicked off with the Feature Player Training Session on Saturday morning.
To say Leffler was locked in would be an understatement. She wanted to learn from the start and maintained her focus throughout. She showed size, physicality and great court awareness for a Class of 2027 prospect.
A year after her first camp with us and she's still the youngest in the event. But the last year her game has grown in what seems like a decade of development. Her confidence, ball skill, shooting, energy, nearly every part of her game is unrecognizable, in a good way.
Koch has elite vision and is heck of a competitor. She is at her best pushing tempo and getting her teammates easy buckets. She seems to see a pass ahead, especially on the move, which allows her to play in traffic and still be highly effective.
Labis is on track to be a real matchup problem. Already 5-11, she's not just long but she's disruptive to her opposition. Her activity and length made her a problem creating tips and turnovers and she was ready to jump on any loose balls.
There's speed and quickness and then there's Cunningham. When she locks on to someone her ability to pressure and impact the game is at its apex. She was a relentless competitor throughout the weekend.
Stamper is a creator with the ball in her hands. She has mastered the hard stop and her explosive first step takes advantage of the frozen defender with ease. She's on the smaller side but her effectiveness is far from small.
James bring plenty of grit and toughness to the floor. She is a creator on offense but her ability to impact games on the defensive end is what really stands out. She was very locked in and took teaching points into reps.
Versatility is where you start with Parastaran. She is more than happy to run the point but played off the ball with great results too. She shared her basketball I.Q., by being a leader and active communicator.
Schellhammer is a youngster with an impressive skill set. If you didn't have a roster in front of you then you'd never guess she's got more than a year before her first high school game. She shot it well and created.
Cannon checks a lot of the physical boxes. Her frame and agility allow her to defend multiple positions. She showed she was a player who could really sit down and defend good players. She was also disruptive in passing lanes and strong around the basket.
Shamblin is a USC commit and is coming back from injury. She is back to playing without restrictions and her smooth jumper and ability to get down hill and score it were impressive. She plays the game with smarts and urgency.

Chris Hansen is managing editor of ProspectsNation.com and serves on the McDonald's All-American and Naismith Trophy selection committees. He was a co-founder of and the national director of scouting for ESPN HoopGurlz from 2005 until 2012 and is the director of the Check Me Out Showcase and ELITE is EARNED events. He can be reached at chris@chrishansenbasketball.com.