Posted
1 year 2 weeks ago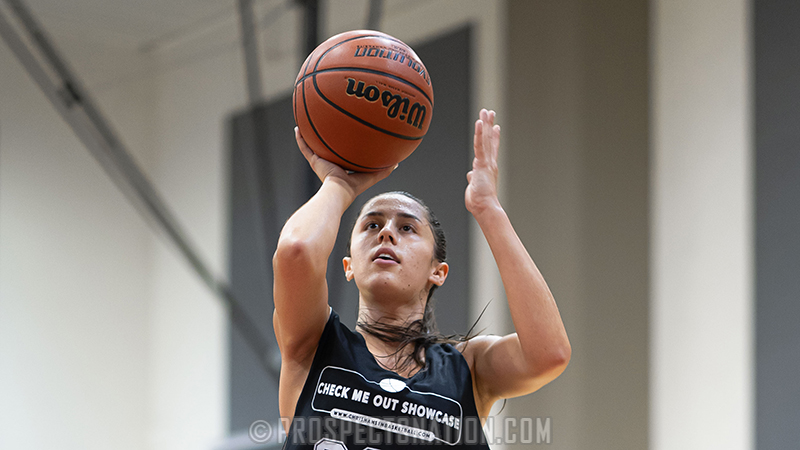 Addison Deal of Irvine, California, works on her floater in the Feature Player Training Session of CMO SoCal. *Photo by Sumeet Kumar.
SAN CLEMENTE, California – The Check Me Out Showcase, powered by Elite Is Earned Basketball, made its return to Southern California. New to the camp schedule in 2022 is the Feature Player training session. Here's our takeaways from a fun weekend in the gym with those athletes.
Deal is as cool as the other side of the pillow. The 6-0 guard can play in so many different positions and her skill set will allow her to impact the game. While we see her with the ball in her hands a lot it was fun to see her work off the ball and still make an impact and solidified her standing as one fo the best 2025's on the west coast.
O'Toner was one of the youngest in camp but she was unphased by that fact. Her approach to skill work was impressive as she locked in and really repped to challenge herself. For a smaller guard she used the length in her frame really well and overall was a tough competitor throughout the weekend.
Thomas poses a lot of problems for the opposition with her height, length and mobility. The big guard can knock down open shots and is fluid with the ball in her hands. For a perimeter player her size her handle is smooth. She's got a great foundation to build on.
Yeh is a class of 2027 guard with a lot of upside. She's super crafty with the ball in her hands. She shot the 3-ball well and was comfortable creating off the dribble. Once she gets stronger she'll get more comfortable attacking downhill sooner and that will put even more pressure on helpside.
Polocheck loves the game of basketball. You can just tell how she approaches her craft and how she takes coaching. She's uses her strength really well, initiates and plays through contact and really got up and down the floor ahead of defenders, even with how hard she works the glass.
In our second weekend with McElmurry in the last three, we really saw her comfort level rise in the competitive camp setting. She's a terrific athlete who really plays a gritty, tough style on both ends of the floor. She has a solid skill set and we can see that showing even more as she slows down and masters her pace.
Spotts is that tricky to guard small forward who, at 6-1, isn't small at all. There's a calmness to her on the floor that allows her to tap into her skill set. When she gets a size advantage you really get to see her footwork in action and facing up when we worked on creating she was able to execute everything we threw at her.
Cheatham was another player that was great to work with because her energy is always there. She's a strong framed guard with enough shift in her game to keep defenders off balance. When she did get an angle she did a great job of getting downhill and she really made some progress on her float game in a short period of time.
Smith is fun player to work with and watch. She has breakdown ability with the ball in her hands and her quickness really makes her defender's work hard. When her defenders did beat her to a spot she seemed to have a counter ready. Her quickness also paid dividends on the defensive end where she was a terrific on-ball defender.
Buntun has been competing at a high level for years. It's that exposure to competition that leads to a mindset that is tough on both ends of the floor. She's strong off the bounce and has really gotten comfortable shooting from distance. Defensively she's really good at applying pressure on the ball without fouling or getting out of position.

Chris Hansen is managing editor of ProspectsNation.com and serves on the McDonald's All-American and Naismith Trophy selection committees. He was a co-founder of and the national director of scouting for ESPN HoopGurlz from 2005 until 2012 and is the director of the Check Me Out Showcase and ELITE is EARNED events. He can be reached at chris@chrishansenbasketball.com.