Ferrand Picks South Dakota State
Posted
6 years 8 months ago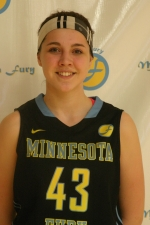 Class of 2018 forward Jordan Ferrand of White Bear, Minnesota has made a verbal commitment to play her college basketball at South Dakota State University. The 6-foot-2 post picked the Summit League school over South Dakota, Missouri State, DePaul, and Wake Forest. When looking at her options and trying to make a college decision, "Brookings is exactly the type of town I was looking for, and it just felt right." She went on to say "Yes there were other schools that I was considering, but SDSU was just the one for me."
At 6-2, Ferrand will give South Dakota State coach Aaron Johnson and his staff elite size for their league. The three-star prospect is a capable perimeter shooter and is comfortable playing on the move and attacking the rim in straight lines.
"Jordan's versatility to shoot the three and create off the dribble at 6-foot-2 makes her a perfect fit for SDSU's motion offense," Nick Storm, her Minnesota Fury club team director, said.
With five juniors on the roster currently, South Dakota State has moved to replace the departing players with the commitments of 2018's Lauren Rongisch of Omaha, Nebraska a point guard, Paiton Burckhard of Aberdeen a forward, South Dakota, Sydney Stapleton of Circle Pines, Minnesota, a guard, and Addison Hirschman of Kingsley, Iowa, a post.
Keil Moore is the Director of Scouting for the JumpOffPlus.com National Scouting Report and international scouting report. He serves on the Naismith Trophy Board of Selectors and has been a member of the women's basketball community for more than eight years as a trainer and evaluator. He can be reached at keil@prospectsnation.com.