Posted
1 year 4 months ago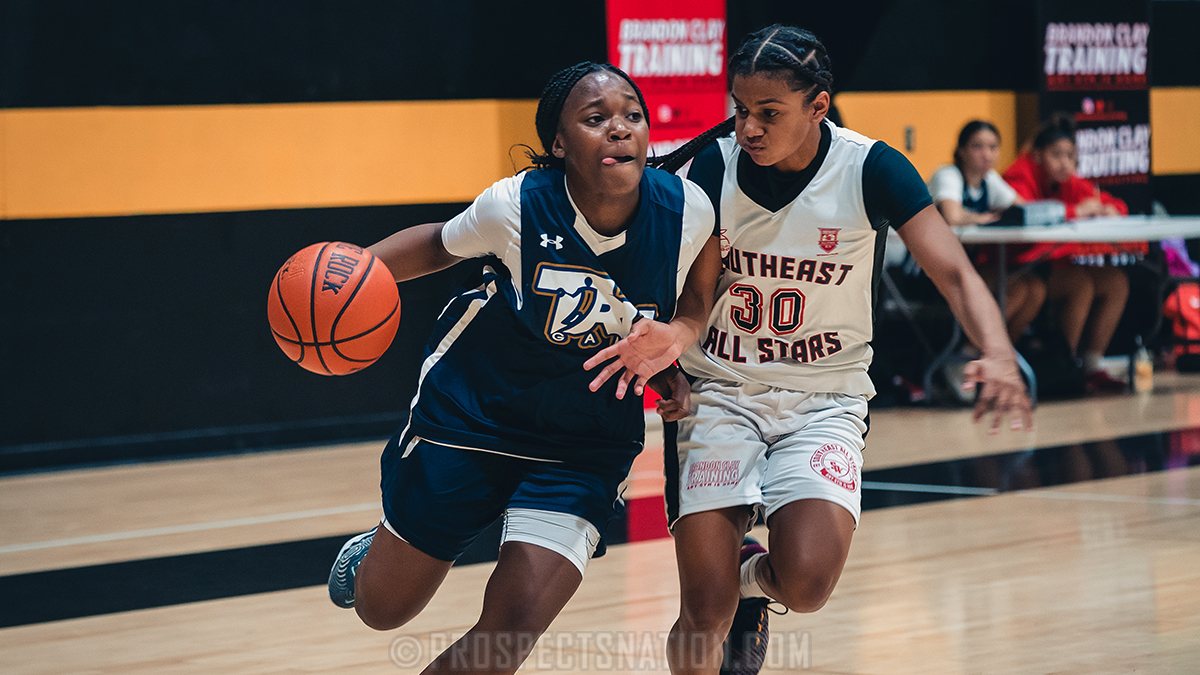 Sayvia Sellers of Alaska attacks against Mataya Gayle of Georgia. *Photo by Anthony Lugardo.
INDIANAPOLIS – The first July viewing period saw a huge influx of talent flood events across the Midwest. After 3 full days in Indianapolis there were plenty of takeaways from star players doing star things to tough teams setting their tone for the rest of the summer.
Buying Sellers
Alaska TruGame has taken on the role as the go-to travel team from Alaska. The program put three teams on the road. The play of ELITE 150 point guard Sayvia Sellers of Anchorage, Alaska, thrust her game into the ELITE 25 discussion and she'll be a major conversation in the All-American circles in a deep 2023 guard class. Her ability to control pace, deliver the ball to teammates under pressure and score at all three levels was on display throughout the three days.
FBC Reigning From Three
On the last day in Indy before heading to Chicago the Tennessee-based FBC Reign 16U crew rolled in to start their summer. The team plays like a group that has been together for a long time. They brough intensity and shared the ball incredibly well.
Point guard Makenna Beaty, a 2025 prospect from Jamestown, Tennessee, got her team rolling early and then Molly Masingale got hot. The 5-9 rising junior from Etowah, Tennessee got red hot from long range, knocking down seven threes in route to a 25-point outing and a win to open their summer. Addison Melton of Murfreesboro, Tennessee, was another impact player who used her size and skill on the perimeter to create problems.
Southwest Premier Program Depth
The Arizona based Southwest Premier program came to Indy with multiple teams at multiple ages.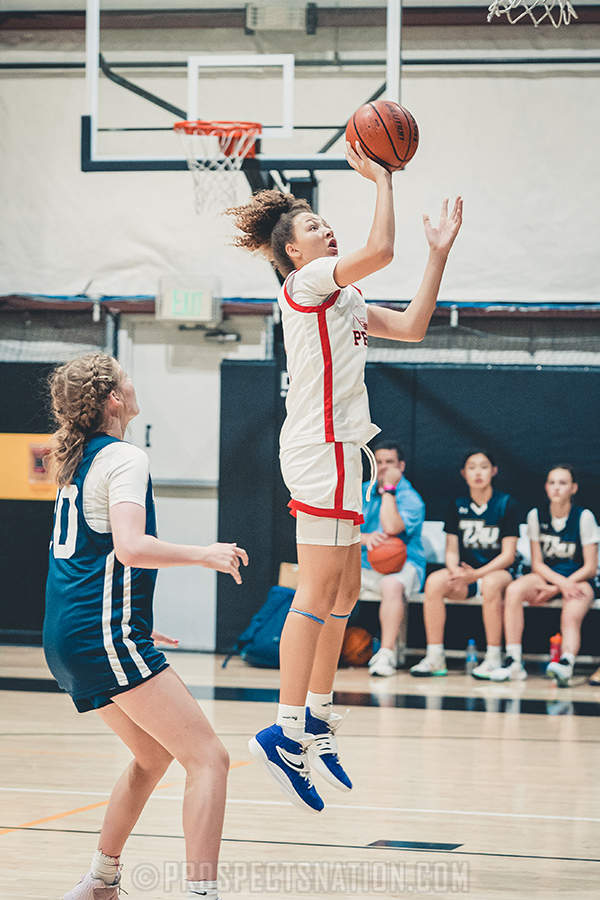 Jemini Mitchell of SW Premier.
*Photo by Anthony Lugardo.The Red National team made big waves. From one of the western region's top 2027's, Jemini Mitchell of Queen Creek, Arizona, to savvy point guard play from 2025 Sophie Morales of Chandler, Arizona, there was plenty to see. The team has a 6-0 swing player in Mia DiPuccio of Chandler, Arizona giving the team versatility and length at multiple spots. Add tough lefty Antil Snoddy of Laveen, Arizona, and this squad is tough.
The SWP Gold 17 squad took on any and all competition. Adeang Ring of Phoenix, Arizona by way of Australia is a 6-6 front court option in 2024 who shows signs of being an agile rim runner who can bother shots as well.
On the perimeter the Gold team had a bunch of weapons. Power guard Mia Davis of Peoria, Arizona, is a match-up nightmare. She has range, strength off the bounce and at 6-1 is hard to find a defensive matchup for. She was flanked by sharpshooter Natalie Scherzer of Scottsdale, Arizona, and versatile guards like Jocelyn Chavez of Surprise, Arizona and Sienna Cherwinski of Buckeye, Arizona. Then the team also has a change of pace guard in SiaJonet Burely of Chandler who was always around the ball causing chaos.
Other players of note from the SWP 16 and 17 Black teams include strong play from Mackenzie Buckner of Phoenix, Arizona, and Layla Franklin from Gilbert, Arizona on the 16U team and Maureen Ulrich of Scottsdale and Katelyn Best of Glendale showing well for the 17U team.
Big Apple Big Buckets
Hoopers NY brought two teams to Indy and beyond the scoring exploits of Georgia Tech commit Nicole Melious, the two teams had multiple prospects of note. From Dakota Daniella of Cortlandt Manor, New York, to Jordanna Schrecker of Staten Island, New York and crafty passing from Kaelyn Lamoreaux of Endwell, New York, the guard play stood out. Throw in strong play from Natalie Fox of Lagrangeville, New York on the interior and you can see why the program has a nice following of coaches all summer.
Southeast All Stars Center Stage
With three teams in year one of the program, the Southeast All Stars had an impressive showing across the board.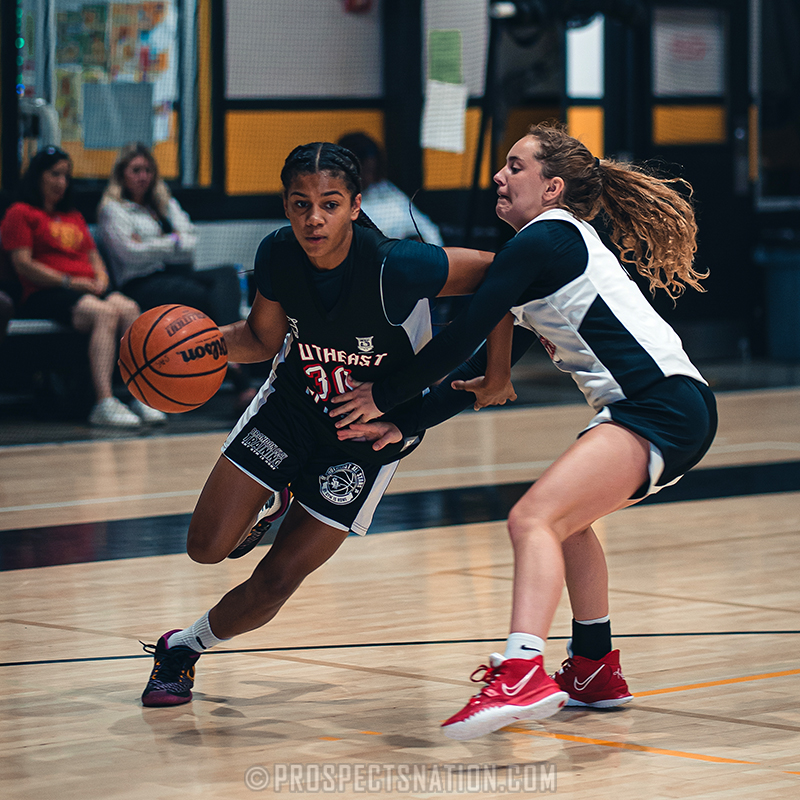 Mataya Gayle of Southeast All Stars.
*Photo by Anthony Lugardo.
The Red team, comprised of underclassmen, created a buzz this summer. The frontcourt duo of Kylee Kitts of Oviedo, Florida and Aaiyanna Dunbar of Murfreesboro, Tennessee, bring physicality and face-up ability to the floor. The perimeter group is equal parts skilled and disruptive with Kate Hapring of Atlanta, Georgia, Gabbie Grooms of Sharpsburg, Georgia, Tianna Thompson of Mableton, Georgia, and Toni Warren of Canton, Georgia. Add good minutes from Elisa Proffitt of Knoxville, Tennessee, and Tianna Thompson of Mableton, Georgia and there's plenty of talent to continuing following well into next summer.
The White team is led by Southern Miss point guard commit Elle Blachford of Sequoyah, Georgia. While her recruitment is done some of her teammates made noise and earned some new following. Mataya Gayle of Woodstock, Georgia and Kyla Cain of Atlanta, Georgia were two players making a big impact.
The Black team was down its starting point guard in Diana Collins who was competing with the Swedish U21 national team. That allowed multiple player a chance to take on a bigger role. Highly regarded wing-forward Chloe Kitts of Oviedo, Florida, found new ways to score the ball. In a huge comeback overtime win against TruGame Kitts went to the block and scored time and again to bring her team back. That comeback was also in big part to the defensive play of Lily Pereira of Winston Salem, North Carolina, a 5-10 guard who drew the incredibly difficult assignment of guarding Sellers.
Bulldogs Arrive
There's something to watching a program year after year with different players and seeing a signature style. That's what Karen Weitz and Katie Lutman have built with the Las Vegas Bulldogs. It's great to see the game of Kaniya Boyd of Las Vegas, Nevada, continue to grow. The 5-9 rising junior is controlling tempo now in addition to using her gifts off the bouce to create.
A real bright spot is the development of 6-1 rising swing player Charlece Ohiaeri of Las Vegas. The smooth operator showed what patience and footwork can get done inside. She complements that ability being steady under pressure and she knocked down open threes as well.
AROUND THE RIM
Unity Basketball, a 2027 squad out of Oklahoma, made the trek northeast and got tested by some older competition. Seeing point guard Trinity Boone of Edmond, Oklahoma, a player we've seen at multiple showcases, battle in a team setting was impressive.
Rising senior guard Hannah Cail of Savannah, Georgia, switched up teams, joining SAS Black to help fill the void of Collins. Her tough play on defense and sharpshooting from the perimeter made an instant impact.
Vegas Bulldogs rising senior Kaliyah Dillard of North Las Vegas, Nevada, is a versatile swing player who played almost every position for the Bulldogs at Real Deal Indianapolis.

Chris Hansen is managing editor of ProspectsNation.com and serves on the McDonald's All-American and Naismith Trophy selection committees. He was a co-founder of and the national director of scouting for ESPN HoopGurlz from 2005 until 2012 and is the director of the Check Me Out Showcase and ELITE is EARNED events. He can be reached at chris@prospectsnation.com.