First Look: BC Elite 100 Indy
Posted
1 year 2 months ago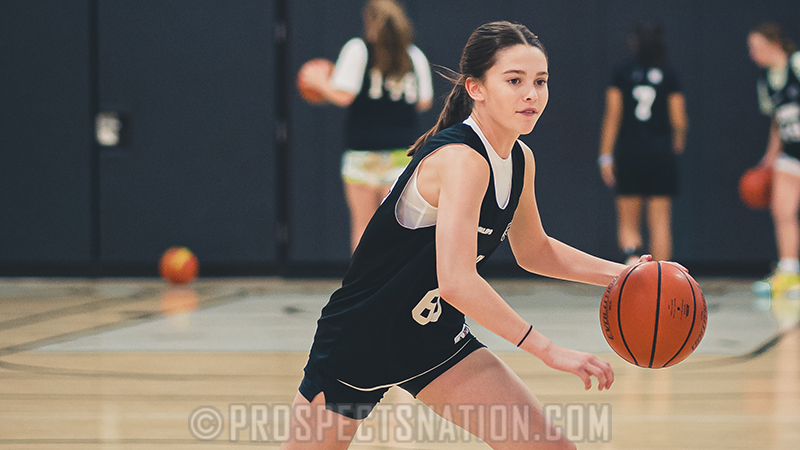 Kenzie Koch is a battle tested underclassmen who has sought out competition countless times in her young career. *Photo by Anthony Lugardo.
INDIANAPOLIS, Indiana – The Brandon Clay Elite 100 Showcase Midwest allowed some of the nation's elite prospects to start working on their games coming out of the July evaluation period. We offered a spotlight training session ahead of the start of the sessions. Here are the first set of takeaways from that workout:

When Arnold holds her follow through and doesn't fade, her jumper is smooth to watch. She has the bounce, creativity to make good things happen off the pull up. That skill set lends itself nicely to the newly minted USA Basketball Gold Medalist then making plays for others as a result of her shooting skill.
Danielle Brooks (Chicago, Illinois), Kenwood Acad. – 2026
Brooks shot release is high with a shooting pocket that starts high to match. She has a nice, compact shot motion wise. Brooks has good form for a younger prospect. Her range is limited a little until she matures physically but she will grow into that. If her mechanics stay solid, she should be a good outside shooter.
Cianna Cunningham (Fishers, Indiana), Heritage Christian – 2028
Cunningham is a young prospect in the backcourt whose shot looks good. Her shooting pocket is in a good place right now. Cunningham's shooting elbow lags a little behind her body which makes her release low at times. As she gets stronger, look for that to even out.

Dunbar has to focus on elbow finishing above her eye or her shot comes out flat. Her mechanics have come a long way as she is shooting it in a single motion where it was two motions in the spring. As a result, Dunbar, has real range to 17 feet. The next step for her will be shooting the 3 in the trail position.
Green's footwork is good on the move with the inside foot plant. You can tell she has been in the gym with me before in that regard. Green's right elbow will come out a little off line which will impact her from 3. Keeping that tight is a place to grow. It's evident that Green has put the time in.
Reagan Huss (Goshen, Indiana), Northridge – 2027
Huss has good size at the guard position. She has to stay on her follow through until her shot drops in the net to make sure iher elbow finishes above her eye. She has real strength through her shoulders with a nice left-handed release.

Koch has grown at least three inches since the beginning of this summer. That bodes well for her long term as she is going to be a really good shooter who now can play either guard spot. There is no reason that Koch shouldn't be a high 30 percent shooter in due time.
Sarver's shot is much improved since we trained in January. For her, getting it out quick is a major point of emphasis. Her release is high as well. The next step for Sarver will be to physically get stronger to shoot the 3-pointer consistently.

Brandon Clay serves as the Director of Scouting for ProspectsNation.com and owns The BrandonClayScouting.com Evaluation Report, which is read by more than 200 colleges and universities nationwide. He also serves as the Executive Skills Director for the Brandon Clay Scouting Academy Series.