Posted
2 months 1 week ago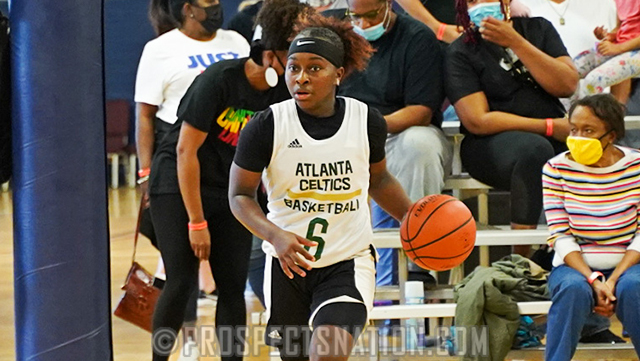 Atlanta Celtics guard Katelyn Dunning scans the floor at the 2021 BCS Power 48 event in Atlanta. *Photo by Anthony Lugardo.
ATLANTA – The Brandon Clay Scouting Power 48 Shootout featured some of the top prospects from the Southeast. There were numerous top prospects inside the International Sports Arena facility including multiple Brandon Clay Training Academy and Recruiting Program members. Here's a look at some of the talent on hand:
2022 Checklist
There is something special about a lead guard who will compete on every possession. That is exactly the type of energy that Dunning brought to the table for the Atlanta Celtics here. What she lacks in size, she more than makes up for with her pace and skill set.
Grace Hayes (Greeneville, TN), TN Flight Select
Hayes has the ability to be a sharp shooting sniper from the perimeter. She plays high level basketball during the school season at Greeneville High for a former Division One coach in Annette Watts. That level of competition and teaching paid off here as Hayes had our attention throughout the weekend.
2023 Checklist
Hoffman is one of those kids who makes a steady impact on both ends of the floor. She is a major piece to the A.O.T. puzzle with her play. Hoffman is truly a guard that her team can count on to make the right play game in and game out.
Matlak is a fantastic option as a high energy perimeter prospect. In this setting with her Blue Star Orlando squad, Matlak was able to get downhill offensively time after time. She brought that same consistency to the defensive end too. That's a rare combination.
Peytyn Oliver (Athens, TN), TN Flight Select
Oliver was a dynamic backcourt threat here for Tennessee Flight Select. Paired with classmate Hannah Jones, Oliver makes for a tough guard in a potential 1-2 punch next level. She caught our staff's attention with her ability to score or pass.
Sims continues to grow her game as a member OMG-TGE. After training with our staff on multiple occasions, Sims skill set looks much more polished in game as a result. She has shown the willingness to stick to the course and trust her process. It appears to be paying off.
2024 Checklist
Hailey Hall (Maryville, TN), TN Flight Select
Hall is a fantastic option at the point guard position. She plays the game with pace and poise for Tennessee Flight Select. Her ability to set the table for others as well as create for herself gives Hall a chance to be one we talk about for years.
Maggie Hoover (Winston Salem, NC), W.S. Stealers
Hoover is still relatively new to the game but is already willing to do the little things it takes to be successful. She has a chance to grow her offensive game exponentially over the next 12-18 months if she'll keep putting the time in for skill development mixed with live game action.
Peyton Mastin (Roaring River, NC), W.S. Stealers

Mastin showed our staff quickly that she is a more than capable downhill driver and spot shooter in the backcourt. That said, she has a lot of room left to keep trending upwards building on that positive foundation. We'll work with her again in June at the Brandon Clay Training Academy in Winston Salem.
Channing Warren (Orlando, FL), Blue Star Orlando
Warren has the size and length on the interior to be effective at the college level. In that way, she is still just scratching the surface on where our staff projects her as she plays in more settings like this one with Blue Star Orlando. Warren is firmly on our radar board.
2025 Checklist
Annalee Bell (Wilkesboro, NC), W.S. Stealers
This was our first chance to see Bell in live action for the Winston Salem Stealers. She was as good as advertised. With a style of play that lends itself to pushing the tempo and making open shots, expect Bell to be on our radar from now until she graduates high school.
Daija Preston (Douglasville, GA), Lady Playmakers
Preston showed the speed with the Lady Playmakers to be a tough matchup on either end of the hardwood for opposing teams. As she keeps improving her skill set, look for Preston to be a name to track in the class statewide.
Kylie Watkins (Cleveland, GA), DL Impact
Watkins showed flashes of promise playing for DL Impact as she continues to mature physically. If she'll keep playing in elite level scenarios like this one, Watkins will see her game continue to flourish as a result. She possesses the length schools covet.
Nayla Wesley (Ensley, AL), All Alabama
Wesley established herself as a young prospect for our staff to keep eyes on for years to come. Her play with All Alabama during the event was both aggressive and consistent. She's a threat on both ends of the floor.
2026 Checklist
Ava Karvis (Atlanta, GA), ATL Bucks
Karvis was impressive in our staff's first viewing. Playing for the ATL Bucks, she showed a unique blend of size, skill and fluidity in her movements for a middle school prospect. Karvis was immediately added to our long term watch list.
Thompson is a name our readers can expect to hear a lot from over the next five summers. She keeps improving her game as she fills out physically. In this evaluation, Thompson steered the A.O.T. ship right into a major title matchup with Blue Star Orlando.
Addison Wear (Pigeon Forge, TN), TN Flight Select
Wear is a steady hand at the point for a talented young Tennessee Flight Select roster. In that way, Wear served as a tempo setter with a nice upside over the course of time. Look for her to be a staple of our Knoxville Training Academies for years to come.
2027 Checklist
Surayyah Aleem (McDonough, GA), OMG-TGE
Aleem has next in the well mined OMG-TGE pipeline of talent. Just a sixth grader, Aleem showed the moxie and willingness to battle that our staff has come to expect from the kids on an OMG-TGE roster.

Brandon Clay serves as the Director of Scouting for ProspectsNation.com and owns The BrandonClayScouting.com Evaluation Report, which is read by more than 200 colleges and universities nationwide. He also serves as the Executive Skills Director for the Brandon Clay Scouting Academy Series.