First Look: BCS Summer Invite
Posted
1 year 5 months ago

Tianna Thompson of Athletes Of Tomorrow was a big riser in the 2024 class. *Photo by Anthony Lugardo.
CARTERSVILLE, Georgia – With numerous Power 5 head coaches on hand inside the beautiful Lake Point Indoor Complex to start the second half of the July evaluation period, the Brandon Clay Scouting Summer Invite was arguably the premier independent event in the country to be seen. The wide range of coaches in attendance ranged from newly minted Washington coach Tina Langley traveling 2,700 miles to current Georgia Tech coach Nell Fortner who was able to sleep in her own bed. Here's a look at some of the standouts from the action:
Teagan Brown – Jason Kidd Select 17 - El Dorado Hills, California – 2022
With her future Washington coach on hand, Brown showed that she is capable of doing a little of everything on the hardwood including making shots. Brown has the length and versatility to compete in arguably the nation's premier basketball conference from top to bottom these days. For a Husky staff that got a late start with a spring hiring, that's a big deal as they put together their first full recruiting class.
Jordan Lee – Jason Kidd Select 16 – Stockton, California – 2024
Lee was fantastic from start to finish in this setting against multiple highly sought after guards in her class nationally. She showed that she can handle the rock in the open floor, score it in transition off the bounce or keep the defense honest with her outside shot. There's a lot of upside in Lee's overall foundation.
Arianna Roberson – Player First – San Antonio, Texas - 2024
Roberson had a stock rising type of week that started with some of her state's top head coaches watching play as both SMU's Toyelle Wilson and TCU's Raegan Pebley were on hand to see Roberson in game action. Her ability to get up and down the floor as well as any frontcourt prospect in the building jumped off the page.
Kimora Taylor – Castle Athletics 2023 - Cambria Heights, New York – 2025
Taylor has the length and mobility to play any of the frontcourt positions in the modern era. While she can still add strength, the foundation of her frame and game appear to be in a strong place. In a couple of nice matchups against fellow 2023 graduates, Taylor stood out with her skill set and shot making facing the basket.
Tianna Thompson – A.O.T. – Atlanta, Georgia – 2024
Shortly after her week ended, Thompson added offers from Auburn, Miami and Rutgers based on her stellar play. She projects as one of the premier guards that our staff has seen in the region in her class to date. Thompson plays with both pace and poise at the guard position making her one to keep a close eye on going forward.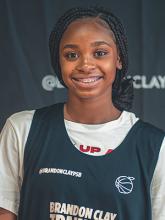 Tatum West – HG Elite 2023 – Combine, Texas – 2023
West has had a flurry of scholarship offers over the past six weeks and for good reason. She does the little things on both ends that make it easy for colleges to project her as a next level producer. Add that to her touch on the offensive end and it's easy to see why the offers keep rolling in for West.

Brandon Clay serves as the Director of Scouting for ProspectsNation.com and owns The BrandonClayScouting.com Evaluation Report, which is read by more than 200 colleges and universities nationwide. He also serves as the Executive Skills Director for the Brandon Clay Scouting Academy Series.