First Look: Check Me Out Seattle
Posted
6 years 1 month ago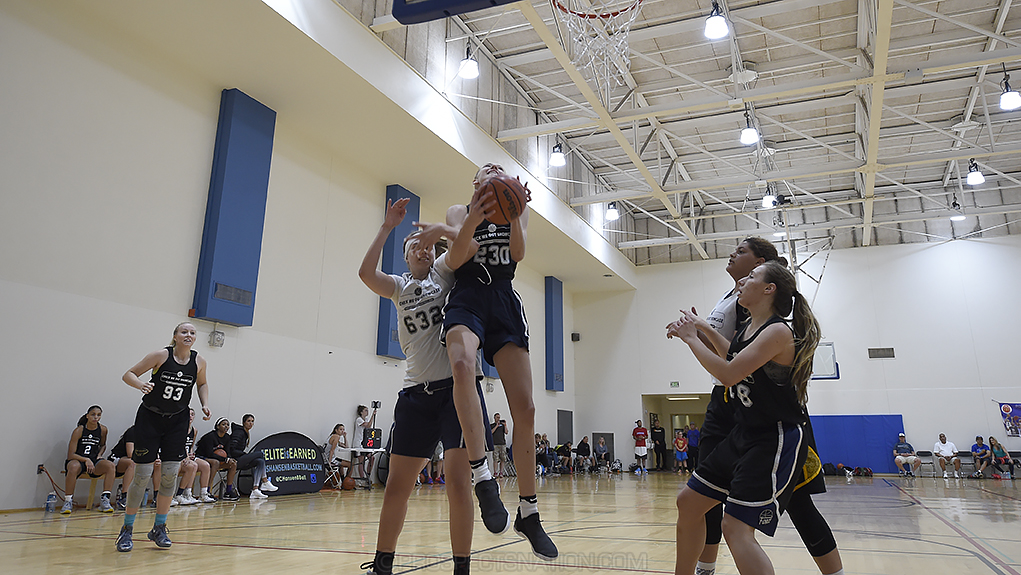 Cameron Brink of Beaverton, Oregon, battles Ali Bamberger of Concord, California, at the 2017 Check Me Out Showcase in Seattle. *Photo by Glenn Nelson.
SEATTLE, Washington – The Check Me Out Showcase flagship camp in Seattle is a staple event on the west coast. With 160 players from nine states and players from Canada, the competition was as deep as it has been.
Establishing The Bar
Competition and development doesn't stop once a player is ranked or committed. The same way the current group of rising seniors chased the stars ahead of them, it then becomes their job to carry the torch. The hunters become the hunted and it gives the next group of players not only someone to look up to but a measuring stick for where their game is at.
Aquira DeCosta of Sacramento, California is a three-time #CheckMeOutNATION participant and has shown something new every time she has stepped on the court at the Showcase. With a final five of Baylor, Louisville, South Carolina, Tennessee and USC, her trip to the Pacific Northwest was not about recruiting exposure. But much the way she competed with Sabrina Ionescu, Ace Konig and Evina Westbrook in years past, this was her time to put the target on her back and she handled it with a poise that she showed all summer with the Cal Stars. Even though being the No. 2 player in the country comes with some big expectations, it is how she handles it that makes her one of the nation's best.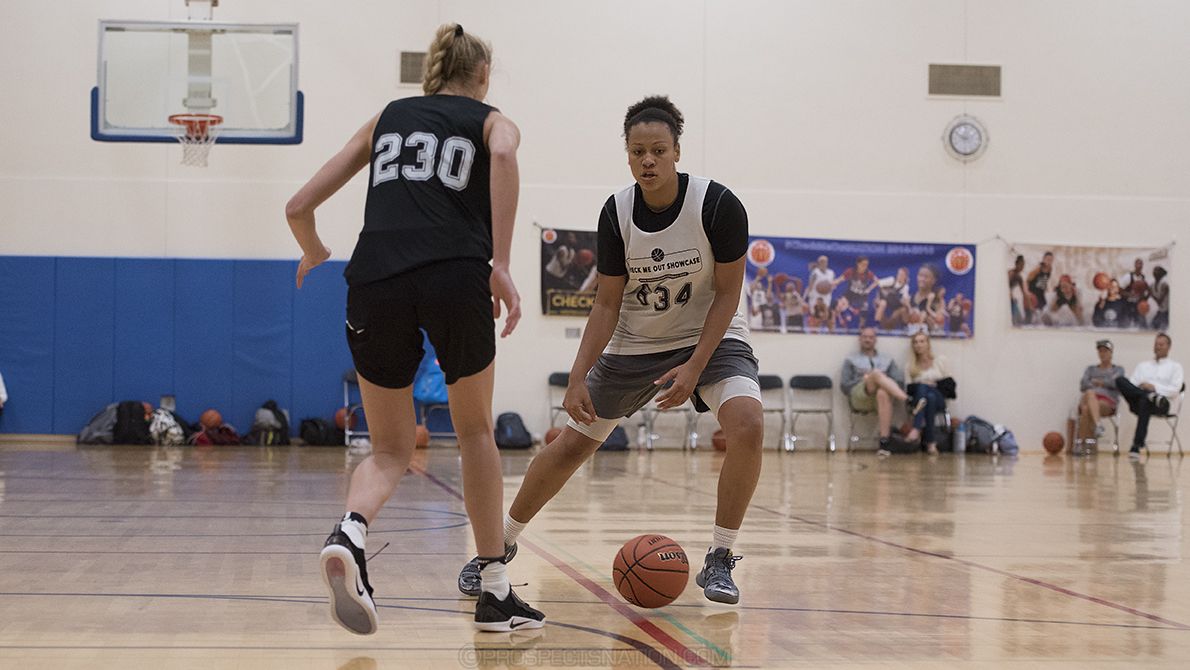 Mackenzie Forbes showcases her slick crossover in
Seattle. *Photo by Glenn Nelson.Cal commit Mackenzie Forbes of Folsom, California, is another player who came in with her ticket punched but her mentality is such that competing is a regular part of her development. Her powerful style along with her ability to handle the basketball was on display again this weekend and her future in Berkeley looks as bright as ever.
Cameron Brink of Beaverton, Oregon, is coming off a breakout spring and summer. She returned to the Check Me Out Showcase with the No. 5 ranking in the 2020 class and backed it up. She's a talented shot blocker on defense, a blur in transition and in the half court she is hard to guard at either the high or low post.
Jaquaya Miller of Des Moines, Washington, has really established herself as a two-way post prospect. She holds court in the paint on both ends. She blocked shots, ran the floor, rebounded and scored this weekend. Her physical upside is off the charts.
Arieal Scott of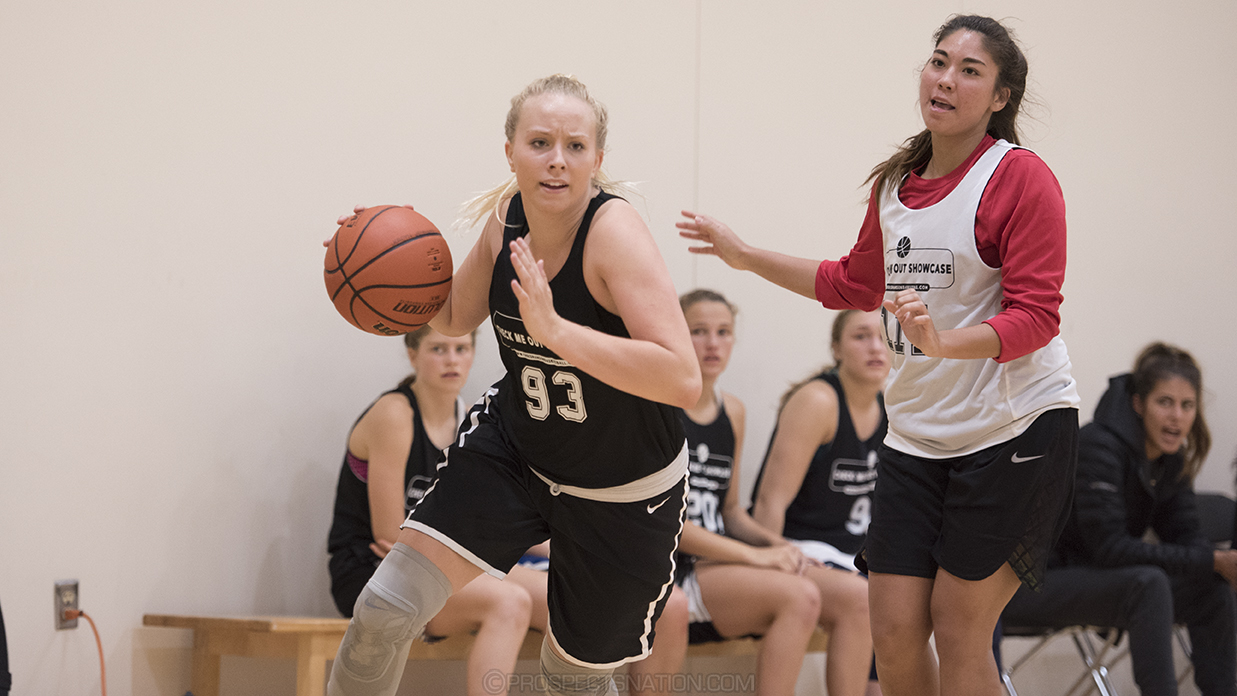 Arieal Scott plays with a tenacity matched by few.
*Photo by Glenn NelsonUrbana, Illinois, was made her second trip to the Seattle showcase her competitive nature and ability to score stood out. Because of her demeanor she pushes everyone she plays with. The 5-10 sharpshooter showed a feisty side defensively that helps break the stigma of what a shooter usually is on the other side of the court.
Level Up
Every time Bria Dixson of Portland, Oregon, steps on the court you can count on an all in attitude and effort. She is super crafty and finds ways to make plays whether it's a breakdown drill, one on one or team competitions. The 5-7 rising sophomore sees the floor well and has the skill to make plays with the pass or the finish.
Jade Loville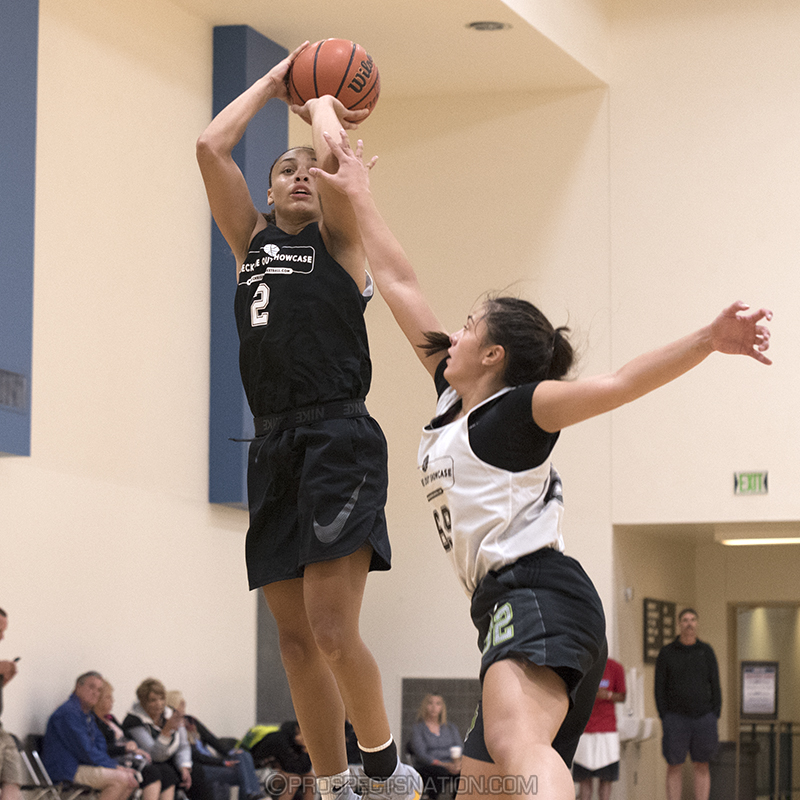 Jade Loville of Sammamish, Washington, has one of the
best pullup jumpers in the class. *Photo by Glenn Nelson.of Sammamish, Washington, was fresh off her commitment to Boise State when she stepped on the court at Check Me Out. Her play throughout the weekend served as notice that she has improved greatly since earning her No. 120 spot in the ELITE 150. Going left she can get to the rim at will and if you force her right you are likely to see one of the best pullup jumpers in the class. She is strong, athletic and someone who can impact the game on both sides of the court.
Meghan Fiso of Seattle, Washington, has been a part of #CheckMeOutNATION since she was in the sixth grade. She has always been ahead of the game for her age but is not emerging as an ageless talent. She competes with seniors and her confidence, physicality and skill set allowed her to shine yet again.
Maggie Freeman of Oregon City, Oregon, is an explosive athlete and a versatile player. She has the quickness to break defenders down and the athleticism to elevate in traffic and finish. She's physical as well, allowing her to guard multiple positions. She put together an impressive weekend in the Emerald City.

New Faces
Kate Rutledge of Seattle, Washington, is a 5-11 sharpshooter with length to get her shot off against even a good close out. Though she's not a vocal leader on the floor she showcased some ball handling ability in addition to her shooting touch.

Azsha Michael of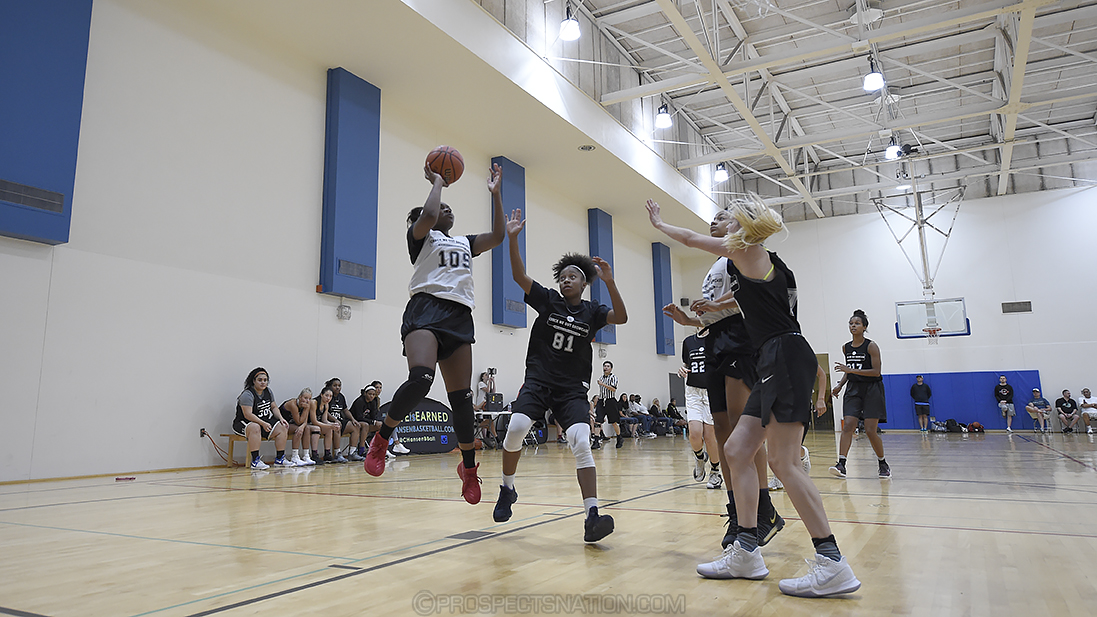 Azsha Michael brought her floater to floor in the Seattle.
*Photo by Glenn Nelson. Brooklyn, Minnesota make the trek to the west coast to compete and didn't disappoint. The 5-9 guard who runs with Tayler Hill Elite in the club season, has a power to her game that allows her to get in the lane and finish through contact. She is physical but has a smoothness about her game.
Alexyss Newman of Snohomish, Washington, and formerly from Arizona, isn't an entirely new face. But her game sames new this late summer as her decision making with the ball was showcased. Look back even six months ago and her playing a 6-1 point guard was not an option. Things have certainly changed as her confidence and ball skill have expanded.

Got Next
Saniya Rahman of Renton, Washington, is slick with the ball in her hands and gets into the heart of the defense with regularity.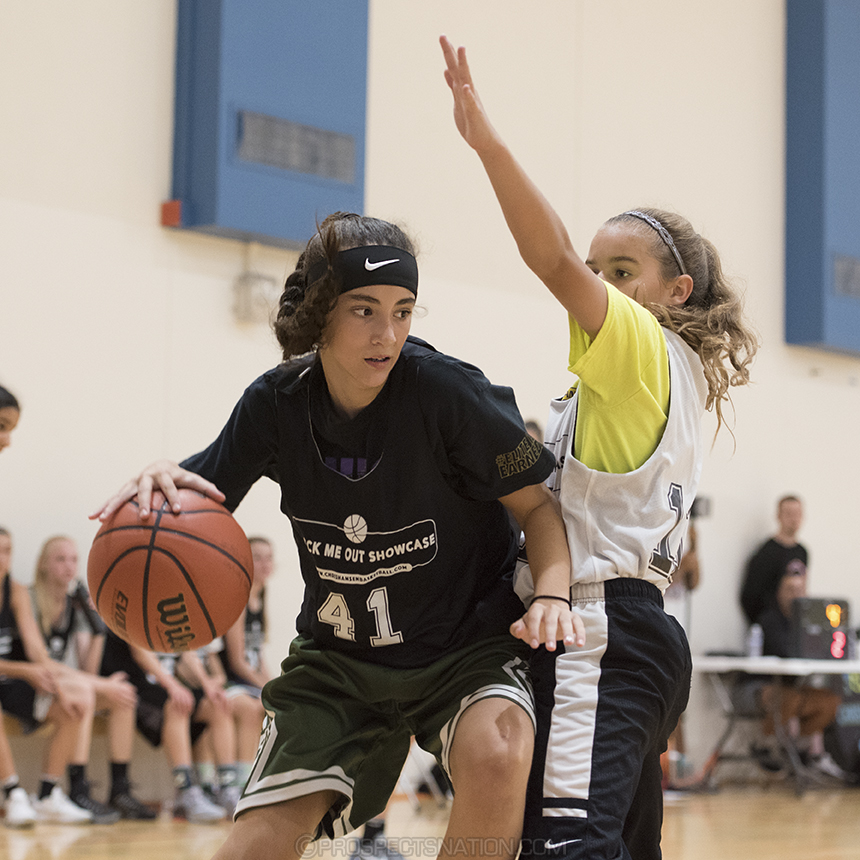 Jenna Villa has a mature and aggressive game at a
young age. *Photo by Glenn Nelson.Though Jenna Villa is just about to enter her seventh grade year, she has already been to multiple Check Me Out Showcases in multiple cities. In May she competed in the Austin, Texas showcase and her game and confidence has only grown. Her size, at 5-8, and shooting ability for a 2023 player make her a player to watch for years to come.
Addy Heaphy of Missoula, Montana, showed that big things can come in small packages. The 5-4 guard in the class of 2022 was a physical presence in the underclass session of the showcase. She attacked off the dribble with purpose and challenged her opposition defensively.
Madison "MJ" Cooke doesn't play like an underclassmen. The 5-9 wing from Port Angeles, Washington, plays the game with strength and isn't afraid of contact. She attacks the basket relentlessly. The class of 2021 was a standout in the underclass
Piper Bauer of Belfair, Washington, is a point guard with a lot of wiggle to her game. The 5-6 lead guard was terrific at setting teammates up with penetrate and pitch action. She has a little flare to her game.
Baylor Thomas of Marysville, Washington, is a powerful perimeter player. The 5-7 guard from the 2022 class was strong on the drive and around the basket. She competed for loose balls and defended at a high level.
Kaimyla Nolen of Bellevue, Washington, is an aggressive and talented young player. The 5-5 guard from the 2022 class attacks the basketball with abandon and has a knack for playmaking at a young age.

Chris Hansen is managing editor of ProspectsNation.com and serves on the McDonald's All-American and Naismith Trophy selection committees. He was a co-founder of and the national director of scouting for ESPN HoopGurlz from 2005 until 2012 and is the director of the Check Me Out Showcase and ELITE is EARNED events. He can be reached at chris@prospectsnation.com.